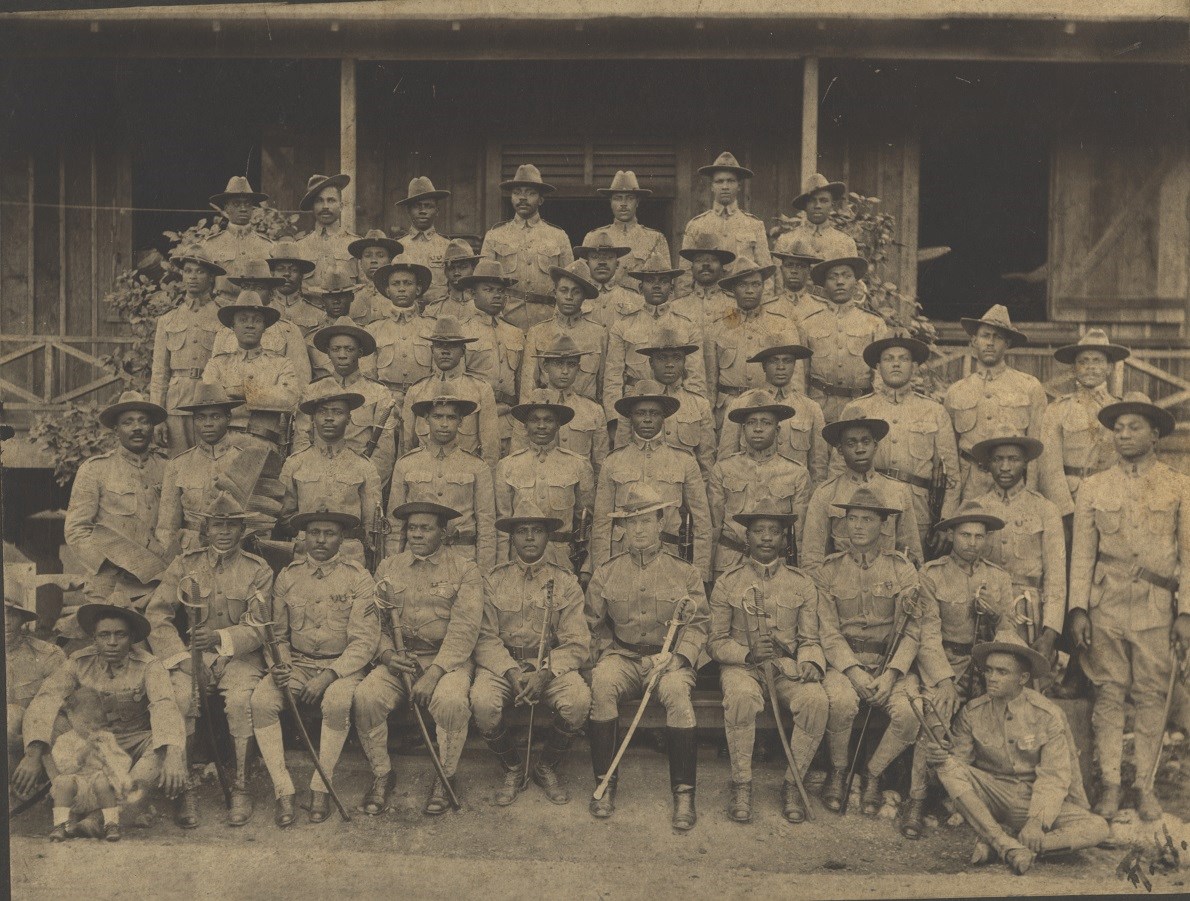 After Spain's defeat in the Spanish-American War, it ceded its longstanding colony of the Philippines to the United States in the Treaty of Paris. On February 4, 1899, fighting broke out between American and Filipino forces led by Emilio Aguinaldo. Aguinaldo and his army sought true independence and not another colonial ruler. That was the beginning of the Philippine-American War. The war lasted three years, costing the lives of 4,200 U.S. soldiers and more than 20,000 Filipino soldiers. Violence, disease, and famine during the war was responsible for an estimated 200,000 Filipino civilian deaths.
In early 1901, Captain Young and I Troop, Ninth Cavalry, based in Fort Duchesne, Utah, were preparing to be deployed to the Philippines. They arrived via train in San Francisco in April 1901, along with K Troop, Ninth Cavalry. There, they were also joined by L and M troops from Fort Apache, Arizona. While in San Francisco, Young and Sergeant Major Benjamin O. Davis, Sr., enjoyed the sights of the city while they waited for their transport to the Philippines. They had several things to celebrate during this time. Young had been promoted to captain on February 2, 1901, and Davis was waiting on official word of his commission to second lieutenant.
On April 15, 1901, Young and I Troop, Ninth Cavalry, sailed out of San Francisco toward the Philippines aboard the
U.S. Army Transport Ship (USAT) Logan
. Eight days later, April 23,
USAT Logan
arrived at Pearl Harbor, Hawaii. The men enjoyed the sights and sounds of Honolulu for three days while their ship was resupplied. After the resupply, Young and the others re-boarded their ship for the 15-day crossing from Pearl Harbor to Manila. When Young and the men arrived, they received orders to proceed to Samar Island.
Samar Island is centrally located in the Philippine archipelago between Luzon and Mindanao. Brigadier General Robert P. Hughes was the commander of U.S. forces on Samar Island. His goal was to take "drastic measures" against Filipino leader General Vicente Lukban, known as a ruthless leader who vowed to fight to the end.
On May 22, 1901, Captain Young and I Troop were assigned their first mission on Samar Island. They were ordered to proceed up the Gandara River and establish a supply base. The Gandara is a narrow river with thick underbrush on both banks. Corporal H.W. Nicholas wrote "We started up the Gandara River in the chartered English gunboat 'Hercules,' with 3 cascoes [barges] in tow, men, rations and ammunition; destination, Blanca Aurora." The pace was slow, hampered by constant rain. Eight days after starting the mission, Young took a small detachment of men farther north on the banks to scout the route. While on the scouting mission Young and his men came under attack from Lukban's forces. The Americans fought bravely in their first engagement and captured a brass cannon, rifles, and other military equipment. They were able to fight off two different ambushes without losing a man.
Young and I Troop arrived at Blanca Aurora on June 5 to find the area abandoned. When they arrived, the troopers began to construct barracks and outbuildings. During this time, close to 1,000 Filipinos came to the area to seek safety. Young and his troopers worked with the local people to build bamboo houses and provide them with government rations. Their efforts established peace between the Americans and the Filipinos in the area. Later on, Corporal William H. Nicholas reported: "By August we had everything under perfect control; the Filipinos went far and wide, got all of their relatives and friends that had been separated for years, to come in and be peaceful under this new, kind, man and savior to them, as they had not experienced this good treatment under other officers."
On August 15, General Hughes visited Young and I Troop. Hughes stated, "I have for 3 years been trying to get officers and men to accomplish just this; you are the first one who has been able to locate Blanca Aurora and carry out my orders, and I shall certainly do all that is in my power to recommend you to the War Department for your good performance of duty as an army officer. I will also see to it that you and your men shall be stationed at some choice post in the U.S. when you return there."
Young and I Troop left the area a few weeks later, and the peace ended shortly afterward. E Troop, Ninth Cavalry, replaced I Troop. On October 16, 100 Filipinos attacked E Troop. After only 15 minutes of fighting, the Filipinos retreated and E Troop was left to pick up the pieces. The attack left 11 members of E Troop dead and six wounded.
On August 18, Young and I Troop were transferred to Legaspi, on Luzon Island. Their main objectives were to garrison various posts and participate in the campaign against General Miguel Malvar and his followers. Once Young and his men, they marched to the village of Daraga. At Daraga, the men were refitted and received horses for the first time since being deployed. Also, while stationed at Daraga Young and his men learned of the assassination of President William McKinley. Young organized a memorial service to honor the deceased commander-in-chief.
In October, I Troop was ordered to leave the relative comfort of Daraga and head to Tobaco, roughly 25 miles away. The men were apprehensive about the post, because Tobaco was at the base of an active volcano. Their mission consisted of "running down Ladrones (native bandits) that were terrorizing the peaceful natives and inhabitants," according to Nicholas. Young and his men stayed at Tobaco until March 1902.
In March 1902, Young and I Troop were transferred to Lucena on Luzon Island. They were assigned track down General Miguel Malvar and his followers again, this time near the town of Batangas. On April 13, Malvar surrendered to soldiers from the Fourteenth Cavalry also stationed in the area. While in Batangas, I Troop suffered their only loss of life. During training exercises in which the men were practicing swimming with their horses, a man slipped from his horse and was pulled out into open water, where he drowned.
The Philippine-American War officially ended on July 4, 1902. President Theodore Roosevelt praised the Army for "courage and fortitude…indomitable spirit and loyal devotion."
After the capture of Malvar, Young and I Troop were transferred once again, this time to San Joaquin on Panay Island. During I Troop's time at San Joaquin, it fought a different enemy, disease. Tropical diseases such as dengue, malaria, and beriberi were rampant in the area. Fortunately for I Troop, however, only one of their comrades died from disease. Young was not immune: He was bedridden for a week with dengue fever. Symptoms of dengue fever include sudden fever with head, muscle, and joint pains so severe that soldiers commonly called the illness "breakbone fever."
On September 25, I Troop received orders to proceed to Lazareto de Mariveles in Bataan to the Army quarantine station. The troopers stayed at the quarantine station for 10 days, in preparation for their return to the United States. While there the men received physicals; their clothing and equipment was disinfected. On October 6, I Troop left the Philippines and headed home.
On October 31, 1902, Young and I Troop, Ninth Cavalry arrived in the United States. They had spent the previous 17 months in the Philippines. General Hughes kept his promise to Young and his men: The troopers were assigned garrison duty at the Presidio in San Francisco.
Want to learn more about Charles Young during the Philippine-American War? Read
Black Officer in a Buffalo Soldier Regiment: The Military Career of Charles Young
, by historian and author Brian G. Shellum.