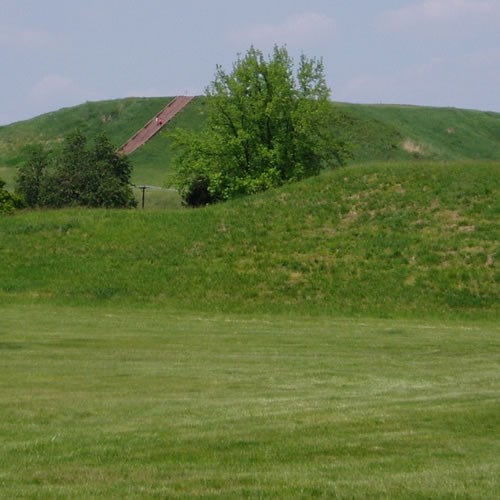 Cahokia Mounds State Historic Site is located in Illinois, just several miles east of the Mississippi River and St. Louis, Missouri. The mounds are the pre-eminent example of a cultural, religious, and economic center of the Mississippian culture, which extended throughout the Mississippi Valley and the southeastern United States and flourished between A.D. 1000 and 1350. The original complex of mounds, homes, and farms covered over 4000 acres. Population estimates for Cahokia proper range from 10-20,000, which was equivalent to the population of many European cities at that time. If surrounding sites in East St. Louis, St. Louis and others are included, "Greater Cahokia" may have had a population of 40-50,000. The many components of the site include 51 platform, ridgetop, and conical mounds; residential, public, and specialized activity areas; and a section of reconstructed palisade. Dominating the community was Monks Mound, the largest indigenous earthen structure north of Mexico. Constructed in fourteen stages, it covers six hectares and rises in four terraces to a height of 30 meters. The mounds served variously as construction foundations for public buildings and as burial mounds. There was also an astronomical observatory ("Woodhenge"), consisting of a circle of wooden posts that aligned with the movements of the sun throughout the year.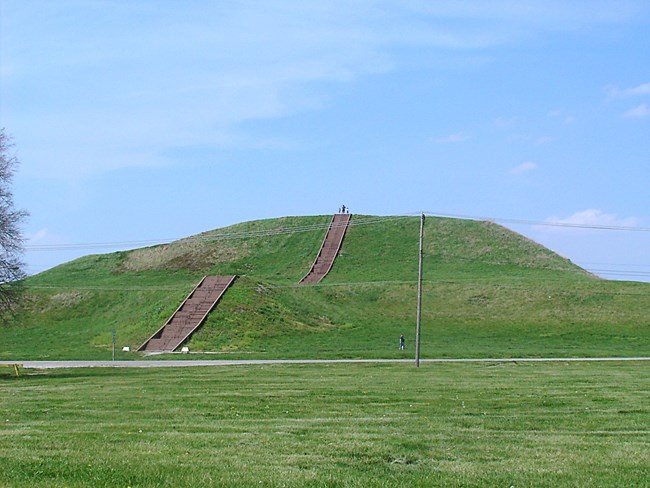 The earthen mounds at Cahokia offer some of the most complex archaeological sites north of Central Mexico and is a truly unique example of the complex social and economic development of indigenous Americans prior to contact with Europeans.

The Cahokia Mounds State Historic Site Interpretive Center offers visitors orientation at its theater and exhibits. The interpretive center features recreations of life and architecture at Cahokia during its heyday, based on the theories and discoveries of historians and archeologists.

Plan your visit
Cahokia Mounds State Historic Site, a World Heritage Site, is located at 30 Ramey St., Collinsville, IL. Cahokia Mounds State Historic Site is also a National Historic Landmark. Click here for the National Historic Landmark registration file: text and photos. Cahokia Mounds State Historic Site visiting days and times are subject to change, so visit the park website ahead of time to make sure it will be open when you plan to visit. For more information, visit the Cahokia Mounds State Historic Site website.