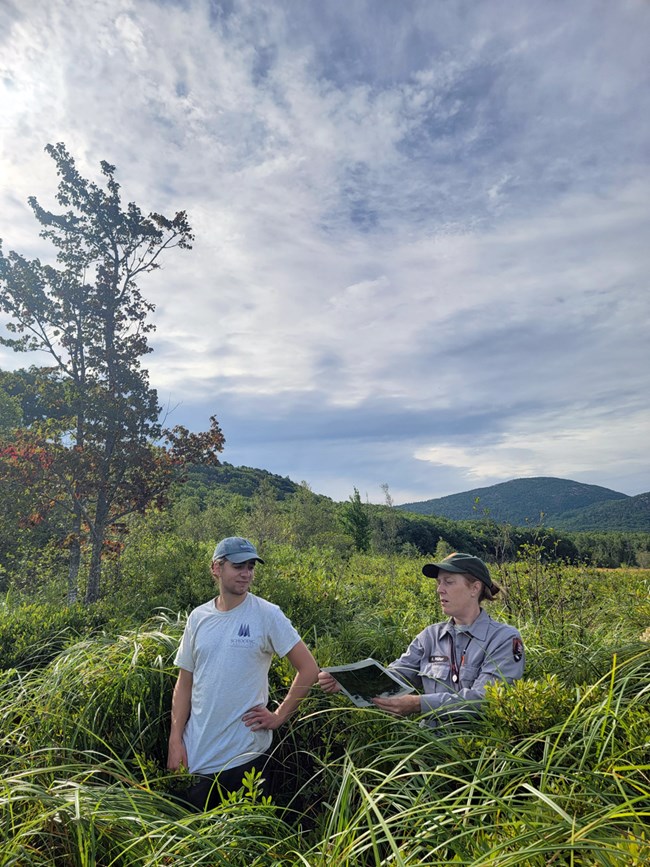 Over the last 100 years the health of the Great Meadow Wetland in Acadia National Park has declined at the expense of human development. Located near Sieur de Monts, trails, culverts, and abandoned roads have altered the flow of water through the wetlands. Invasive species outcompete native plants in areas that are drier than they once were, and extreme precipitation events driven by climate change flood trails and other visitor areas with increasing frequency. Park visitation has jumped from 2.4 million in 2011 to more than 4 million visitors in 2021 putting additional pressure on the natural areas near trails and road overlooks.
Through a project funded largely by the Bipartisan Infrastructure Law, the National Park Service, partner foundations, and individual donors, work is underway to restore the Great Meadow Wetland ecosystem for recreation and climate-smart management.
Nestled at the base of Dorr Mountain, the Great Meadow Wetland is part of a larger network of wetlands, streams, and ponds in the Cromwell Brook watershed, including the Tarn Pond.
"Water flow altered by development has harmed the plant and wildlife species that live in wetlands," said Acadia National Park Superintendent Kevin Schneider. "The Great Meadow Wetland is a popular destination for hikers and climate change-related flooding makes for impassable trails at times."
Schneider said Acadia National Park and its partners will use a climate-smart approach to restoration. Climate-smart management uses native plantings to improve biodiversity, habitat, and visitor experience in a way that works with our future climate. The project will identify when methods should be targeted to resist or accept climate-driven changes to the wetland, or when it would be best to actively direct changes to projected climate conditions, such as by planting species that are likely to thrive in future climate conditions.
The project leverages partner funding from Friends of Acadia and involves collaboration between the National Park Service, Friends of Acadia, and the Schoodic Institute. Park staff are also beginning to work with the Penobscot, Passamaquoddy, Micmac, and Maliseet Tribes on the project. These Tribes have collaborated on wetland work elsewhere in Acadia.
"Our partners share a vision of the Great Meadow Wetland where plants, animals, and people thrive in a resilient and healthy environment," Schneider said. "This project is an excellent example of private philanthropy and government working together for greater impact."
Funding from the Bipartisan Infrastructure Law is being used to hire a lead scientist, a field crew leader as well as multiple Indigenous science interns and biological technicians. The funded work includes a rare and native plant survey, an ethnobotanical survey, native seed collection and plant propagation, hydrologic modeling, compliance assistance, and a training workshop.
Together, Acadia National Park and its partners are leading the way in managing for environmental change by using science-based management approaches and integrating indigenous science and ways of knowing into the restoration of an ecologically important and valued wetland.