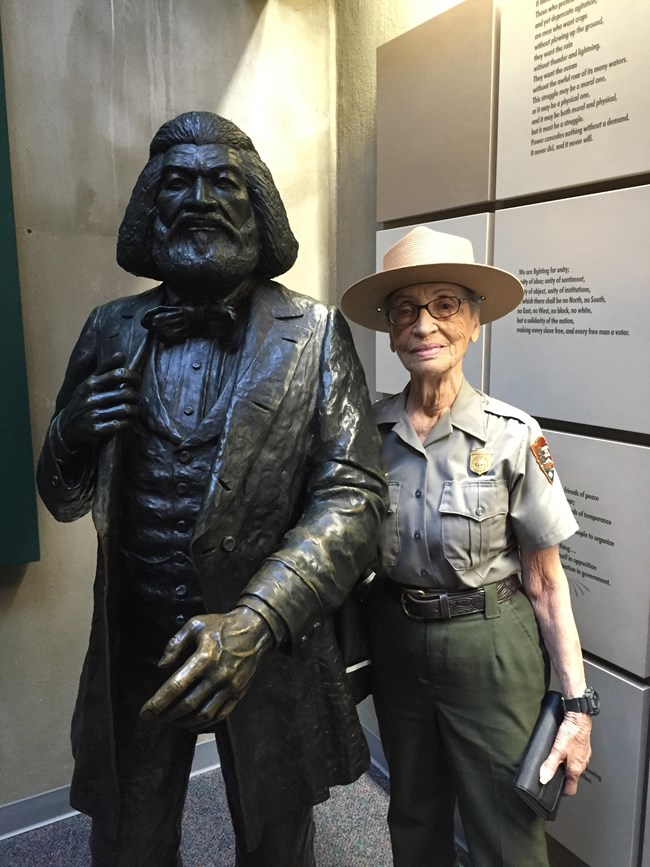 Article Written by Faith Bennett
---
Betty Reid Soskin is an East Bay-based civil rights activist, musician, and pioneering businesswoman. Through her work at the Rosie the Riveter/WWII Home Front National Historic Park, she has also become a leading spokesperson for the diverse experiences of domestic war-effort workers during World War II. She was born Betty Charbonnet in Detroit, Michigan on September 22, 1921. However, she recalls her earliest memories from living amongst her family's Creole community in New Orleans between 1924 and 1927, where she survived the "Great Flood" of 1927.1 After the flood, Soskin's family relocated to Oakland, one of thousands of Black families who moved west during what came to be called the Great Migration. She has lived in the San Francisco Bay Area ever since.
In 1945, Soskin founded one of the first Black-owned record stores in the California Bay Area, Reid's Records in Berkeley, with her first husband Mel Reid. Reid's Records had a humble beginning, with Soskin selling records through a garage door window, but it transformed into a Bay Area institution run by her children until its closing in 2019. She has had a lifelong love of music and is an accomplished songwriter. In 1964, Soskin wrote "Your Hand In Mine" about the civil rights activist Fannie Lou Hamer, and in 2018 performed the song with the Oakland Symphony and Chorus. During the sixties, a period during which her performance and composition of music and poetry expanded, Soskin also marched with and fundraised for the Black Panthers.2 She maintained, however, that music was her primary means of processing the era of increased prejudice and political unrest. Even Betty's work with the National Park Service was inspired by her long career as an activist and musician.
Soskin began her career with the National Park Service shortly after attending a presentation on the development of Rosie the Riveter / World War II Home Front National Historical Park in Richmond, California in 2000. The park's then-superintendent Judy Hart was surprised by Soskin's proclamation that "I have such a love-hate relationship with Rosie!"3 Soskin knew first-hand that the story of women who worked in wartime industry also included experiences with racial segregation and discrimination and that these stories needed to be included in the park's interpretive material and historical documentation. Soskin went to work for the United States Air Force in 1942. After learning that she was employed only because her superiors believed she was white, Soskin confronted a lieutenant who replied that everyone at the base was "willing" to work with her.4 Not wanting to be merely tolerated, Soskin promptly and defiantly left the Air Force and went to work as a file clerk at Local A-36, the Black auxiliary lodge of the International Boilermakers Union in Richmond, CA.
Believing that she had a responsibility to share with park visitors what she and other Black women had experienced during World War II, Soskin officially joined the National Park Service as a ranger in 2004.5 She quickly became a legend at the park and well beyond. President Barack Obama presented Soskin with a presidential commemorative coin at the National Christmas Tree Lighting ceremony in 2015, and the following year she was honored with entry into the Congressional Record. Glamour Magazine named her woman of the year in 2018. In the forward to Soskin's memoir, friend and relative J. Douglas Allen-Taylor tells readers that though Soskin is often celebrated for her longevity, it is her remarkable ability to weave her music, storytelling, activism, and history together that inspires those who know her.6
---
Further Reading:
Soskin, Betty. Betty with a Guitar. Cbreaux Speaks. Betty Reid Soskin, August 28, 2016.
https://cbreaux.blogspot.com/search?q=guitar
.
---
1 - Soskin, Betty, Sign My Name to Freedom: a Memoir of a Pioneering Life. Edited by J. Douglas Allen-Taylor. (Carlsbad, Ca: Hay House Inc, 2018), 4.
2 - Soskin, Sign My Name to Freedom, 112.
3 - Soskin, Sign My Name to Freedom, 154.
4 - Soskin, Sign My Name to Freedom, 50.
5 - Soskin, Sign My Name to Freedom, 163.
6 - Soskin, Sign My Name to Freedom, xiv.
---
Acknowledgements:
This project was made possible in part by a grant from the National Park Foundation.
This project was conducted in Partnership with the University of California Davis History Department through the Californian Cooperative Ecosystem Studies Unit, CA# P20AC00946