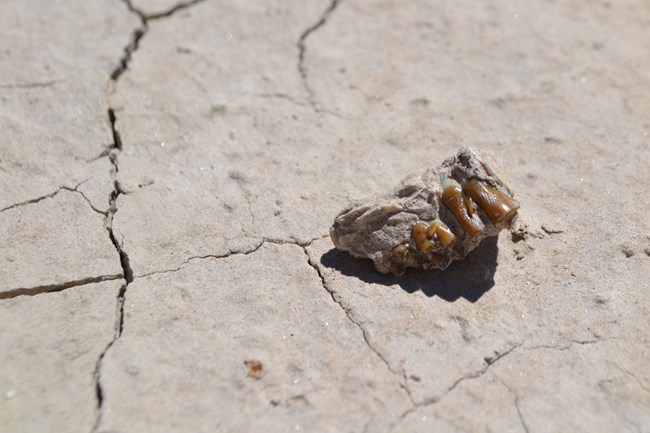 So, where do the fossils in the lab come from? Fossils are found regularly in the Badlands, by paleontologists and visitors alike! The soft rock of badlands formations washes away in rain. As rain erodes the formations, fossils are revealed over time. Those fossils sit exposed in the Badlands until someone comes across them…
Sometimes visitors find fossils. If you find a fossil during your visit to the Badlands, follow these easy steps: do not attempt to remove the fossil, take a picture of the fossil, note your location (GPS coordinates preferred, but pictures of the site also help), and return to a Visitor Center to report your find. Once you let us know where it is, we will send paleontologists to its location so they can gather more detailed information about it. After information is gathered, a paleontologist will contact the discoverer to let them know more about the discovery. Two of the park's well-known fossil stories come from visitor finds! In 1994, two visitors, Steve Gasman and Jim Carney, discovered an ancient watering hole that contained over 19,000 fossil specimens. Later, in 2010, a seven year-old visitor found the fossil skull of nimravid, an saber-tooth cat-like mammal.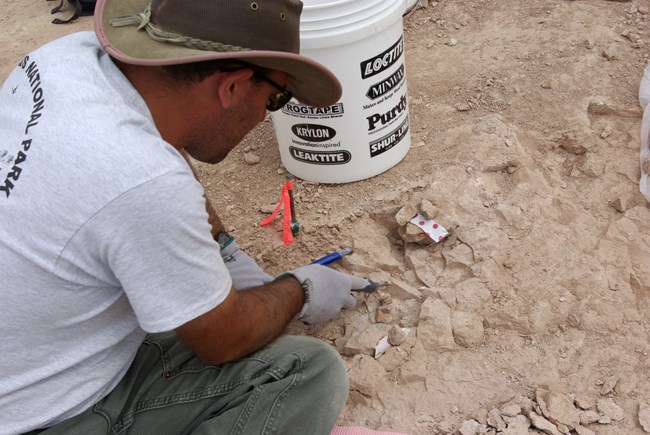 Sometimes rangers find fossils. Paleontologists who work for the park often survey the Badlands for new finds. If they come across a fossil that they decide to collect, they may excavate it. Fossil excavation is the process of removing a fossil from the ground. After excavating the fossil, paleontologists wrap it in plaster to keep it stable on its journey back to the lab.
Other times poachers find fossils. Fossil poachers are people who illegally remove fossils from the ground, steal them, and sell them for profit. While it is unfortunate that these people find fossils, this is a crime that Badlands National Park takes very seriously. If you see suspicious activity, please report it to the park immediately.