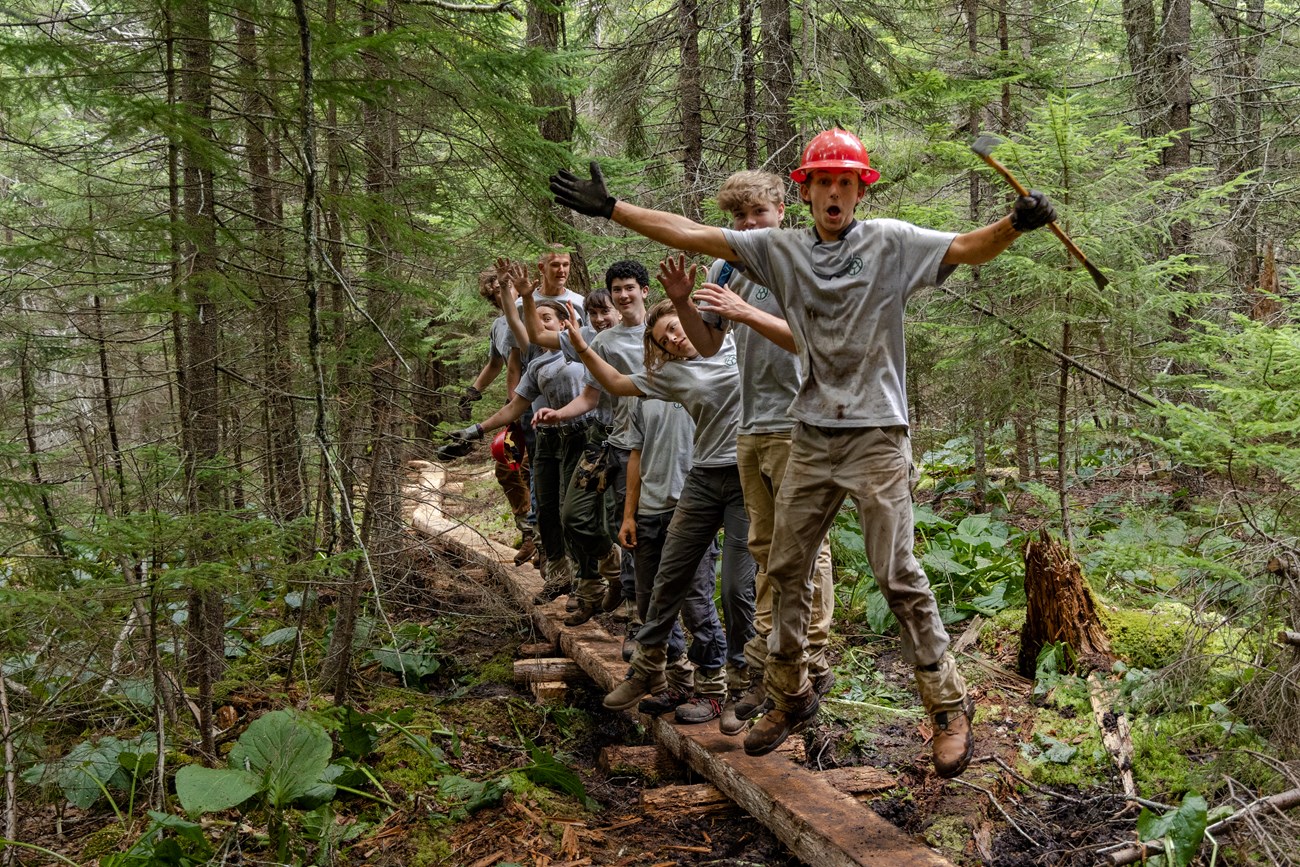 A Life-Changing Summer Job
"I had an amazing time working for the AYCC. It was a life changing experience that I will remember for the rest of my life. This job opened up my eyes for ANP and made me realize so much goes into a national park. This may be a career option in my future." – 2022 Crew Member
At A Glance:
Where: Acadia National Park, Bar Harbor, Maine
When: Eight weeks: 7 am to 3:30 pm, Monday-Friday, June 26-Aug 18, 2023
Age: 15-18 years old
Eligibility: US citizen, national, or permanent resident
Interest Areas: Outdoors, conservation, teamwork
Earn: $12.75 an hour
Apply: Accepting applications now through March 15th
Questions? Email us at aycc@nps,gov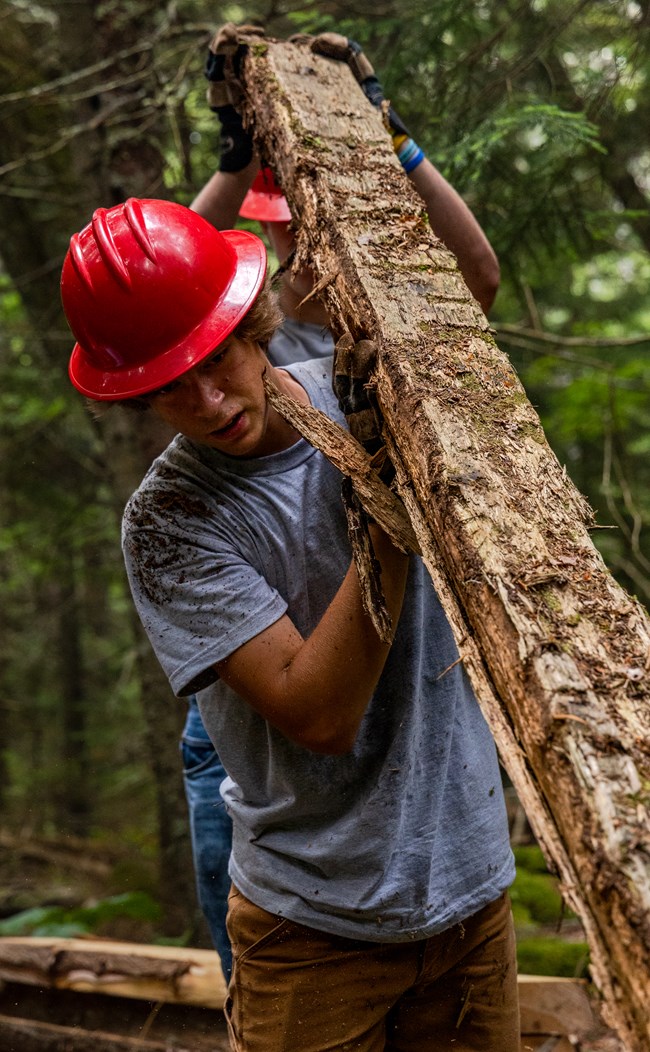 Join To Make A Difference
Prepare to sweat working on projects that sustain Acadia's trails, carriage roads, and natural resources for future generations to enjoy.
Work projects have included –
Installing check dams to prevent erosion on Acadia's historic trail system

Replacing bogwalk to protect fragile ecosystems and keep visitor's boots dry.

Clearing drainage and vegetation to protect and Acadia's breathtaking carriage roads

Remove invasive plants to protect native species

Painting gates and replacing educational signage for the best visitor experience
Join To Expand Your Horizons
Formal and informal education opportunities are carefully crafted to help you develop a rich understanding and appreciation of Acadia's natural and cultural resources. Crew members will engage with park experts and their peers through educational programs, conversations, and work projects to discover the depth of knowledge, passion, and skill that goes into conservation efforts.
You will learn –
About a variety of NPS careers (perhaps discover one you'd like to pursue)

Proper tool use and care

Project-specific techniques

About the park's unique natural features and diverse ecosystems

How we respond to nature and how nature responds to us

Teamwork and leadership skills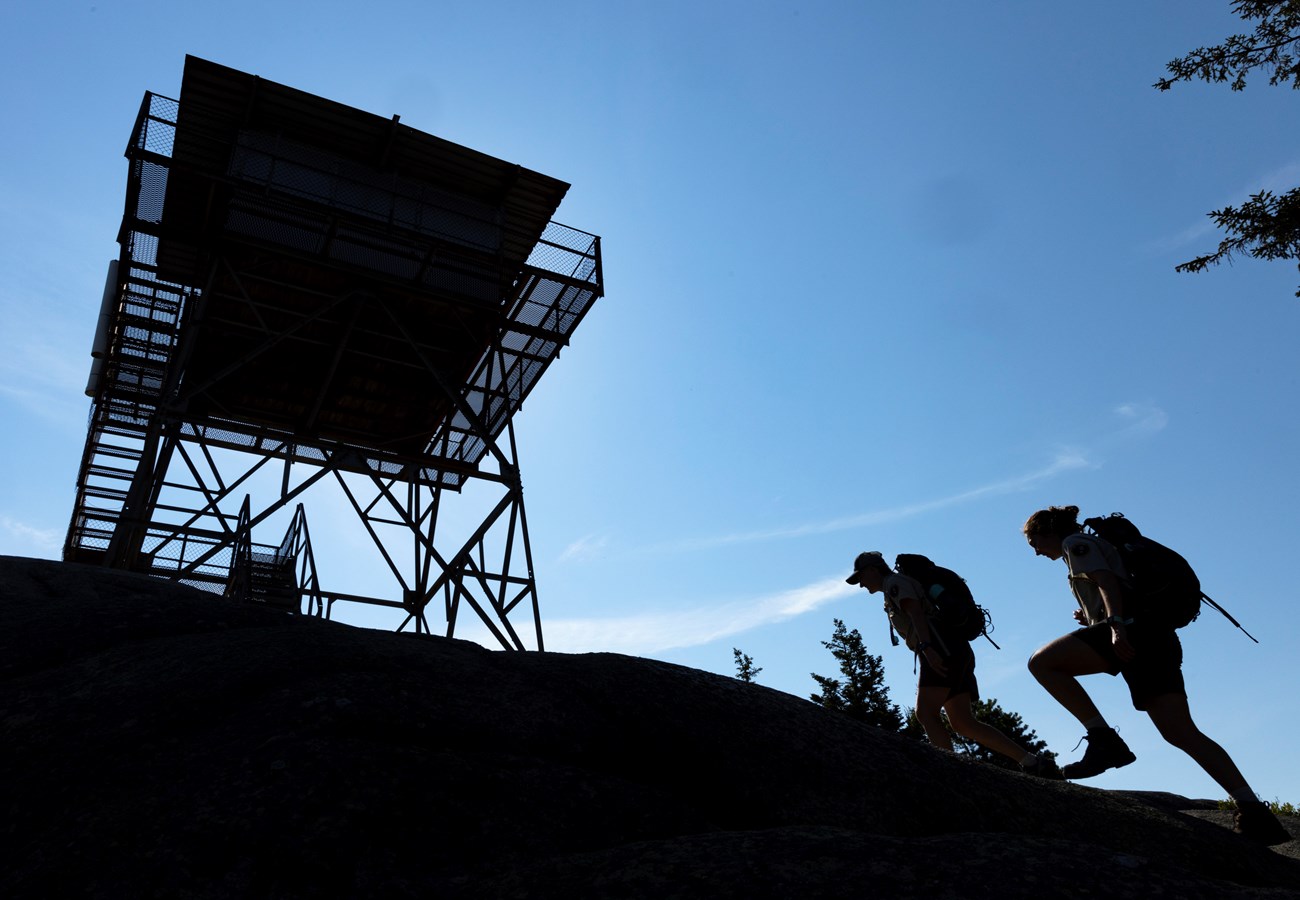 Join To Play In A Stunning Outdoor Setting
Millions of people flood to Acadia to enjoy the wealth of outdoor recreational activities in incredible scenery.
We want you to experience the fun for yourself and set aside time to recreate together.
You may –
Hike, climb, paddle, or bike

Take a boat tour to Baker's Island or Frenchboro

Camp out at Isle Au Haut

Hear/tell (too many?) jokes with your crewmates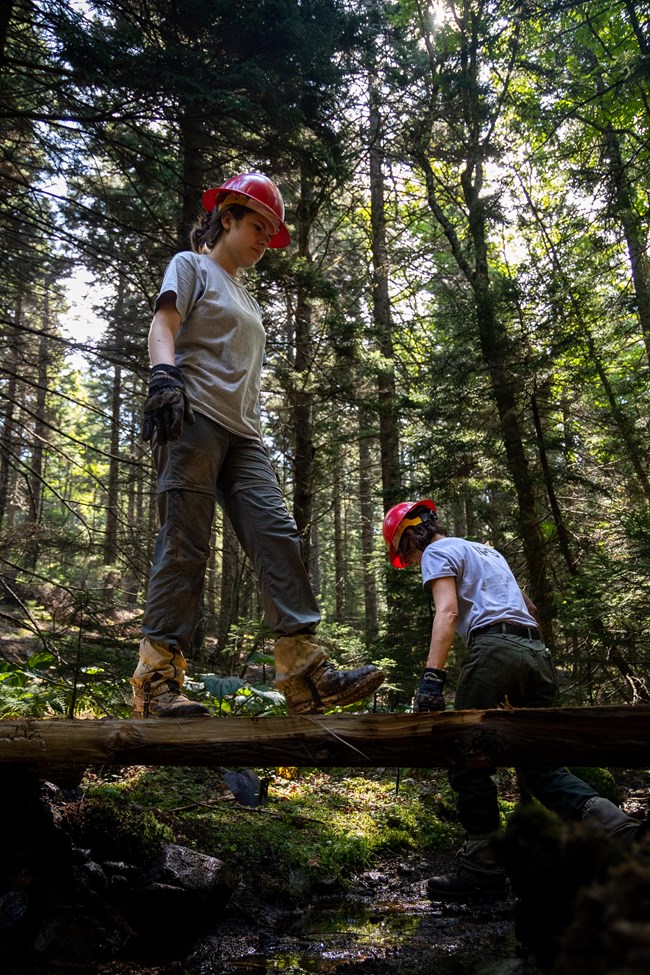 Join To Lead The Next Generation Of Stewardship
This program will challenge you and provide the support you need to flourish. Crew members receive individual mentorship to identify and achieve their personal goals. For many, this is their first job.
In addition to learning how to be professional, you will –
Build confidence and self-esteem

Develop a strong work ethic

Gain teamwork and leadership skills

Make enduring friendships
Join To Take Pride –
In your work,
The skills and knowledge you gain,
The memories you create,
And the community you make.
Apply January – March 15, 2023
"AYCC was a great experience and I loved working out in the park every day" – 2022 Crew Member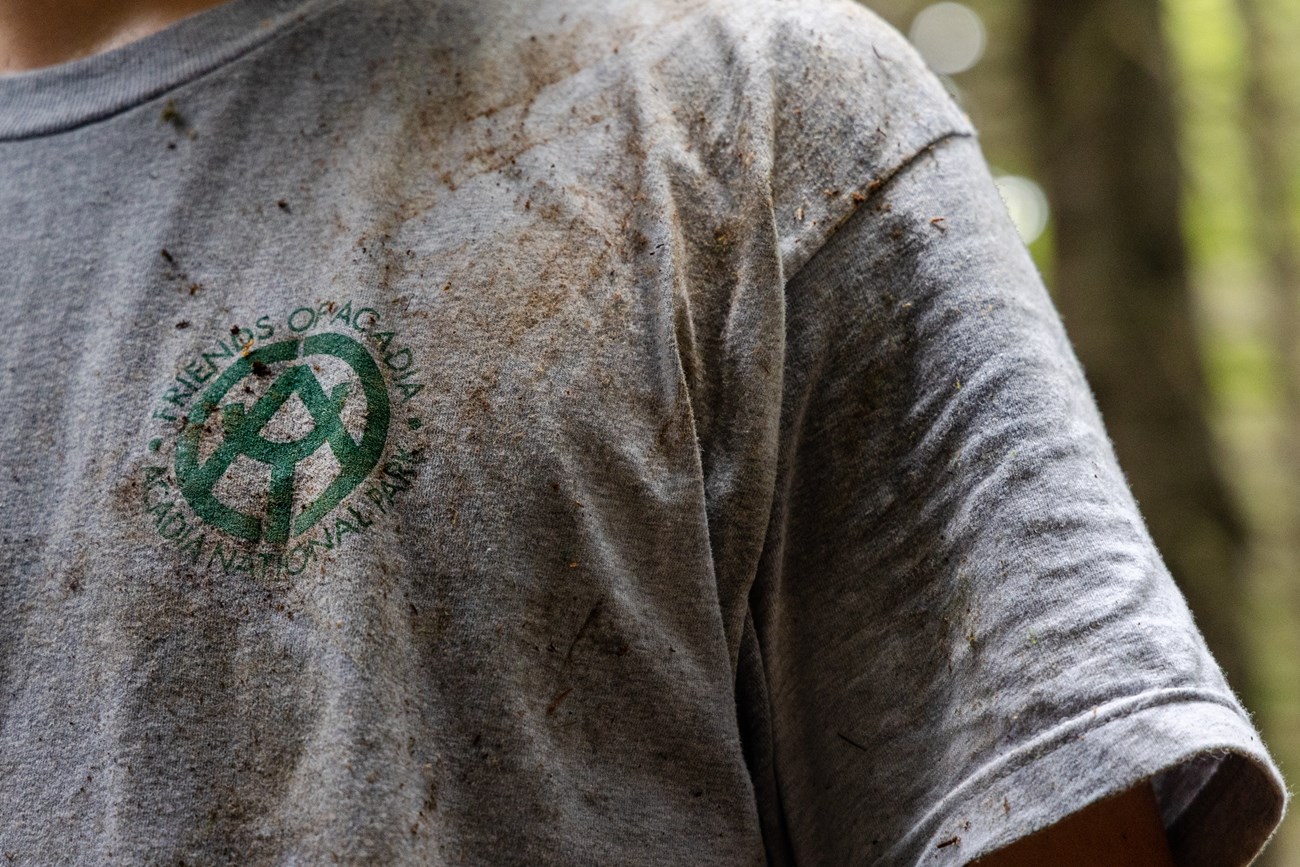 Work Location, Schedule, Salary, and Leave
AYCC crew members report to Acadia National Park Headquarters every morning Monday - Friday.
Work days start at 7 am and end at 3:30 pm (40 hours per week).
Crew members must provide their own housing and transportation to and from the park. Carpools are encouraged.
Transportation during work hours is provided by the NPS.
Crew members earn the Maine minimum wage of $12.75 per hour.
AYCC do not earn paid leave. Under certain circumstances, the NPS can grant unpaid leave to accommodate illness and/or occasional vacation days.
What You Can Expect
Demanding, sometimes monotonous, physical labor in rain and shine

Meaningful work projects

Using hand tools such as shovels, hands saws, rock bars, etc.

Hiking over rough and steep terrain

Training on proper tool use and care, task-specific skills, Leave No Trace principals, teamwork and leadership skills, etc.

Fun!

Career development

Place-based learning on Acadia's natural and cultural resources

Personal challenge and growth

Build strong relationships with other participants and staff

Potential overnight work trip to Isle Au Haut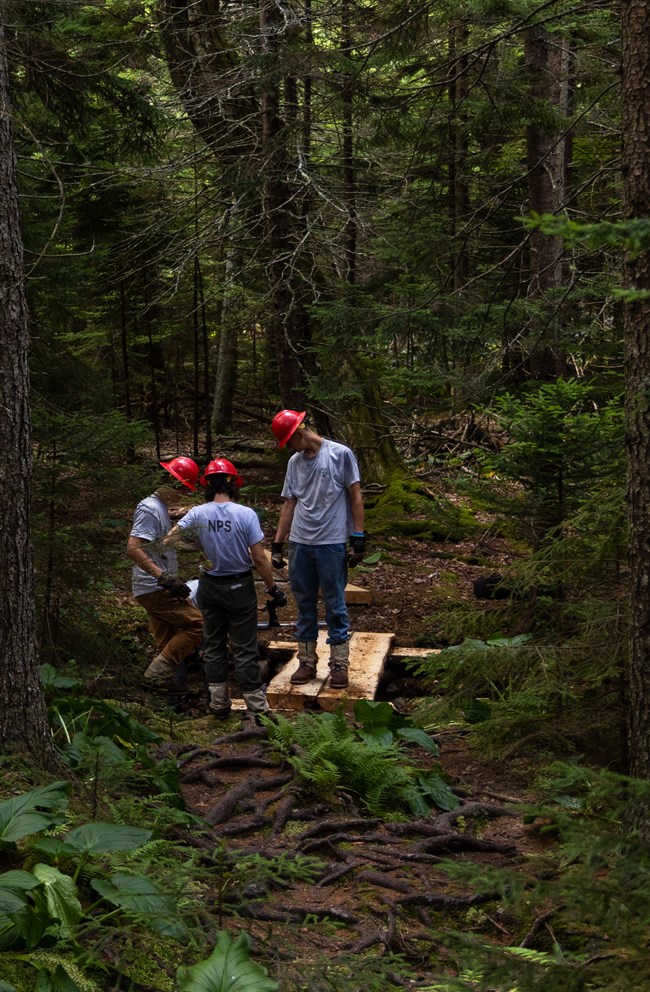 What Is Expected Of You
Wear the provided uniform and safety equipment at all times as directed by the supervisor

Arrive on time ready for daily assignments

Prioritize safety first, learning second, followed closely by work and play

Follow all rules and expectations requires of AYCC and NPS staff

Follow supervisor's instructions

Interact respectfully and inclusively with all AYCC crew members

Participate in all aspects of the program, including work, educational, and recreational activities

Bring their best efforts and attitudes

Ask for help and clarification when needed
Eligibility Requirements
Applicants are eligible for employment without regard to socioeconomic background, race, color, religion, sex, national origin, disability, ethnicity, sexual orientation, or gender identity.

To ensure a fair and equitable process, participants are selected by lottery.

No previous work or technical experience is required or expected, but a willingness and ability to maintain a positive attitude, growth mindset, be a team player, and work in a physically active outdoor program are essential for success.
Applicants Must –
Be 15 years old before or on the first day of work and not reach 19 years old during the program duration

Be citizens or permanent residents of the United States (must possess a Social Security card before the first day of work)

Be able to fulfill the essential functions of the assigned work with or without reasonable accommodations

Be able to obtain parental or legal guardian consent to enroll in the program

Have no history of serious criminal or antisocial behavior that might create safety concerns

Be able to provide their own housing and transportation to/from work
Applications will open at the end of January and close March 15 for the summer 2023 program.
For more information, please email us at aycc@nps.gov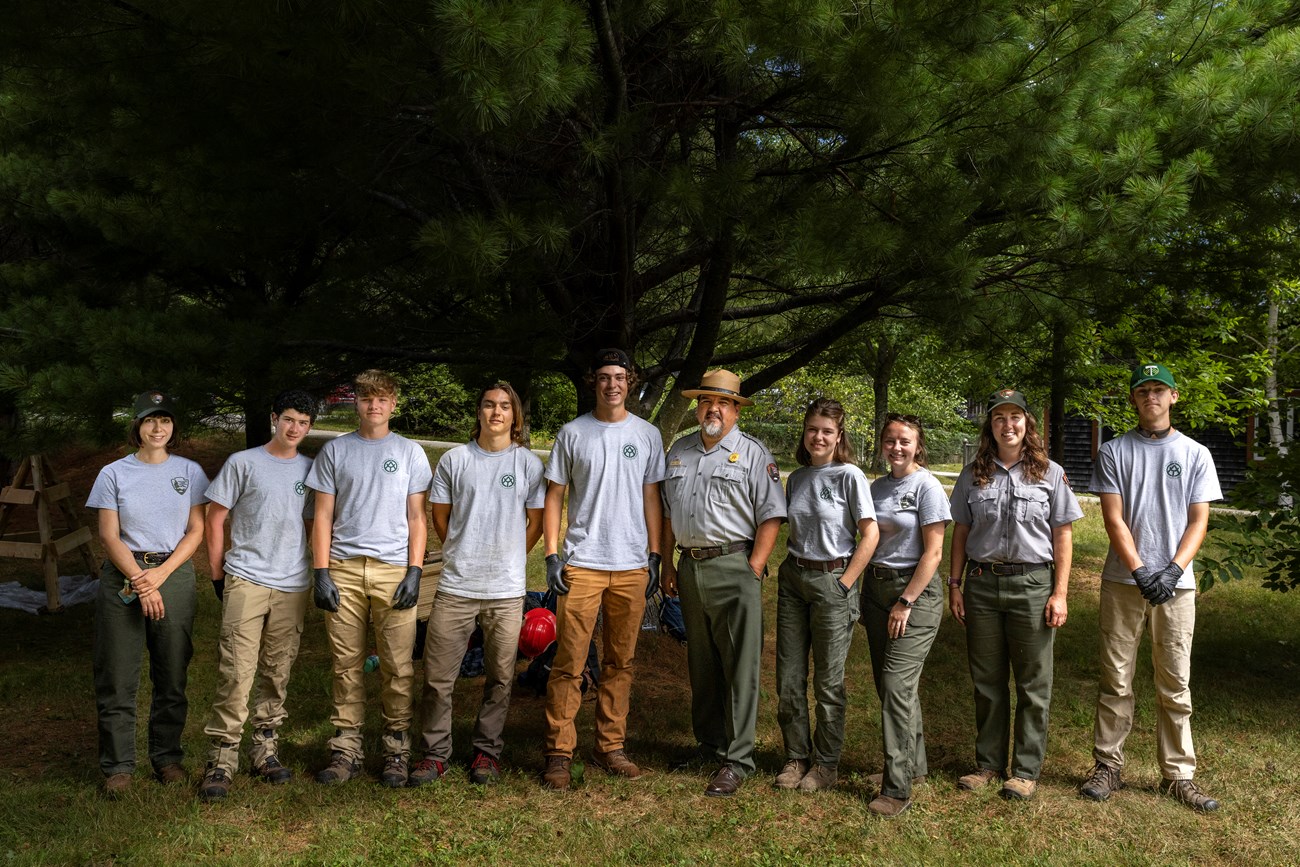 .