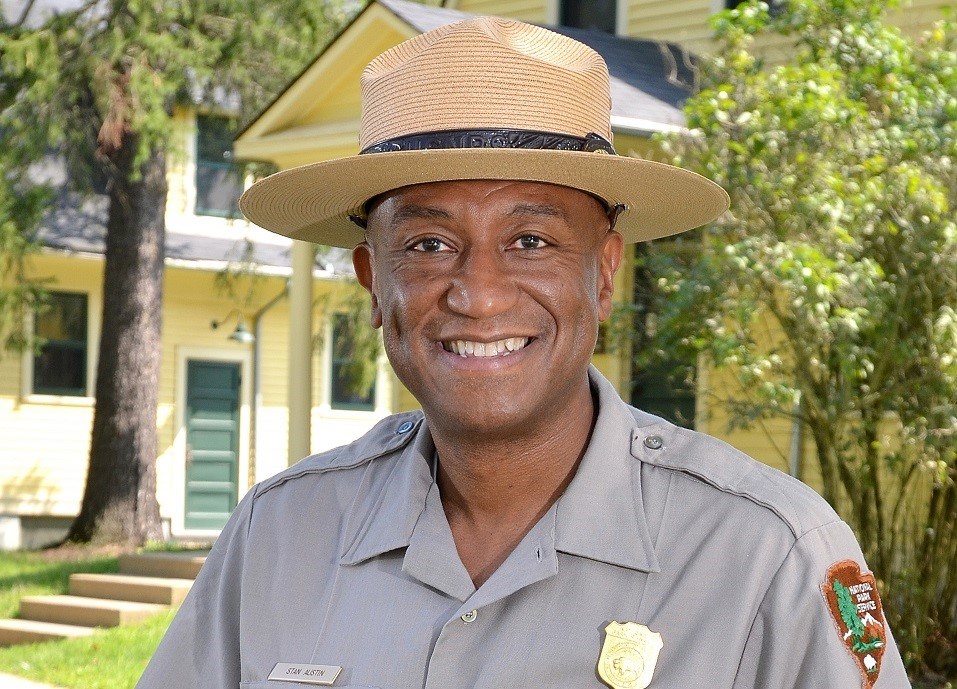 National Park Service (NPS) South Atlantic-Gulf Regional Director Stan Austin retires from federal service on July 31. Throughout his 43-year federal career, Austin found ways to share his commitment to public service at two agencies, help develop the next generation of NPS leaders, and inspire in others a love for national parks.
Growing up in Newark, New Jersey, Austin did not have a deep connection to the national park system. He eventually found his park or, rather, parks when he was presented with an opportunity to work with the NPS while enrolled as a pre-med student at Rutgers University.
"I was on my way to being a doctor when one of my college professors told me about a position with the National Park Service right here in New Jersey. I was amazed. I grew up here – my whole life – never realized there was a national park right next to me," Austin said.
Austin was hired through the NPS Co-Op Student Intern Program in 1978, now known as the NPS Pathways Internship Program. As a student intern, Austin was able to both continue his college education and work with the NPS. Through this program and upon graduating with a Bachelor of Science in environmental sciences with a focus on biology from Rutgers University, Austin was placed non-competitively as an interpretive park ranger and later served as a resource management specialist and law enforcement ranger respectively at Gateway National Recreation Area.
"When I first got to Sandy Hook [Gateway National Recreation Area], I immediately called my parents and I remember telling them, 'Mom! Dad! There's a national park here and it is soul captivating!' I did my best to keep that 'first day experience' with me throughout my career," Austin said.
Austin described how important it was for him to help other urban families, especially kids, make that connection to their national parks. "... when I saw how the kids lit up when they saw nature – some for the first time – it became imperative for me to share those experiences with not only urban kids, but all families across the nation."
For Austin, being able to relate to visitors seeing a national park for the first time never faded. It energized him and drove his commitment when he later served as the deputy superintendent of Rocky Mountain National Park, superintendent of Glen Canyon National Recreation Area, acting deputy superintendent at Yosemite National Park and superintendent of Cuyahoga Valley National Park.
It was that same commitment that positively affected his leadership style. Austin, through the years, became known as the "People's Superintendent."
"Stan has touched so many lives and parks across the nation, particularly in the Pacific West and Southeast regions where he served as regional Director. Central to Stan's leadership was his earnest desire to help others reach their full potential and his passion and commitment for America's most iconic public lands entrusted to the National Park Service. said Shawn Benge, deputy director of the National Park Service. "It's been a pleasure to call Stan both a friend and a colleague. On behalf of the NPS, I congratulate him on an incredible career and wish him and his beautiful family all the best in his retirement."
Kyle Patterson, a management specialist and public affairs officer for Rocky Mountain National Park for the past 20 years, describes Austin fondly. "I can remember when Stan came to the park. He was immediately personable and always eager to connect with staff at all levels and positions within the organization. He loved having those personal connections. It helped him to better understand what the challenges were. Stan certainly gave a tremendous amount as a public servant."
Austin also understood the vital importance of gateway communities and park partners. The NPS was built on partnerships and each one plays a key role in sharing the rich histories and vibrant cultures that intertwine the NPS mission throughout the parks. He worked tirelessly to explore partnership opportunities that benefited both the park and communities. For Austin, every encounter was a chance to establish a meaningful and mutually beneficial relationship – each as important as the last.
Austin believes that to be successful in your career, one should listen to staff at all levels of the agency. "Everyone has value. There's an immediate change that needs to take place within our agency and that is why we must do a better job communicating at all levels to build trust in leadership. Take a walk, take a ride, but get out from behind the desk and engage."
Austin continued, "Leaders have to be the one to reach out to staff and ask them what they need – don't expect your staff to come to you and don't make the grave mistake of thinking if they aren't coming to you nothing is wrong. It is not weakness to show you care. It is okay to have lunch or dinner with the boss. It is okay to build that interpersonal relationship with your team."
"Stan has a deep connection and belief in the people of the National Park Service. He cared about everyone and brought an ethic of support wherever he served," said Michael Reynolds, NPS regional director of Department of the Interior Lower Colorado Basin, Upper Colorado Basin and Arkansas-Rio Grande-Texas-Gulf regions.
For Castillo de San Marcos and Fort Matanzas national monuments Superintendent Gordie Wilson that personal connection made all the difference. "Words can't express the gratitude I feel for the opportunity to have worked with you. Maya [Angelou] must have had you in mind when she said, 'At the end of the day people won't remember what you said or did, they will remember how you made them feel.'"
With more than 10 years combined experience as the top executive for Interior Regions 8, 9, 10, and 12 - Pacific West and Interior Region 2 - South Atlantic-Gulf, Austin put his leadership practices into play. He has guided NPS units through many high-profile issues, including restoration of the Everglades; response and recovery following devastating hurricanes, wildfires and a volcanic eruption; operational and workplace reform; launch of six new parks; and important commemorations, including National Pearl Harbor Remembrance Day, the 75th Anniversary of the Port Chicago disaster and the 50th Anniversary of the Selma to Montgomery March.
"I've loved everywhere I have been and am honored to be enveloped in so many different cultures. Getting the opportunity to participate in monumental historical events has left me humbled," Austin said. "This has been a journey of passion and purpose and I am blessed to have been your friend and colleague from my first day to my last."
As the South Atlantic-Gulf regional director Austin led 74 parks spanning 4 million acres and multiple programs in Alabama, Florida, Georgia, Kentucky, Louisiana, Mississippi, North Carolina, South Carolina, Tennessee, Puerto Rico and the U.S. Virgin Islands. The South-Atlantic Gulf region employees 2,700 people and hosts 43,000 volunteers and nearly 69 million visitors who contribute more than $6 billion to local economies annually.
Before joining the NPS, Austin was a leader in the Water Program Office of the Environmental Protection Agency in Washington, D.C. He spent two years in Tokyo, Japan as a Mike Mansfield Fellow working with the Government of Japan's Ministries of Construction and Environment. He also served on the Hurricane Mitch federal response team in Nicaragua providing hurricane relief assistance.
Upon retirement, Austin intends to spend quality time with his 90-year-old mother, two adult children, and 5-year-old granddaughter. He will maintain residency in Atlanta, but as an urban child who grew up surrounded by brick and mortar asphalt and cement, the National Park Service will always beckon Austin to extend his support as an American citizen and devoted visitor.