Ahtna, Incorporated

Ahtna, Incorporated is an Alaska Native Regional Corporation formed under the Alaska Native Claims Settlement Act of 1971, and is based out of Glennallen, Alaska. The company currently has over 2,100 shareholders, the majority of whom are of Ahtna Athabascan descent, and employs more than 1,100 people worldwide. A premiere Alaskan-owned business, Ahtna, Incorporated is guided by its vision statement: "Our Culture Unites Us; Our Land Sustains Us; Our People are Prosperous."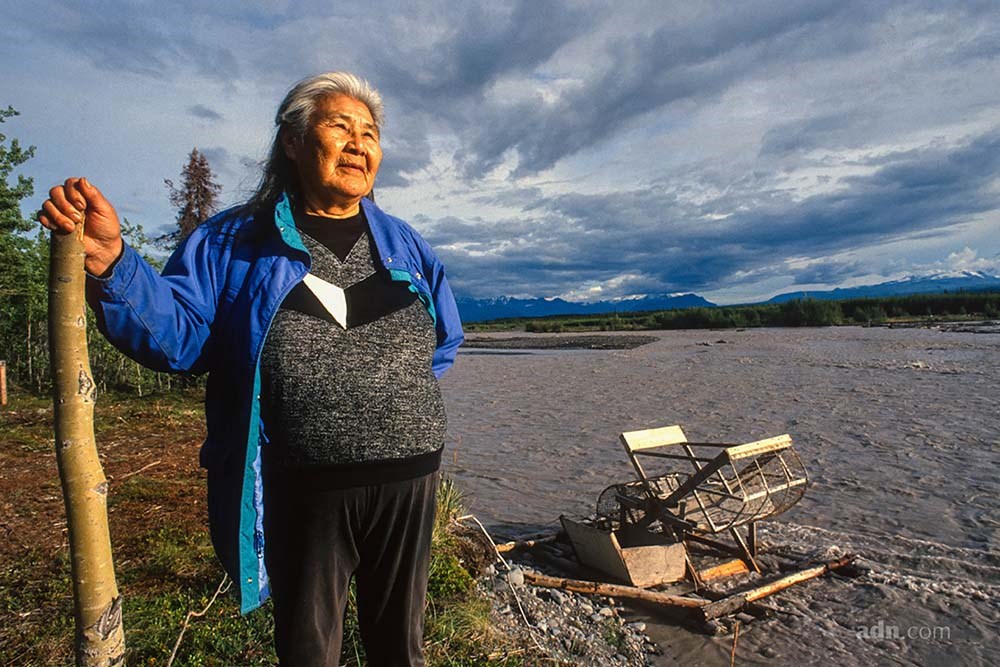 Every great culture in the world is known by their traditional foods and the survival of a culture depends on the people's ability to gather those foods. Katie fought for our right to access our traditional homelands because she knew that we need to be able to feed our families. It was a matter of cultural and human survival.
—Ahtna President Michelle Anderson
(quoted in Alaska Senate Bill 78 sponsor statement)
Katie John (1915-2013) was a beloved Ahtna Athabascan Elder and champion of Alaska Native rights. She was raised near the confluence of the Tanada Creek and the Copper River at the village of Nataełde (Roasted Salmon Place), more commonly known as Batzulnetas. The historic Batzulnetas village and fish camp lie within what is now Wrangell-St. Elias National Park and Preserve in the Southcentral region of Alaska. The Ahtna have lived in this area for at least two thousand years, and perhaps as long as 12,000 years (Reininghaus 2019).

Alaska became a state in 1959 and began managing fish and game in 1960. In 1964, the State closed the subsistence fishery at Batzulnetas and other traditional fishing sites in the upper Copper River and its tributaries. In response to this loss of access, Mrs. John spearheaded litigation for subsistence rights to the waters her family had always fished. To her, subsistence was linked closely to values of community, balancing conservation, respecting cycles of life, and sharing. Her decades-long struggle to protect these rights culminated in a 2001 ruling by the Ninth Circuit Court of Appeals that the subsistence fisheries protections provided under Title VIII of the Alaska National Interest Lands Conservation Act (ANILCA) extended to all navigable waters in which the federal government owned reserved water rights, effectively allowing subsistence fishing to continue unrestricted in those areas. Mrs. John passed away before she could witness the final resolution of her nearly 30-year peaceful struggle, which made it all the way to the U.S. Supreme Court, but all Alaska Natives benefit from her victory. In 2019, the state of Alaska officially declared May 31 as a day to forever honor her legacy and recognize the far-reaching impact of her work.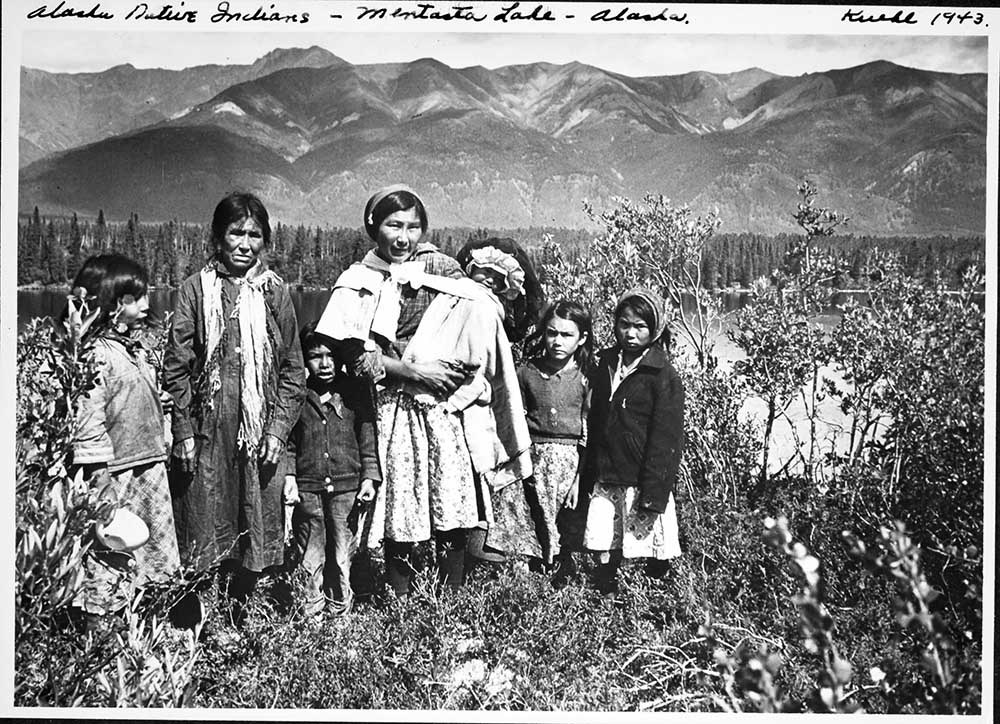 The Early Years
Mrs. John was born in Slana, Alaska in 1915 to parents Chief Charley and Sarah Sanford. Her first job, at the age of 14, was washing clothes for workers at the Nabesna mine, and it was there that she began to learn English. At the age of 16, she married the late Mentasta Traditional Chief Fred John, Sr., and together they made Mentasta their home. They had 20 children, 6 of whom were adopted, and instilled in them the Ahtna Athabascan culture—living off the land, working hard, and respecting their elders.

Mrs. John was well regarded for her contributions to the preservation and teaching of her Native language and culture. She helped create the Ahtna alphabet and the first Ahtna Noun Dictionary. She dedicated a large portion of her life to teaching language and culture.

Mrs. John spent most of her life in the northern Wrangell Mountains, between the Nabesna and Slana rivers. She lived by the Slana River until the age of six when her family moved to Batzulnetuz. She then moved to Mentasta when she married but would return to Batzulnetuz every summer to fish. She told stories about fishing for salmon in Tanada Creek using a fish weir and traps. Tanada Creek is shallow with an even, slow current and level bottom, making it the perfect environment for a fish weir. When the run was strong, both men and women were fully occupied in catching and preparing fish. The objective was to catch as many fish as possible at the beginning of the season, before the flies and damp weather in July and August made drying fish difficult. Mrs. John noted that her elders had precise knowledge of when the fish would run (John 1984).

In the 1940s, a federal game warden came to Batzulnetas and told Mrs. John's father that he was no longer to use fish traps in Tanada Creek. Mrs. John remembered: Now this warden tell him something, and my Daddy don't understand. He feel bad. My daddy left Batzulnetas. Her father never fished there again.
Statehood and Federal Legislation
Alaska became a state in 1959 and assumed management of fish and game in 1960. The imposition of game laws on the Ahtna people who had always lived off the land pushed people to abandon their old way of life and assimilate to the new rules and regulations.

In 1964, the State of Alaska closed down the subsistence fishery at Batzulnetas and nearly all other traditional fishing sites in the upper Copper River and its tributaries. Closure of Batzulnetas to subsistence fishing ended its regular use as a fish camp. Nevertheless, Mrs. John and other residents of Mentasta village and Batzulnetas village and fish camp returned regularly to visit grave sites and to experience the spiritual and cultural satisfaction derived from being present where they grew up and where their ancestors made their home (Native American Rights Fund 2013).

After the passage of the Alaska Native Claims Settlement Act (ANCSA) in 1971, each of the 12 Alaska Native regions received land. Altogether, the Ahtna were entitled to 1.77 million acres, or 2,765 square miles of land, or only about seven percent of their traditional homeland. Today the remaining 93 percent of the Ahtna homeland is owned by the State of Alaska, the federal government, and private landowners.

In 1980, Congress passed the Alaska National Interest Lands Conservation Act (ANILCA). Non-Native people generally perceive the Ahtna homeland as vast, largely unoccupied, pristine wilderness. This view contributed to the determination in ANILCA to make much of Ahtna's traditional territory into a national park. ANCSA had reallocated lands in the Copper River Basin and made Ahtna, Incorporated a recognized landowner. ANILCA created a huge domain of public property, the Wrangell-St. Elias National Park and Preserve. Ahtna, Incorporated owns 600,000 acres of land within the park boundaries, lands that Ahtna Elders selected prior to the creation of the park.

Title VIII of ANILCA reestablished sub-sistence as a civil right in federal law. However, in a compromise with the State of Alaska, the Act stopped short of linking subsistence with Alaska Native cultural traditions and instead extended the subsistence priority to all rural residents, Native and non-Native. Under Title VIII of ANILCA, rural residents have priority over urban residents for subsistence hunting and fishing on federal lands when wildlife resources become scarce (Alaska National Interest Lands Conservation Act 1980).
The Katie John Case
In 1983, Mrs. John and Doris Charles, along with the Mentasta Village Council, requested that the Alaska Board of Fisheries allow them to fish at Batzulnetas, which the state had closed to fishing in 1964. Their request was denied, despite the fact that downstream users were permitted to take hundreds of thousands of salmon for sport and commercial uses. When the Board refused, Mrs. John and Mrs. Charles filed suit against the State of Alaska. Under ANILCA, the State was allowed to manage fish and wildlife resources on federal lands if the State complied with ANILCA and maintained a rural subsistence priority. Mrs. John and Mrs. Charles communicated through their lawyers that, by allowing commercial fishing at the mouth of the Copper River, but not allowing subsistence fishing at Batzulnetas, the State was in violation of the subsistence priority set out in section 804 of ANILCA.

The State opposed opening Tanada Creek to fishing, believing that existing regulations had "provided reasonable opportunity for Copper River subsistence fishermen to satisfy subsistence uses" (Alaska Department of Fish and Game 1988). In other words, if Mrs. John and Mrs. Charles wanted to fish, they had plenty of opportunity to fish elsewhere on the Copper River. State fisheries managers also believed salmon that spawned in Tanada Lake and other parts of the upper Copper River above the mouth of the Slana River were particularly vulnerable to overharvest. The State argued for conservation of the salmon for the greater good. Closing tributaries of the Copper River to subsistence fishing was one method of controlling the expansion of the fishery and protecting specific salmon stocks from being overfished, but this approach did not take into consideration the Ahtna peoples' intimate knowledge of fish runs and traditional ways of management.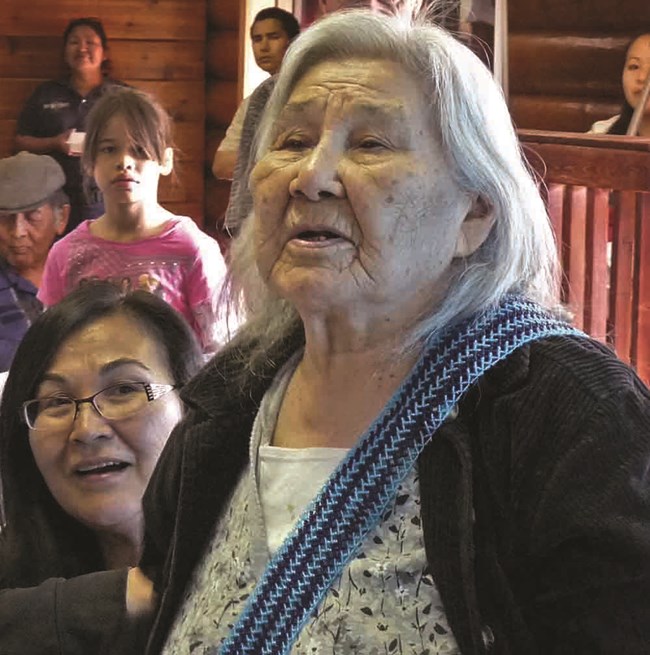 After months of negotiations, the State agreed to open a fishery at Batzulnetas. In 1988, the Alaska Board of Fisheries (BOF) adopted the agreement, but Mrs. John and Mrs. Charles considered the regulations stipulated by the State to be too narrow. While the BOF was willing to provide limited opportunity to fish, that was not enough for Mrs. John and Mrs. Charles. For them, Batzulnetas was the perfect place to fish. It was considered by the Ahtna to be one of the preeminent fishing locations on the upper Copper River because of the opportunity it offered to catch early season fish as well as larger late-run fish that provided sustenance all winter for people and their dogs. In Mrs. John's eyes, fishing at Batzulnetas was part of the legacy she would leave to her grandchildren. In 1994, she told a reporter:
I told you how many grandchildren I have. When I'm gone, how are they going to live? They got to have some way. They got to remember the way I learned. If they don't, they're going to be lost and won't know where they are … I don't do this for myself. I'm too old for that now. I'm thinking about the many days ahead.
—Katie John, quoted in Hulen 1994: A1

Mrs. John and Mrs. Charles then petitioned the court for redress and received a preliminary injunction allowing full-time fishing rights at Batzulnetas. The court then declared the State's 1988 subsistence regulations invalid and ordered the BOF to pass new regulations that provided a subsistence priority at Batzulnetas.

However, in 1989, the Alaska Supreme Court, in McDowell v. State of Alaska, judged the State's subsistence law unconstitutional because it violated the State constitutional guarantee giving all Alaska residents equal access to fish and wildlife resources. As a result, the State was no longer in compliance with Title VIII of ANILCA, and the Federal Subsistence Board (FSB) moved to take over from the State the management of subsistence hunting and fishing for rural Alaska residents on federal lands and waters.

The FSB imposed temporary fishing regulations mirroring those enacted by the Alaska BOF. Mrs. John petitioned the FSB to undo these regulations, but the FSB declared that Tanada Creek and the Copper River were navigable waters and, as such, were not under federal jurisdiction and not subject to ANILCA.

Mrs. John and Mrs. Charles then challenged the FSB, maintaining that by refusing to take control over management of subsistence fisheries on navigable waters, the federal government failed to meet its obligations to manage subsistence uses on federal lands. In March 1994, a federal district court ruled in favor of Mrs. John and Mrs. Charles, stating the federal government did indeed have the authority to manage subsistence fisheries on navigable waters.

The State of Alaska appealed the decision, but in April 1995 the ruling was upheld, and a subsequent attempt by the State to have the decision revisited failed. In 1999, the federal government took control of fish and game management on federal lands, effectively recognizing aboriginal subsistence rights. Even then, former Alaska Governor Tony Knowles promised that he would fight the ruling on behalf of the State's interests. After having just lost its latest appeal, Governor Knowles knew he had a small window to file another appeal or the court ruling would become permanent. In 2001, before making his decision, Knowles met with Mrs. John at the site of her subsistence fish wheel—the same area that, years before, Mrs. John's father had put up his own fish trap to feed his family; the same area that a decade earlier, a State ranger told Mrs. John her fish wheel was illegal and must be taken down. Moved by what Mrs. John told him of her life and culture, Knowles returned to Juneau and decided not to appeal. "We must stop a losing legal strategy that threatens to make a permanent divide among Alaskans," he said at the time. "I cannot continue to oppose in court what I know in my heart to be right" (Native American News, Information and Entertainment 2001).

On May 7, 2001, the Ninth Circuit Court of Appeals reaffirmed the previous ruling that Title VIII's federal subsistence fisheries protections extended to all navigable waters in which the federal government owns reserved water rights, effectively allowing the continuation of subsistence activities in Batzulnetas and across the state.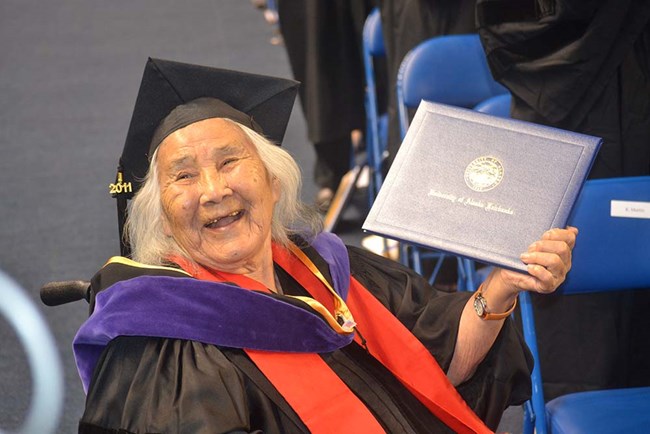 Katie John's Legacy
As it wound through the legal system, the "Katie John Case," as it became known, was a rallying point for Alaska Native subsistence rights. Protest marches in support of Mrs. John and Mrs. Charles in Anchorage attracted thousands of demonstrators, including the civil rights icon Rosa Parks. In one of these rallies, Mrs. John stated she was fighting for subsistence users and she wanted to put things back the way they were before the State began issuing hunting and fishing licenses, "I don't want nobody telling you better have a piece of paper. I don't want that…"

Mrs. John and Mrs. Charles's victory forced fisheries managers to open a fishery at Batzulnetas, but their success had wider ramifications. The Katie John Case pushed the federal government into assuming a more active role in the management of subsistence fisheries and expanded its jurisdiction to include fishing on more than half of Alaska's navigable waters.

The Katie John decision stands as one of the few protections of Alaska Native traditional hunting and fishing rights, and the ruling helps defend how Native people live and use the land and waters of their homelands. However, a lack of recognition of Indigenous management makes it difficult for Native people to continue a customary and traditional subsistence way of life under current laws. The future of Copper River salmon depends on a management structure that incorporates science and traditional knowledge to ensure populations remain healthy.

In 2001, the Alaska Federation of Natives named Mrs. John Citizen of the Decade, and in 2020, USA Today named her one of the Women of the Century (USA Today 2020). Mrs. John's legacy must be shared so that future generations can learn from her experience. Mrs. John's granddaughter, Kathryn Martin, said her grandmother's legacy was teaching "honesty, trust, love and forgiveness." Mrs. John was a strong, traditional Ahtna Athabascan woman who spoke the truth from her heart. She lived what she believed. If not for Mrs. John and her fighter spirit, we would not have the subsistence rights we are still fighting to retain today.
References

The historical information in this article is courtesy the book, Ahtna: The People and Their History. The book explains the Alaska Native Ahtna Athabascan history and culture as shared by Elders. Running through their accounts is their devout relationship to the land and to each other.

Alaska Department of Fish and Game. 1988.
Batzulnetas Findings Alaska Board of Fisheries, 1988. Available at: https://www.adfg.alaska.gov/static/regulations/regprocess/fisheriesboard/pdfs/findings/ff88122x.pdf (accessed November 17, 2021)

Alaska National Interest Lands Conservation Act
Public Law 96-487. 94 StaL 2371-2551, 1980.

Hulen, D. 1994.
She recalls the past, fights for the future. Anchorage Daily News September 25, 1994.

Katie John, 5.31.1984.
Alaska Native Language Center recorded by Jim Kari and translated by Jim Kari and Molly Galbreath.

Native American News, Information and Entertainment. 2001.
Knowles drops appeal of Katie John case. Available at: https://www.indianz.com/News/show.asp?ID=env/8282001-1 (accessed November 17, 2021)

Native American Rights Fund. 2013.
Katie John – Her Life and Legacy. Available at: https://www.narf.org/cases/katie-john-v-norton/ (accessed November 17, 2021)

Norris, F. B. 2002.
Alaska subsistence: A National Park Service Management history. Alaska Support Office, National Park Service, U.S. Dept. of the Interior.

Reininghaus, L. 2019.
Recent Archaeological Investigations of Glacial Lake Atna Shorelines in Wrangell–St. Elias National Park and Preserve, Alaska. Alaska Anthropological Association. Available at: https://www.alaskaanthropology.org/wp-content/uploads/2021/02/AJA-v17-Reininghaus.pdf (accessed November 17, 2021)

Simeone, W. E. 2018.
Ahtna: The People and Their History: netseh dae' tkughit'e' "before us it was like this." Published by Ahtna, Incorporated, 224 pp.

USA Today. 2020.
Civil rights leader Elizabeth Peratrovich, Senator Lisa Murkowski among 10 influential women from Alaska. Available at: https://www.usatoday.com/in-depth/life/women-of-the-century/2020/08/13/alaska-woman-history-lisa-murkowski-elizabeth-peratrovich-state-contributions/4863544002 (accessed November 17, 2021)