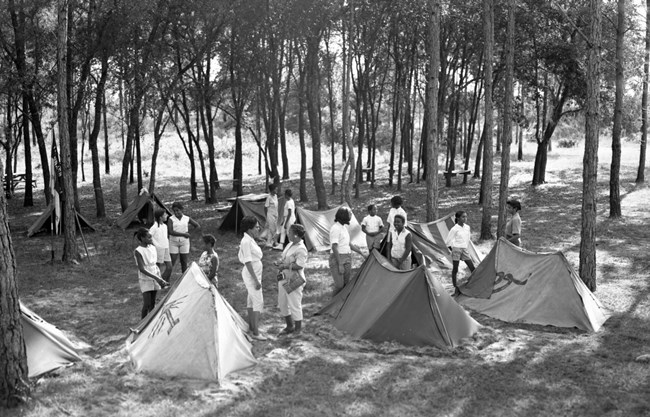 African Americans and the Great Outdoors
There is the prevailing misconception that African Americans do not participate in outdoor recreation; however, this misconception is far from reality. While racially exclusionary practices attempted to impose limits on African American participation in outdoor recreation, African Americans participated in opportunities offered by the larger society and also carved out spaces of their own. The StoryMap explores the various places across the nation associated with this history from 1865 to the present.
The history of African American outdoor recreation demonstrates the African American quest for freedom, justice, and equality has long been waged on a variety of fronts. It also illustrates how even in the face of ongoing struggles, African Americans still found ways to enjoy the pleasures of life.
While the project identified hundreds of sites that existed historically, comparatively few are still extant. Desegregation saw the decline of many of these places, however, they have not completely disappeared from the landscape or historical memory.
Source: Kahrl, Cammeron, and Katen. African American Outdoor Recreation Theme Study: Historic Context and National Historic Landmark Survey. National Park Service, 2022.
African Americans in the Great Outdoors
What are StoryMaps?
StoryMaps are tools for digital exploration. They focus on places while telling a story. As you use a StoryMap, you can travel from one end of the country to another (digitally of course), while viewing photographs and reading stories. StoryMaps are a great way to travel without leaving your front door!
The StoryMap, "African Americans and the Great Outdoors," was produced by the University of Virginia through a cooperative agreement with the Organization of American Historians (OAH). This project was funded through the National Park Service's internal Civil Rights Funding Initiative. The initiative supports projects at National Park Service sites associated with African American civil rights and experiences, including slavery, resistance, Reconstruction, and the American Civil Rights Movement of the 20th Century and beyond.
If you know of other African American outdoor recreation sites that are not included, please feel free to contact Déanda Johnson (NPS, Region 2, Civil Rights Historian) by email at
e-mail us
.