Mrs. Adams is one of my [Ranger Val's] favorite historical people, so when I came upon her recipe via The Californian, I had to try it. Perhaps she was introduced to the recipe in Philadelphia while she was serving as Second Lady, as Apple Pan Dowdy came to the colonies through German immigrants to Pennsylvania. ("Pennsylvania Dutch" is actually a misinterpretation of the word "Deutsch," which is the German word for German.) There were also many Germans in the Mohawk Valley of NY, as well as apple trees, so this is a dish that could've very easily found its way to a holiday table of one of the many families living along the Mohawk River in the 18th Century.
PASTRY*
1 1/2 cup flour

1/2 cup shortening

1/4 teaspoons salt

1/4 cup butter, melted

3 to 4 tablespoons ice water
Cut the shortening into the flour and salt with a pastry cutter. Sprinkle the ice water over dough, adding only enough to hold the dough together. Roll out to 1/4 inch thickness, brush with 1/4 cup melted butter. Cut pastry in half. Place one half on top of the other. Cut again and again until you have 16 separate pieces piled up. Press them lightly together, then chill the dough for 1 hour. Roll pastry again and cut in half. Roll one half to fit the bottom of the baking dish and the other to fit the top.

*Depending on the size dish you use, you might want to double the pastry recipe to ensure you have enough for two. When she made the sample, Ranger Val only covered the top.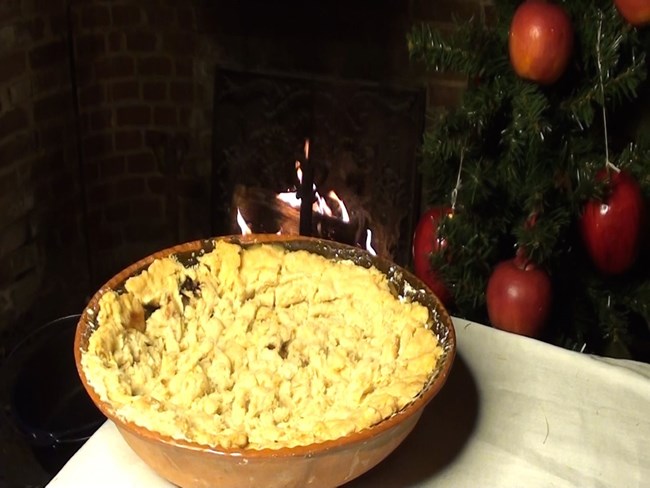 FILLING
1/2 cup sugar

1/2 teaspoon cinnamon

1/4 teaspoon nutmeg

1/4 teaspoon salt

10 Newtown Pippin apples**

1/4 cup molasses

3 tablespoons melted butter

1/4 cup water
Core, peel and slice the apples. Mix with sugar and spices and put in pastry-lined dish. Combine molasses with butter and water. Pour over apples. Cover with top crust and seal. Bake at 400 degrees for 10 minutes. Then reduce heat to 325 degrees."Dowdy" the dish by cutting the upper crust into apples with sharp knife. Bake one hour or until the apples are bubbling vigorously. Serve hot with ice cream or whipped cream.*

*Newtown Pippin are a late winter apple. They are still available in some parts of the country. Ranger Val used a mix of Red Delicious and Gala due to availability in this area.

Recipe via The Californian, Joe Truskot
Transcript
*violin music throughout*
Visit our keyboard shortcuts docs for details
Duration:

2 minutes, 2 seconds
A favorite dish of Abigail Adams, the German dish, apple pan "dowdy," might've been found in the Mohawk Valley as the main ingredients were plentiful and the German heritage strong.