Article
A Teacup from Sir Thomas Lipton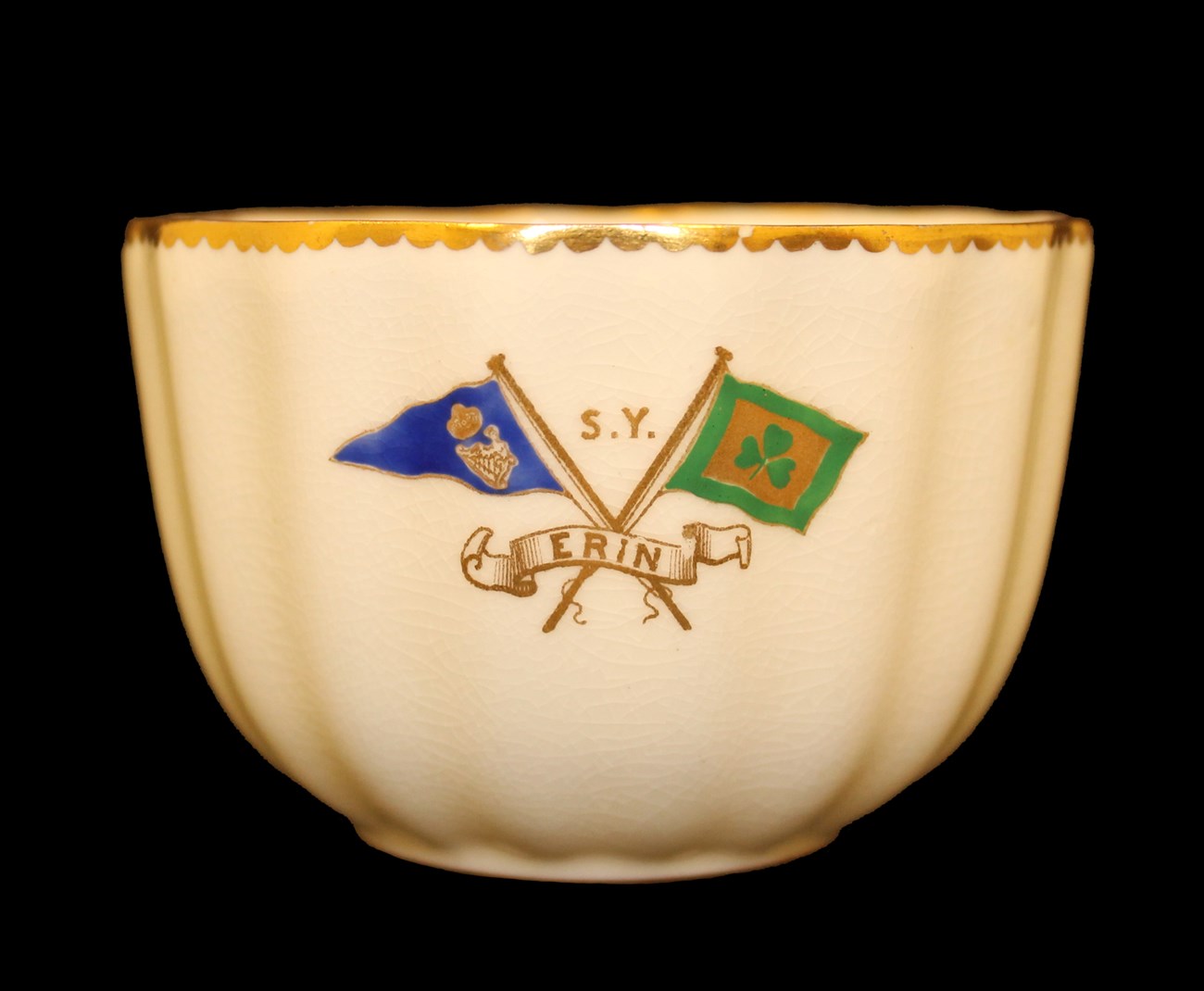 In 1898, the wealthy tea magnate Thomas Lipton purchased a 1,240 ton steam yacht named the Aegusa, and rechristened it the Erin in honor of his Irish heritage. The ship became a favored entertaining venue for Lipton, and guests included royalty, business tycoons, celebrities, and politicians. Among his many guests were Rose Fitzgerald, who along with her father John and sister Agnes paid a visit to Lipton on the Erin while in England in August of 1909.
Lipton took his entertaining on the Erin so seriously that the ship had its own china. Pictured here is one of the cups, which, along with matching saucers, he gave to the Fitzgeralds as mementos of their time aboard the ship. The crossed flags bear symbols recalling Ireland, a harp and a shamrock, with the name "Erin" on a banner below and the letters "S.Y." for steam yacht above.
Steam yachts were primarily a form of luxury vessel equipped with both steam engines and sails for propulsion, though later steam yachts featured sails primarily as ornamental elements. The Erin was regarded as one of the most well-appointed and powerful steam yachts of its time. A 1901 article in the St. John's, Newfoundland Evening Telegram called the ship a "miniature floating palace" that had "a complete wine cellar aboard, stocked with 5,000 bottles of wine." Lipton sailed the Erin extensively, even traveling in it to Ceylon (Sri Lanka) where his tea plantations were located. At the outbreak of World War I, the Erin was briefly transformed into a hospital ship, and was then renamed the Aegusa while serving as an armed patrol ship before hitting a mine and sinking in 1916.
Last updated: March 19, 2021