Introduction 
"Women's History to Teach Year-Round" provides manageable, interesting lessons that showcase women's stories behind important historic sites. In this lesson, students explore a Black middle-class community in Raleigh, North Carolina in the early twentieth century through the lives of two women who grew up in the Pope house.
This lesson was adapted by Talia Brenner and Katie McCarthy from the Teaching with Historic Places lesson plan, "An American Success Story: The Pope House of Raleigh, NC." To find out more about this topic, explore the full lesson plan.
Grade Level Adapted For:
This lesson is intended for middle school learners but can easily be adapted for use by learners of all ages.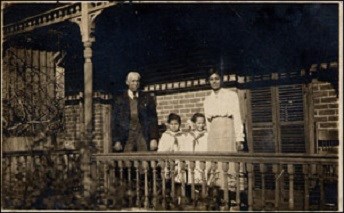 Lesson Objectives:
Learners will be able to...
Understand the values and objectives of Black middle class families at the beginning of the 20th century.
Identify how race relations shape communities.
Cite specific textual evidence to support analysis of primary and secondary sources.
Determine the central ideas or information of a primary or secondary source.
Inquiry Question:
Take a minute to look at the photo on the right, taking in the details of the family and their house. What can we learn about their lives based on this image? What do we need other resources to tell us about them?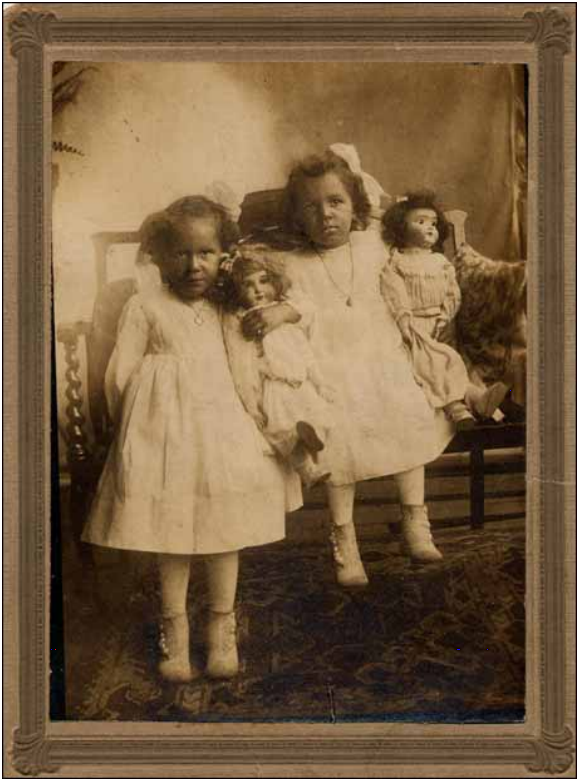 Background
In the late 1800s white lawmakers began passing laws to preserve white supremacy. These laws were often called "Jim Crow" laws. They created separate public facilities for African Americans, ranging from buses to schools. Many state governments also sought to take away African-American men's right to vote by requiring difficult literacy tests to register.

Members of the small but rapidly growing Black middle class believed that they were responsible for leading and representing African-American people. They believed very strongly in education and wanted to set an example of success in a highly racist environment. The Pope family of Raleigh, NC was part of this middle-class African-American movement.
Reading
Evelyn and Ruth Pope grew up in a brick house on Wilmington Street, in a wealthy Black family that posed a challenge to the racist social order of the early 1900s. Their father, Manassa Pope, was the first Black man in North Carolina to receive a medical license. Dr. Pope had also served as a surgeon in the 1898 Spanish-American War. Their mother, Delia, was born to formerly enslaved parents. Before her marriage to Manassa Pope, she worked as a schoolteacher. Later, she was a representative for a company owned by Madam C.J. Walker, a famous Black businesswoman who made beauty products for Black women.

Before his children were born, Dr. Pope had moved to Raleigh to open a medical practice. He built the house on Wilmington Street in 1901 with his first wife, Lydia, who died of tuberculosis a few years after. When he married Delia in 1907, the house was a powerful symbol of his financial success. The couple had two children, Evelyn B. Pope, who was born in 1908, and Ruth P. Pope, who was born in 1910.

Evelyn and Ruth grew up in an elegantly decorated house with all the modern conveniences. At the time, most homes were made of wood, so it was a sign of wealth to have a home of brick. The interior of the house had varnished wood trim, doors, and floors, an impressive staircase, and a stained glass window in the front hall. There was also a kitchen with running water, a full bathroom, coal burning stoves, a telephone, and a call bell system for the servant the family hired.

The section of Wilmington Street where the Popes lived was home to many successful Black professionals. The street was on the border between an African-American neighborhood called Fourth Ward, and a white neighborhood. Though no written evidence survives, it seems that the Popes lived in the most elite place they were allowed as a Black family.

Manassa and Delia Pope were strict Baptists who placed a high value on education. They were also involved with politics and the struggle for Black civil rights. In the early 1900s, North Carolina had racist laws that prevented most African-American men from voting (women of all races were not allowed to vote). Jim Crow laws segregated public facilities such as schools and busses. When Black soldiers returned from World War I in 1919, they were forced to return to the status of second-class citizens. White racists constantly threatened Black people with violence if they demanded more rights.

To protest these conditions, Dr. Pope ran for mayor of Raleigh in 1919 on an African-American ticket. The Black candidates on this ticket knew that they would not win the election. Instead, they ran to make a public statement about the oppression that Black people faced in their city. Ruth and Evelyn were still children, and the campaign put the whole family in danger. Yet it was an important form of non-violent protest that came decades before the modern Civil Rights Movement.

Unlike many parents at the time, the Popes believed that their daughters should pursue professional degrees. Both Ruth and Evelyn received undergraduate degrees from Shaw University, a historically Black university. Both women then went on to earn master's degrees from Columbia University, a mostly white institution. Evelyn earned a degree in library science, and Ruth in home economics. Evelyn became a respected librarian at the North Carolina Central University Law School and Ruth became a home economics teacher in the Chapel Hill public schools. Neither of them ever married or had children.

Both women lived long lives; Evelyn died in 1995, and Ruth in 2000. Towards the end of their lives, Ruth and Evelyn decided to preserve their family home as a historic site.
Discussion Questions
What were some of the ways that the Popes used their house to show their social status?
How would you describe Ruth and Evelyn's childhood? What privileges did they have? What privileges did they not have?
Observe the portrait of Ruth and Evelyn. What do you think the Popes were trying to convey about their family through this portrait? Pay attention to the furniture and clothing in the portrait.
Why were Dr. Pope and his fellow candidates so certain that they would not win the election of 1919? What risk did the Pope family take when Dr. Pope ran for mayor? Why do you think Dr. Pope took that risk if he knew he couldn't win?

Activities:
Each of the following activities encourage learners to think critically about the importance of primary sources and material culture. In the first, participants analyze an essay by Ruth Pope. In the second, learners explore the importance of historic preservation. Educators should choose one of the activities to complete with their participants.

Activity 1: Primary Source Analysis
Have participants read the following document and then answer the questions below, working either individually or in small groups. Then, discuss the responses, especially to the last question: "Why do you think that Ruth said that there was harmony when 'no two of these races mixed'?"

Document: Ruth's Autobiography
This document was excerpted from a term paper, "My Autobiography," that Ruth Pope wrote in 1939 for an education course. At the time, she was studying for her master's degree at Columbia University, a majority white institution.

My father as a youngster grew up proud of himself and his beautiful clothing. In short he was the spoiled child…. His schooling continued,…he left home, went to Shaw to further his education…War came! Yes, and he volunteered and enjoyed having served his country…After the lapse of years he returned to Raleigh to practice and open a drug store. This new experience proved very profitable in business and matrimony. It was then he met my mother, whom in late years he delighted in teasing by saying, "she was one of the small town old maid schoolteachers whose chief business at the drug store was to catch a view of the new unattached doctor." His social life was broad, for diversion he spent much time in card playing, baseball, and horse racing. Religious, yes a Baptist Sunday school teacher and Deacon of church. He attributed his success, if any, to God's help. He died at the age of 76 years.

My mother, a very capable and attractive woman was one of ten children five of whom were reared by an Aunt and elder sister due to the death of their parents. Her early childhood was spent in a home of average means and she had been taught to work making every job count as an art. Her Home training and moral standards were all instilled…

A home for these two [Dr. Pope and Delia Pope] so different in background whom fate or fortune had joined was built with the conveniences of that age in a mixed neighborhood of foreigners, whites, and negroes. No two of these races mixed and thus harmony at all times existed between them…

We [Ruth and Evelyn] were taken to Sunday school and occasionally allowed to stay for church. Here we were taught not to look around and whisper but to sit attentively… my mother and father would tell me, "pretty is as pretty does," and insisted that we were both pretty only when we were good…Sometimes mother would be busy or she wanted to read or play the piano. On one specific occasion, and one I can't forget, as she played and I wanted her to go out and see a sand house I'd built she kept saying I'll be out but didn't move. My anxiety grew, I showed my temper by biting the paint along the edge of the keyboard…

On entering high school I was thrilled, because I was sure I knew it all. This school was new, Raleigh's first public High School for negroes. I determined to do my best in order that I'd have the honor of making the highest average and have the pleasure of being May Queen in the carnival. I did this and even more I played basketball and tennis and was an active person in all school activities.

From the Pope Family Papers, #5085, Southern Historical Collection, the Library of the University of North Carolina at Chapel Hill.

Questions for Discussion
How old was Ruth Pope when she wrote this paper?
Who was Ruth's intended audience?
According to Ruth, what role did religion have in her upbringing?
How does Ruth describe her parents' personality traits? Identify three sentences in the text that are evidence for your answer.
What kind of high school student did Ruth say she was? What kind of high school did Ruth attend?
How would you summarize Ruth's description of her childhood?
Why do you think that Ruth said that there was harmony when "no two of these races mixed"? Do you think she genuinely believed that, or that she was saying it for her audience? Consider both the experiences that Ruth had as a child and the audience that she was writing for at Columbia University.

Activity 2: Historic Preservation
Have learners read the following excerpt from the City of Raleigh's article, "Historical Context for the Pope House," working either individually or in small groups. If participants are not familiar with the concept of urban renewal, consider providing them with the following explanation:
Urban renewal is the process of demolishing buildings in low-income neighborhoods to make way for new development, such as office buildings, higher-income housing, and roads. In the United States, the neighborhoods that are demolished in urban renewal projects are often historically African-American neighborhoods.
After participants have read the excerpt, discuss the following questions:
What changes had occurred in the neighborhood by 1989?
How do you think those changes influenced the Pope sisters' decision to preserve their childhood home?
Excerpt: "Historical Context for the Pope House"
After the deaths of their parents, Evelyn and Ruth Pope maintained the family home on South Wilmington Street, though they lived in Durham and Chapel Hill, respectively. After their retirement in the 1970s, the unmarried sisters moved back to Raleigh. Though the Pope House remained much as it has always been, the area around it had changed dramatically. The end of segregation and urban renewal had reconfigured the neighborhood once again, as prosperous African American families moved into more affluent suburbs, and homes of all sizes were demolished for businesses or parking lots. Perhaps the most evident change was the construction of the Raleigh Civic Center directly across the street from the house, followed in the 1980s and 1990s with skyscrapers that loom over the area.

In 1989 the Pope sisters began receiving professional financial advice…the Evelyn B. and Ruth P. Pope Charitable Foundation was created in 1995. From the beginning there was discussion about what to do with the house and its contents, which everyone realized had historic significance…The process was accelerated in early 1998, when a pipe burst in the second floor bathroom, causing extensive water damage throughout the house. With the insurance money, supplemented by Pope family funds, a major renovation began…Though this was not a strict restoration, the trustees were very diligent about retaining original woodwork and fixtures, and maintaining the historic integrity of the house…The Pope House was officially listed on the National Register of Historic Places on November 22, 1999, and the following month the trustees of the Pope Charitable Foundation decided to begin the process of turning the house into a museum…

Excerpted from "Historical Context for the Pope House," City of Raleigh, https://cityofraleigh0drupal.blob.core.usgovcloudapi.net/drupal-prod/COR24/HRMPopeHouse.pdf.

As an extension activity, have learners research other communities that have been lost due to development. Participants could compare and contrast their example to the Fourth Ward of Raleigh, the historically African-American neighborhood where the Pope House is located.
Wrap-up:
What is the story that is presented in this lesson's readings? What has been left untold?
What are you curious about learning more about?
Why might this story be important to United States history? How might it be related to this history of your town or community?
Can you think of a historic house near you that might have an interesting story?
Additional Resources:
The Pope House (City of Raleigh)
Visit the Pope House website for more information about the history of the house and the Pope family, at the Raleigh, North Carolina Parks, Recreation and Cultural Resources online resource.

National Park Service Travel Itinerary
The Discover Our Shared Heritage online travel itinerary, We Shall Overcome: Historic Places of the Civil Rights Movement provides information on many places (in states across the U.S.) listed in the National Register of Historic Places for their association with the modern Civil Rights Movement. The travel itinerary Raleigh: A Capital City provides information on various National Register sites throughout Raleigh, the capital of North Carolina, including the Dr. M.T. Pope House.

American Radio Works-–Remembering Jim Crow
Remembering Jim Crow is an online documentary glimpse at the system of Jim Crow explored through text, pictures, audio clips and slide shows. Sponsored by American Radio Works, the web site features personal accounts offering different perspectives on how the system of Jim Crow affected individuals throughout the country. The site also offers a sampling of Jim Crow laws, with a particular section addressing those specifically related to education.