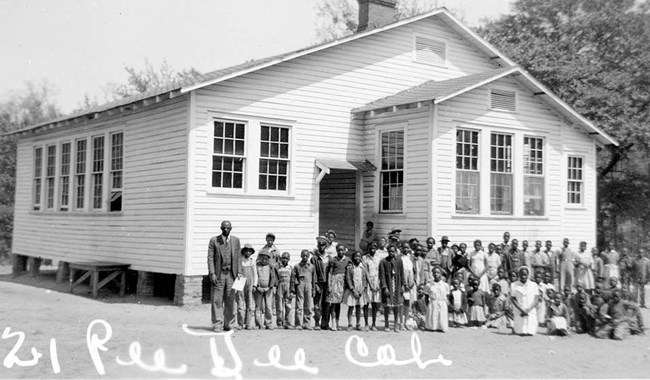 Lesson Objectives:
Students will be able to...
Identify Julius Rosenwald and Booker T. Washington as founders of the Rosenwald school building program.
Explain the reasons behind Rosenwald and Washington's school program.
Cite specific textual evidence to support their analysis of a secondary source.
Determine the central ideas or information from a secondary source.
Inquiry Question:
What's going on in the picture above? What makes you say that? Why do you think this building might be important?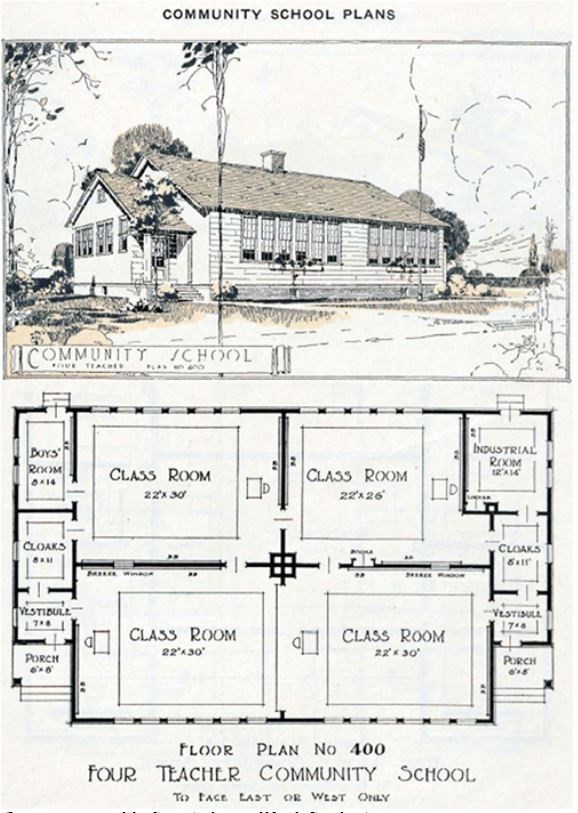 Background:
Before emancipation, it was illegal for most enslaved people in much of the United States to learn how to read or to go to school. In the southern states, many white Americans were afraid that education would lead to rebellion. After the Civil War, formerly enslaved people wanted to take advantage of the opportunities to learn skills like reading, writing, and arithmetic. They knew that these skills were important to economic freedom, exercising citizenship, and getting a job.
During Reconstruction (roughly 1865-1877), many Southern states began to give some money for public education. Southern public schools were available to both races. Black and white students attended public schools together. At the end of Reconstruction, white supremacist politicians returned to positions of power in the government. They began racially segregating public spaces, including schools. Of the little funding for education that existed, most money went to white schools. Black students, on average, had fewer school buildings, books, and teachers.1
Access to public education was poor across the South, and African American communities bore the brunt of the lack of schools and funding. In 1909, in Lowndes County, Alabama, white schools received $20 per student while Black schools only received $0.67 per student. North Carolina's Edgecombe County paid for janitors, electricity, water, and transportation at white schools. None of those services were provided for black schools. Many Black students attended school in churches, private homes, and fields because they were excluded from existing public schools.2 The same inequalities could be found in other states with segregated education.

Content:
The early 20th century in America, a period characterized by nationwide social reform, is often referred to as the Progressive Era. During this period, many social reformers believed that education was the best way to help improve poorer peoples' lives. They promoted a "practical" education to teach skills like farming, carpentry, and housekeeping. In the South, schools were segregated by law and the white schools got more funding than Black schools. This meant white students usually had better books, more teachers, and more comfortable school buildings. Some white reformers saw that education for Black students needed to improve. They decided to work with African Americans to do something about the problem.
Booker T. Washington was a well-known African American educator and Progressive Era reformer who helped found the Tuskegee Institute in Alabama. Washington was born into slavery around 1856 in Virginia. After the Civil War, he went to a rural grade school opened by the Union Army. The Army ran several grade schools in the South to teach freed African Americans. Washington believed that education could help people escape poverty. He wanted to help poor African Americans in the South, so he became a teacher and trained other African Americans to be teachers. Washington moved to Alabama in 1881 to help found the Tuskegee Institute as a new school for teachers. As its president, Washington raised money for Tuskegee and for other Black schools in Alabama.3
Julius Rosenwald was a white Progressive who lived in Chicago, Illinois. In the early 1900s, Rosenwald was the president of Sears, Roebuck and Company and very wealthy. Rosenwald used his money to fund Progressive Era projects and causes. One of these causes was Southern education. Rosenwald met Washington in Chicago in 1911 at a fundraiser. The two men discovered that they had similar goals. Washington asked Rosenwald to serve on the Board of Directors of Tuskegee. Rosenwald agreed.
In 1912, Rosenwald gave a small grant to the Tuskegee Institute so it could build six schools for Black students. Washington used the funds to build these schools in rural Alabama. The first Rosenwald grants allowed Black students to move into buildings designed to be schools, instead of learning in homes or community spaces. These schools were often the first purpose-built school buildings in Black communities. They helped improve education across the South.
Rosenwald donated more money for building schools in Alabama in 1914. He gave $30,000 for one hundred schools. Other states heard about Rosenwald and they applied for money to build schools as well. Rosenwald agreed to give more funds in 1916 and built 200 schools outside of Alabama. He did this with Washington's and the Tuskegee Institute's support. When Washington died in 1915, Rosenwald chose to manage the Fund without Tuskegee. He turned it into an independent foundation.4
Julius Rosenwald created the Rosenwald Fund in 1917 to manage his growing school building program. The fund moved to Nashville, Tennessee in 1920. The new Rosenwald Fund employees set new standards for schools. The grants now required matching funds from the communities that wanted schools. The local African American community and its white school district had to match the amount of the grant. Rosenwald asked for the match to encourage communities to work together in building the schools. Some community members contributed building materials and labor as their match. Black communities also held fish fries, bake sales, and other events to raise money. Rosenwald hoped his money would jumpstart a school and then not need his support to continue.
The Tuskegee Institute hired Black architects to design the first schools. When the Fund moved to Nashville, it hired white architect Fletcher Dresslar to design new school building plans. The Rosenwald school building program told the communities how to build the schools. It sent detailed building plans out with the matching grants. These plans described building materials, landscaping, and even paint colors. The Rosenwald program was most active between 1920 and 1928. During those years, it spent over $350,000 a year and built thousands of schools. Most of those schools were built according to Dresslar's plans.
Thousands of small communities used the program's instructions to plan their schools. Therefore, most of the schools looked very similar. The schools were one story and raised off the ground on brick piers. Most of the schools were built of wood and had wood siding. A few larger schools were brick. The schools all had brick chimneys. Rosenwald schools had large windows that almost covered the entire walls. The windows were wood with panes of glass and opened to allow fresh air into the school. They were lined up close together to let in a lot of light without casting thick shadows. The site plans for Rosenwald schools required the buildings be lined up to the cardinal directions (east-west-north-south) to align with the movement of the sun.

The Rosenwald program also dictated paint colors for the buildings. The architects chose light paint colors that would help reflect sunshine in the classroom. Very few Rosenwald schools had electricity because of their rural location. Students and teachers relied on the sun for light. Paint on the outside of the school was either brown with white trim around the windows and doors or white with gray trim. The Fund told communities that this paint would increase the amount of light in the classroom, add beauty to the interior, and increase the durability of the building.
The Rosenwald school building program had a widespread impact on Black education in the South. Its effects were felt for decades. By the time it closed in the 1940s, the Fund had helped build over 5,000 new schoolhouses, teachers' homes, and industrial training workshops. It spent millions of dollars in fifteen states. Over 600,000 students went to Rosenwald schools from the 1910s until the 1960s. Many Rosenwald schools closed when the states desegregated public schools in the 1950s and 1960s. Some school districts tore down the buildings after they closed. Some schoolhouses were used as community centers, homes, and sheds for storage. Most Rosenwald schools were abandoned and left to fall apart.
Reading Discussion Questions:
What was the Progressive Movement? Who were the Progressives?
Who were Julius Rosenwald and Booker T. Washington? How did each contribute to African American education?
Why did the Rosenwald program require a match to its grants? Do you think this was a good idea? Why or why not?
How many schools were built by the Rosenwald school building program? Who benefited from these schools?
How did Black communities support the construction of the schools?
How does education improve someone's life? How do you think it improved the lives of the students who went to Rosenwald schools?
Activity:
The construction of a Rosenwald School was an exciting moment for a community, who rallied together to contribute funds so that their children could have a place to get an education. Rosenwald schools were designed to be large, comfortable spaces with fresh air and good light. Most Rosenwald schools were one story, brick buildings with large windows. In this activity, participants design an advertisement of a new Rosenwald building for its community. As they design their advertisement (a poster, booklet, or skit) learners should consider the following questions:
Who is the audience for the advertisement?
What does the school look like?
What do you want to highlight about the school? What is new and important?
Who will the school be used by?
Who should the advertisement thank?
What kinds of dates or facts are important to include?

Activity Extension:
Once participants have designed their advertisements, they can be presented to others in the group or class, or turned into an exhibit in a shared space. You might also have learners write a paragraph or two about their thought and creative design process as they created their artwork.

Wrap-Up:
Why do you think new school buildings were important for Black children's education in the South?
How do you think the Rosenwald school buildings changed students' school experience and learning? How is attending school in a building built for it different from attending school in a church or someone's home?
Why were men like Booker T. Washington and Julius Rosenwald important during the Progressive Era? Can you think of any philanthropists like them today?
When was your school built? Who built it? How was it funded?
What do you think an ideal school looks like? What would you want in your perfect school. How is that different from the school you attend now?
Footnotes:
1 Walter Edgar, South Carolina: A History (Columbia: University of South Carolina Press, 1998).
2 The Rosenwald School Building Fund in Alabama (1913-1932) MPS; Edgar, 463-464; Marvin A. Brown, "Rosenwald Schools in Edgecombe, Halifax, Johnston, Nash, Wayne, and Wilson Counties, North Carolina," report prepared for North Carolina Department of Transportation, 2007, available online.
3 Washington's background is condensed from Stephanie Deutsch, You Need A Schoolhouse: Booker T. Washington, Julius Rosenwald, and the Building of Schools for the Segregated South. Evanston, IL: Northwestern University Press, 2011.
4 National Trust for Historic Preservation. "History of the Rosenwald School Program."

The reading was compiled from Mary S. Hoffschwelle, The Rosenwald Schools of the American South (Gainesville: University Press of Florida, 2006); Jeff Mansell and Alabama Historical Commission staff, The Rosenwald School Building Fund and Associated Buildings (Alabama), National Register of Historic Places Multiple Property Documentation Form (Washington, DC: U.S. Department of the Interior, National Park Service, 1997); Karen D. Riles, The Rosenwald School Building Program in Texas, 1920-1932, National Register of Historic Places Multiple Property Documentation Form, (Washington, DC: U.S. Department of the Interior, National Park Service, 1998); Lindsay C. M. Weathers, The Rosenwald School Building Program in South Carolina, 1917-1932, National Register of Historic Places Multiple Property Documentation Form, (Washington, DC: U.S. Department of the Interior, National Park Service, 2008).

Additional Resources:
The National Trust for Historic Preservation
The National Trust for Historic Preservation maintains a website on its Rosenwald School Initiative. This website provides in-depth information on the Rosenwald program, examples of school architecture and building plans, and case studies on the preservation of Rosenwald schools across the South.