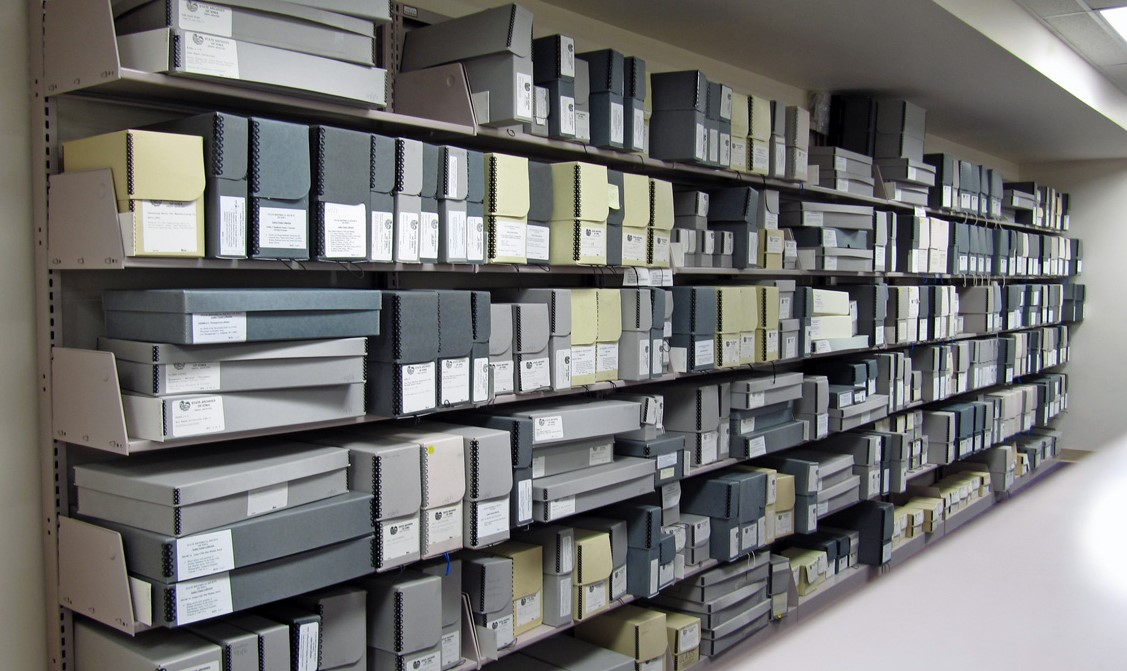 As the steward of a National Historic Landmark (NHL), you can certainly relate to that growing pile of "stuff" over in the corner, a pile that you have every intention of organizing…someday. Is it being put off because you wonder where to even start? Maybe a friendly push is needed to get started on archives, or perhaps you're looking for guidance on how to manage the existing collection.
While organizing an archive may be a daunting task, the scope of what can be learned from the effort will make it well worth the time. Nothing educates more about the people of the past than the objects they left behind. As a NHL steward, you have been entrusted with one of the most monumental responsibilities in historic preservation: to ensure that historical records are maintained and can be accessed by those who seek to study them. As you read on, keep in mind that every detail mentioned is "mission critical" to the creation, management, and success of your archives.
Be prepared to dedicate an area to your work. Substantial space will be required to manage your paper archives based on the following factors: the size of the collection, the number of staff members, the number of tasks for which the archives is responsible, and the number of users who will be served. You should plan to store about 1.5 cubic feet of records for each square foot of storage space (if you plan to use standard shelving with aisles between each range). Another shelving option to consider is mobile, compact shelving which can nearly triple the storage capacity of records to about 4.5 cubic feet per square foot of storage (Wilsted and Nolte, 1991).
The environmental factors that can damage a collection are temperature, moisture, air quality and light. Recent research shows that the two most important factors are temperature and relative humidity (RH). Here's how it works: high RH provides the moisture necessary to promote harmful chemical reactions in materials. When high RH is combined with high temperature, the two work together to encourage mold growth and insect activity. Chemical decay is the most significant threat to paper archive collections because many paper products are composed primarily of organic, inherently acidic materials. Wood pulp, for example, will spontaneously decay if stored at room temperature, and will only survive for a few decades (Reilly, 2008). Experts say the solution to this problem is to maintain a stable temperature in your archive between 60°F and 70°F and a stable RH between 30% and 50%. Keeping RH at the lower end of this range will slow down the deterioration rate (Ogden, 2007).
Pay special attention to fluctuations in temperature and relative humidity. Most archival materials are hygroscopic, which means they readily absorb and release moisture. They respond to seasonal changes in temperature and relative humidity by expanding and contracting, which ultimately speeds up deterioration and leads to noticeable damage like wrinkling paper and cracked emulsion on photographs (Ogden, 2007). It is a good idea to let materials acclimate to changes in their environment gradually. For example, remove photographs from cold storage and place them in a plastic bag at room temperature for at least 24 hours. This will give the photographs a "thawing" period prior to being examined and will substantially reduce damage from cracking.
In order for temperature and relative humidity to be systematically measured and recorded in your archive storage space, it is imperative that the space has its own climate-control system. The climate control equipment you choose for your archive, again, depends on its size. It may be as simple as a room air conditioner, humidifier, or dehumidifier; or as complex as a central, buildingwide system that filters, cools, heats, humidifies, and dehumidifies the air. The ideal environment you are seeking is one characterized by cold, dry air that is free from pollutants. The system should never be turned off, and settings should never be lowered at night or on weekends. The costs incurred for keeping the climate-control system in constant operation will be far less than the costs of later repairs to damaged records.