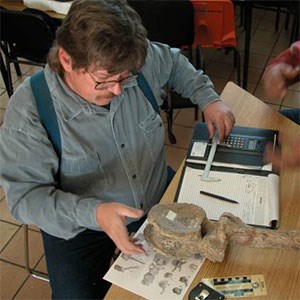 State Paleontologist of Utah, Utah Geological Survey

What is your job, and what do you study?
I'm the State Paleontologist of Utah with the Utah Geological Survey. It is my job to make sure that Utah's fabulous fossil record is protected and used for learning about the history of life, education, and the wonder of it all. I also promote Utah's fossil record for tourism and as a natural laboratory for all our nations scientists and universities. Basically, I'm Utah's paleo-cheerleader and I get to work on a wide variety of projects. I issue permits to qualified scientists working on Utah state lands and work with other government agencies to coordinate our efforts .And best of all I get to make new discoveries and report them to the public in scientific papers, lectures, exhibits, on the internet, and through documentaries.