Article
"Frozen Charlotte"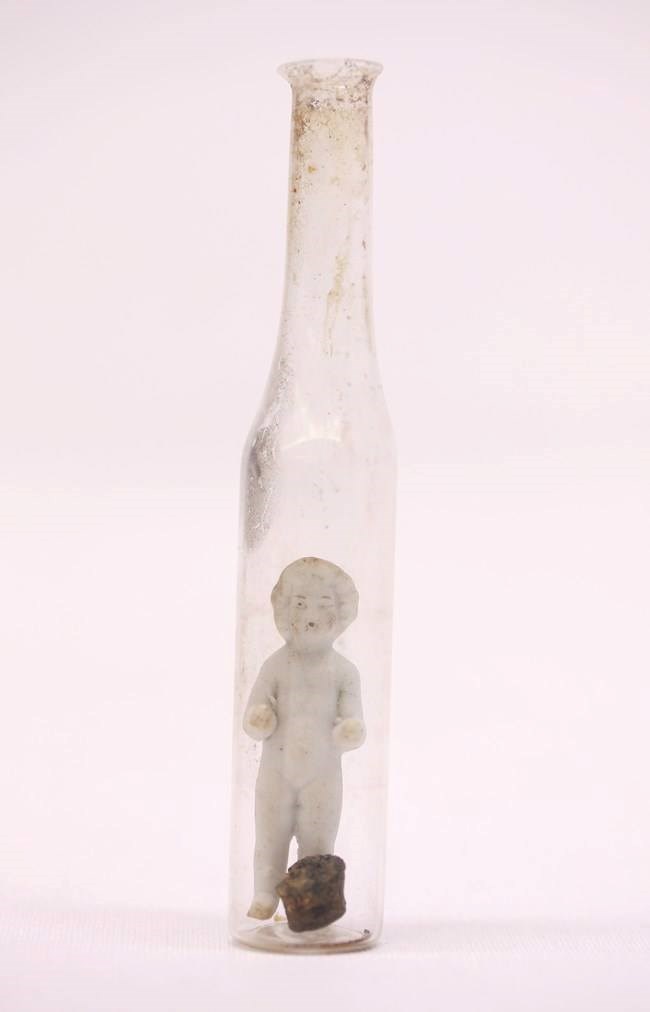 Miniature items such as figurines, tea sets, toys, and dolls are intriguing finds on archeological sites. They may offer insight on children and children's activities but also illustrate what people found collectable and worthy of display. The bottled "Frozen Charlotte" doll is a fascinating object to look at but also brings up questions that we have yet to answer.
"Frozen Charlotte" dolls are one piece dolls with bent arms and range in size from just 1 inch to over 18 inches. They were manufactured first in Germany and then later in Britain, and likely elsewhere, between 1850 and 1920. The name "Frozen Charlotte" was associated with the dolls once they were gaining in popularity. It is inspired by a folk ballad about "Young Charlotte" or "Frozen Charlotte" who froze to death while on a carriage ride to a winter's ball.
Excerpt from "Young Charlotte"
"The mother to her daughter said,
"These blankets round you fold;
For it is a dreadful night, you know,
You'll catch your death of cold."
"Oh, no! Oh, no!" the darling cried,
She laughed like a gypsy queen,
"For to ride in blankets muffled up,
I never could be seen."
…
"Such a night as this I never knew,
My lines I scarce can hold."
With a trembling voice young Charlotte cried,
"I am exceeding cold."
…
"When they reached the inn,
young Charles jumped out,
And gave his hand to her,
"Why sit you there like a monument,
And have no power to stir?"
He called her once, he called her twice,
She answered not a word;
He called all for her hand again,
But still she never stirred."
For the full ballad see the
Maine Folklife Center
at the University of Maine.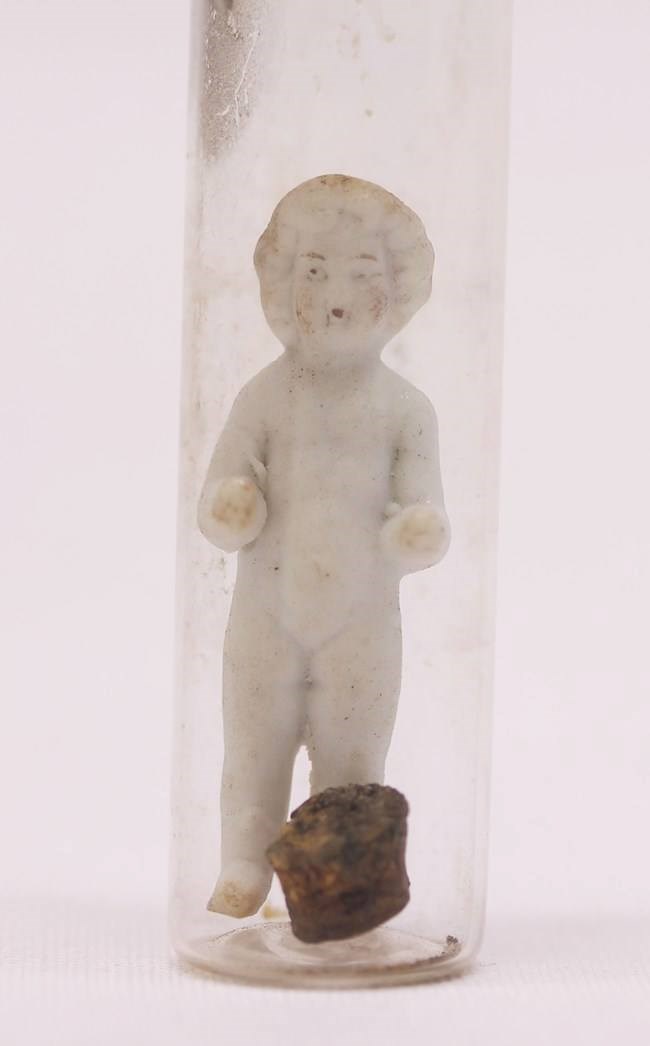 This doll was excavated during the 1970s while park archeologists were uncovering the footprint of the original Fort Stanwix. It is from a privy in use from about 1870 to as late as 1910 that was associated with a home occupied in the 19th c. by Patrick Martin, a boarding stable owner. We currently do not know much about Patrick Martin or any other occupants of the home. One of the most intriguing features is that this doll was manufactured in a glass vial. While there other examples of these glass bottle dolls, this form of "Frozen Charlotte" is relatively rare. Furthermore, we are unsure of how this doll was meant to be used. Was the vial meant to be broken to reveal the doll? Or were these collectibles to be displayed with the doll still in the bottle? Were the small Frozen Charlotte dolls in the collection once encased in glass bottles like this object?
Works Cited:
Hanson, Lee. (1974). Outhouses in Rome, New York. Council for Northeast Historical Archaeology, Spring 1974, pp: 30-43.

Mills, Ralph. (2015). "Material Culture in Miniature: The Historical Archaeology of Nineteenth Century Miniature Objects." In The Importance of British Material Culture to Historical Archaeologies of the Nineteenth Century, edited by Alasdair Brooks. The Society for Historical Archaeology, pp: 243-273
Last updated: October 1, 2022