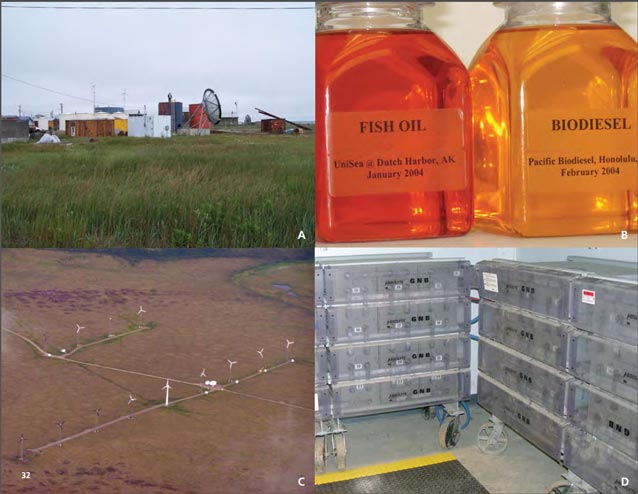 Development and infrastructure are spread over a wide variety of landscapes in Alaska, often in a very discontinuous  manner, and energy use and transporta-tion are very much in that mode. Under-standing the challenges of alternative and  sustainable energy in Alaska's national parks requires an understanding of how energy is produced, utilized, and trans-ported in Alaska. While we often say that "we are different" in Alaska, the energy infrastructure is much different than in states outside of Alaska – a situation that gives us our greatest challenge and our greatest advantages in finding, developing, and utilizing alternative and sustainable  energy in our national parks. Alaska's largest energy uses are for electrical  power generation, heat, and transportation, such as on and off-road vehicles, planes, and snow machines (Szymoniak 2008,  USDOT).
Development, supply and distribu-tion of energy in Alaska
The development, supply, and  distribution of energy in Alaska, with the notable exception of facilities along the limited road system, are almost entirely a series of independent electricity, fuel  storage, and distribution systems. There are no electrical connections to grids outside of Alaska, and the grids that do exist in Alaska are not connected to each other. There are a series of small electrical grid systems serving parts of Southeast Alaska and one larger grid that follows the road system from Fairbanks to Homer (www.seconference.org/inter.html). The only natural gas grid of any significance centers around Anchorage in Southcentral Alaska, and uses mostly locally produced gas from wells in Cook Inlet and the Kenai Peninsula. The other natural gas grid serves only Fairbanks and currently uses natural gas that is produced and trucked from Southcentral Alaska. There is no significant natural gas grid in Southeast Alaska. The rest of the state depends on local power generation, fuel storage, and distribution. Over 200 villages and towns produce their own power and heat, mostly from diesel fuel for which a large infrastructure of storage tanks has been set up in the villages (see Figure 1A) (Szymoniak 2008). The magnitude of this is such that the diesel fuel used for the pro-duction of electricity and heat in Alaska at least equals all of the diesel fuel used in all of the road vehicles in the state (ISER, US-DOT). In the rural areas of the state, where most of the national parks are located, only 14% is used for transportation and the rest is almost evenly split between heating (45%) and electrical production (41%) (ISER). There is typically some propane use in the villages, but it is usually used for cooking and comes in small tanks rather than in combined tank systems.
The national parks of Alaska are  situated throughout the state, but only four connect to one of the grids. Sitka National Historic Park is the only one with  "commercial" power available to the entire park, although it is available in most of Klondike National Historic Park. The headquarters at Denali National Park and Preserve and Kenai Fjords National Park are on the electrical grid, but major infrastructure and uses are off of the grid. Some park areas, including some headquarter areas located outside of the park, are connected to the electrical  systems of the villages and towns which produce their own power. In other areas, however, the National Park Service may be the sole provider of electricity. The parks or parts of parks that exist on a grid  typically have lower costs per unit of  energy (e.g., Kwh, BTU), but the source of the power needs to be evaluated as to how sustainable it may be. The park areas on village electrical systems typi-cally have higher unit costs (AEA 2008), but the source of the power is more easily evaluated. The parks that produce their own power typically have the highest energy costs, but also have the opportunity to change or modify their energy source and usage by themselves.