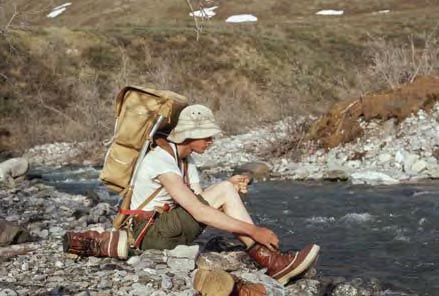 Note: Dr. Frederick Dean was a career wildlife biologist at the University of Alaska in Fairbanks. He conducted wildlife research at Mount McKinley National Park during the late 1950s and at Katmai National Monument during the 1960s. He also headed the Cooperative Park Studies Unit's Biology and Resource Management Program between 1972 and 1983, and in that capacity he spearheaded a variety of studies of both existing and proposed national park units. Jane Bryant and Frank Norris interviewed him at his Fairbanks home on April 14, 2005.
What brought you to Alaska? 
I was born in Boston and spent most of my early life in Connecticut, Vermont and upstate New York, in the Adirondacks. I did my Bachelors and Masters at the University of Maine in Orono; I finished up the masters in '52 and [then] went over to [the] College of Forestry at Syracuse [for the Ph.D.]. I worked on muskrats; in the Adirondacks [there were] lots of muskrats. I  finished up class work and field work in '54. Then along came an opening, and subsequently an offer, from the University of Alaska Fairbanks as an assistant professor. 
What were you teaching at UAF at the time? 
Wildlife. I was the only person teaching under-graduate wildlife courses at that point. Back then the  university was on [an] eight month salary, and you were on your own in the summer. And the eight months salary was not that great.
In June of 1957, you arrived at the park, and you began a long term study of the distribution, abundance, and habits of the Toklat grizzly. Did you consult with the NPS on this? 
At the time there was very little formal work [being] done on them. Ade Murie had done some really great work as background stuff, but his approach was, I think, a very necessary ground work. But it didn't go the next step in terms of quantitative data and anal-ysis. So I was hoping that I could build on what he'd started. I talked to people at the park at the time [about it], and they said, "Fine. Come." And they made cabin space available. I shared a cabin at Igloo with Harry Merriam, a seasonal ranger. The previous winter, I had put in a proposal to the Arctic Institute of North  America, and I got probably five or six thousand dollars from them. That went pretty much into family living and fuel for the car, and the cost of getting the car down there, which [involved] putting it on the train and so forth. But the fact that the park was willing to have me do the work and to make the cabin space available was great. I stayed at Igloo for [awhile] and then went over to the ranger cabin at Toklat. And [his wife] Sue was out at Camp Denali that summer with two of the kids.
At this time, you were working with the Alaska  Cooperative Wildlife Research Unit. What was this unit? 
It was one of a whole series of units that had started up in the late '30s. [Jay N.] "Ding" Darling [the head of the U.S. Biological Survey from 1934 to 1936] got the program up and running. These units are basically as a result of a memorandum of understanding between the Fish and Wildlife Service, the University, and [various] state fish and game departments. And the University usually provides some salary. In this case here [in Alaska], it's been salary for support staff and [for] space. [The] Fish and Wildlife Service details one of their biologists to run the operation. And [at Maine] I had experienced the real benefit of being connected [with this] program. Later on, I used a lot of the back-ground with respect to [the] wildlife unit in developing the nature of the [Cooperative] Park Studies Unit.
When you showed up at Mount McKinley for your  initial summer of study, was Adolph Murie there? 
No. He came in '59. And I actually shared a cabin with him at Igloo for part of [that] summer. He was one of [my] idols, right from the word go, when I first ran into his work.