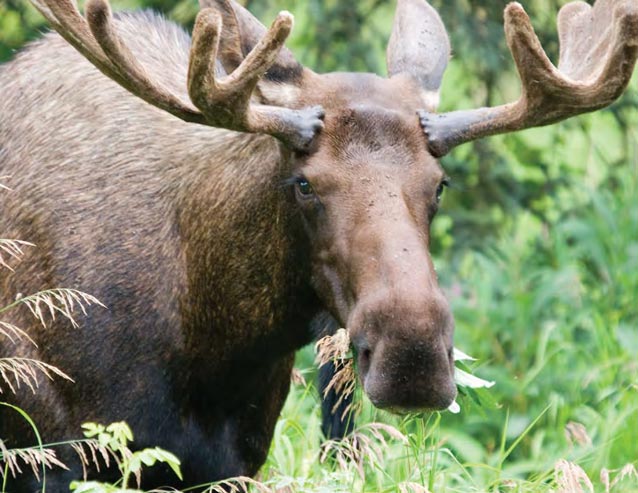 Over the past several years (2004-2008) the National Parks Conservation Associa-tion (NPCA) has funded several student interns working on projects to improve the quality of information available for  managing wildlife in Alaska parks. The  National Park Service (NPS) partnered with NPCA by providing office space, computers, and project guidance which ultimately led to two independently  produced NPCA reports: Who's Counting and Minding the Gap. This is the story of that partnership.
Wildlife Management in Alaska  National Parks
When Congress passed the Alaska  National Interest Lands Conservation Act (ANILCA) in 1980, it provided both  subsistence and sport hunting oppor-tunities on federal land, including those managed by the NPS. In large part this was done to preserve traditional ways of life that had evolved in Alaska. Congress emphasized this point by including subsistence hunting in the purpose statements that established many park and monument units, and by  allowing sport hunting in the 19 million acres of national preserves.
Managing for wildlife harvest in this country's national parks is not the norm. One of the key management-related  provisions of the NPS Organic Act of 1916 is to "…conserve the scenery and the natural and historic objects and the wild life therein…" and that usually means no hunting. But in Alaska, where 96,000  hunting licenses were issued in 2008,  managing hunting is an everyday task for the NPS. Alaska's physically large and  ecologically diverse parks, monuments, and preserves contain about a dozen  mammals that are hunted or trapped for sport and subsistence throughout much of the year. From 1980 to 1990 this  management responsibility was largely accomplished through regulations  instituted by the State of Alaska under the auspices of a 1982 Memorandum of  Understanding (MOU) between the NPS and the Alaska Department of Fish & Game. 
Although the MOU is still in effect, the State fell out of compliance with federal subsistence law in 1990, causing the fed-eral government to reassert jurisdiction over subsistence hunting and trapping on its lands. The state still manages sport hunting in national preserves, leading the state and federal governments to manage  separate hunts for the same wildlife. Thus the new era of "dual management" began. The Federal Subsistence Board consists of six voting members (of which NPS is one) who set regulations for subsistence hunting and trapping on federal lands, including all of Alaska NPS lands. In crafting these  federal subsistence hunting regulations, the NPS realized it needed better basic  information on how many animals,  including moose and bear, were annually harvested from each park, and how  recently population counts or productivity counts of those moose or bear had been accomplished. 
Resolving these data gaps is  necessary to ensure that, while hunting is provided for, specific ANILCA direction is also followed – wildlife is  managed to  sustain "natural and healthy" populations in  national parks and monuments, and to  sustain "healthy" populations in national preserves (ANILCA 815(1)). Balancing use and conservation is nothing new to the NPS, in fact, it is the defining management challenge (note 1).