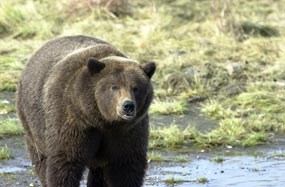 When Father Bernard Hubbard first climbed into Aniakchak Caldera in 1930, his first dramatic experience--after the scenery--was an encounter with a female brown bear and her cub. Brown bears remain numerous throughout Aniakchak because of good forage conditions and seasonal availability of ample dietary protein in the form of salmon.
The following guidelines will help you travel safely in bear country. More detailed information can be found on Katmai National Park and Preserve's bear safety pages.
Food Storage
The use of bear-resistant food containers (BRFCs) is mandatory in all backcountry areas. For a list of approved BRFCs (including ice chests and coolers), go to www.igbconline.org and Alaska Department of Fish and Game's bear resistant container's page. A limited supply of BRFCs is available to borrow free of charge at the visitor center in King Salmon. BRFCs can also be purchased or rented at many backpacking/outdoor stores.Please note, any coolers and dry boxes accepted as BRFCs by the Interagency Grizzly Bear Committee or the Alaska Department of Fish and Game must be bolted shut or padlocked to be considered bear resistant. Yeti and Igloo coolers without padlocks are not acceptable BRFCs. Also consider that soft-sided BRFCs may not be the best option for food storage in Katmai.
Gear Storage
Avoid leaving property unattended. Unattended equipment can attract curious bears. Not only can your belongings be damaged or destroyed, but bears may also learn to associate such items toys or food.