History & Culture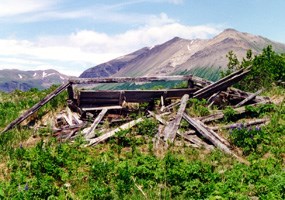 Aniakchak National Monument and Preserve was established to recognize the unique geological significance of the Aniakchak caldera. Scientists soon discovered, though, that the area has a rich cultural history.
The oldest known archeological sites date to around 2,000 years ago, more than a millennia and a half after the caldera-forming eruption 3,500 years ago. Archeologists theorize that the massive blast created a "dead zone" that couldn't be reoccupied for generations.
The archeological record shows that prehistoric communities hunted, fished, trapped, picked berries, and gathered shellfish. By 1,200 years ago, the strategy had proven so successful that the population had expanded dramatically.
During the historic era, people continued to make a living from the rich resources of the land. As industrialization gripped the rest of the United States, Aniakchak residents followed suit. Commercial fishing and cannery operations began in the twentieth century and continue today in the lower Alaska Peninsula area. Alutiiq people descended from the early inhabitants of Aniakchak maintain subsistence and cultural traditions.
For more information on the people of Aniakchak, download the book Puyulek Pu'irtuq! The People of the Volcanoes (PDF, 6.18 MB). Additional information about Aniakchak's history can be found in Beyond the Moon Crater Myth: A New History of the Aniakchak Landscape and Isolated Paradise: An Administrative History of the Katmai and Aniakchak NPS Units, Alaska.


Last updated: December 28, 2015