Trail Types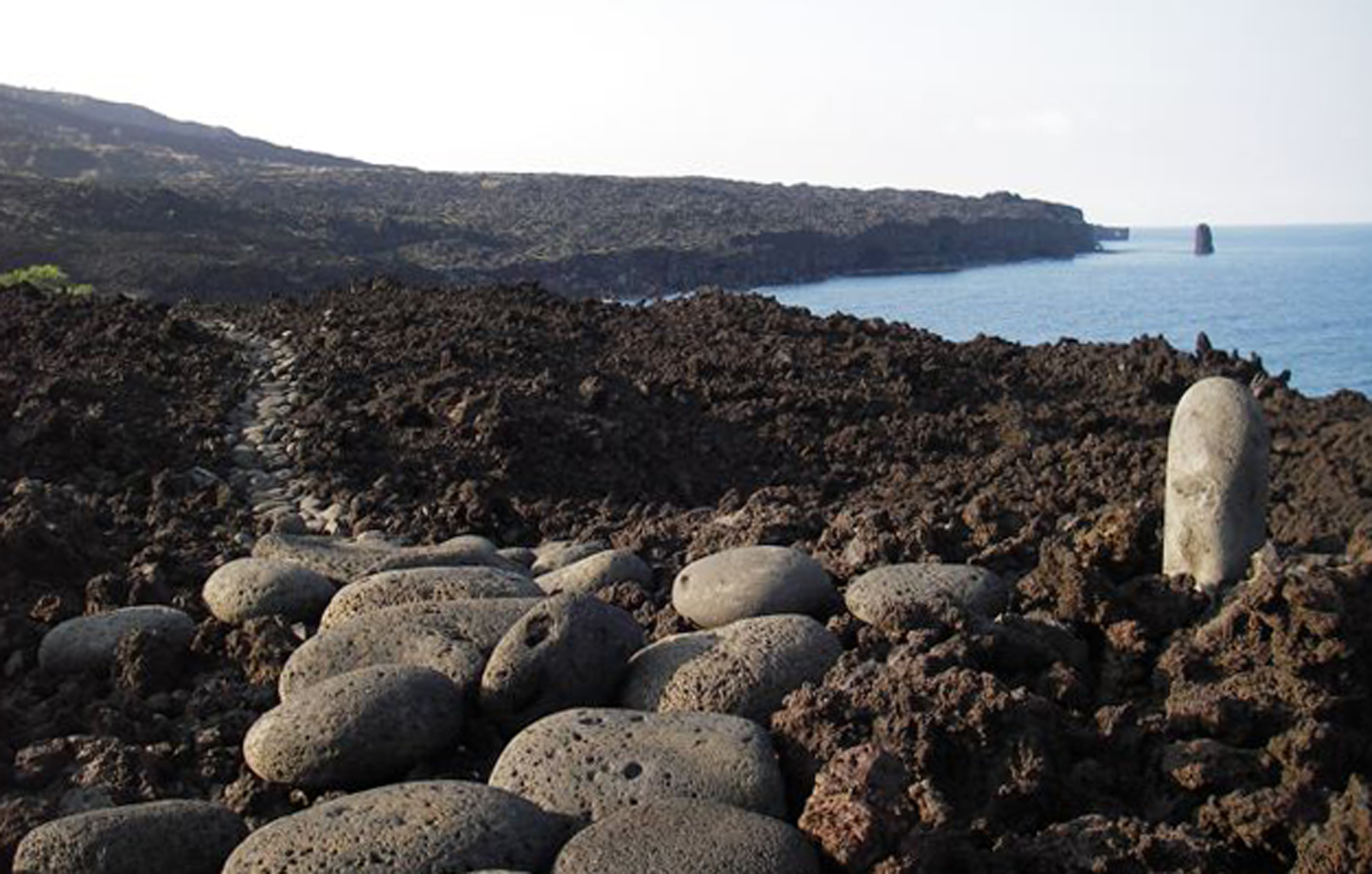 Hawaiʻi's prehistoric ala loa (long trail) generally follow the path of least resistance along natural contours of the land. The ala loa connected a network of shorter coastal trails, sometimes referred to as ala hele (general trail term), and intersected mauka-makai (mountain to ocean) trails. Although these names are presented here, native and historic terminology used to identify trail types is highly unique to a given location.
Most ahupua'a (land divisions) have one or more mauka-makai trails. Trails often followed streams or cliff edges, and some became the delineating boundary between neighboring ahupuaʻa.

The trails themselves exhibit a variety of construction methods and materials, morphing based on the geology, terrain, and societal need.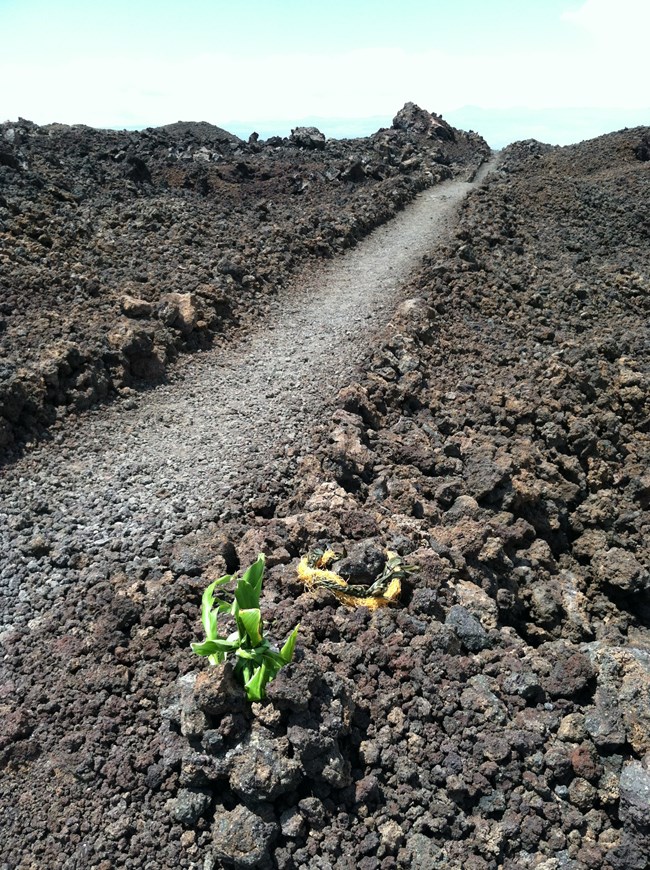 Trails Through ʻAʻā Lava
Trails allowed travel across incredibly harsh terrian, such as this ʻaʻā lava flow. The surface of this particular trail is filled with small, smooth stones to make travel more comfortable, and features curb lined edges.
Trails Across Pahoehoe Lava
The smooth, rolling nature of pāhoehoe lava flows makes walking across it relatively easy. Often, due to topography, travelers were naturally guided into using the same path across a flow. The result over hundreds of years of repetitive foot travel is a distinct indentation and sheen due to the wearing down of the surface of the pahoehoe lava flow.
In this photo, the trail is easily identified by its dark groove across the pāhoehoe lava flow, and on both sides of the trail is dense array of petroglyphs, or kiʻi pōhaku. These hand-pecked treasures are incredibly delicate, and provide modern generations an invaluable window into the world of ka poʻe kahiko, the people of old.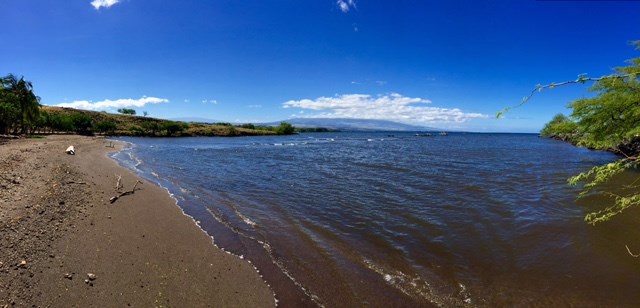 Trails Across Sandy Shores
Bays, inlets, beaches, and other types of shorelines which provide protection from open ocean swells and currents and/or make ocean access easier were very valuable natural resources. It was common for trails to connect to and across these features.
At the northern end of
Pu'ukohola National Historical Park
the Ala Kahakai crosses the sandy shoreline of Pelekane bay.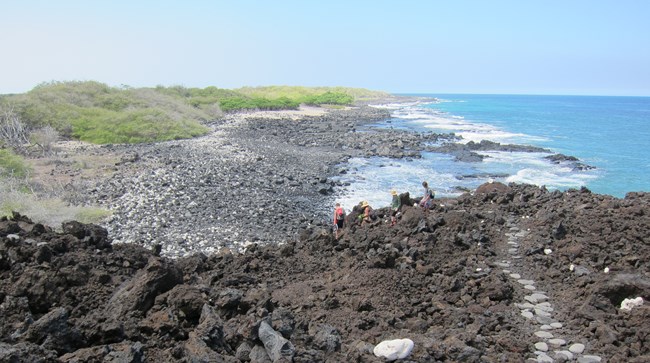 Stepping Stone Trails
A neat trail adaptation is the addition of smooth waterworn stones (ʻalā or paʻalā) along the center of a trail over rough terrain (such as ʻaʻā lava). The stones made foot travel over long distancess faster and more comfortable.
In the late 1700ʻs, horses, donkeys, and cattle arrived in Hawaiʻi and naturally were guided across the land on trails. The smooth stepping stones found on some trails, caused the animals to slip so they were often moved aside or removed. In this picture, the stepping stones disappear as soon as the ʻaʻā lava flow ends, and a wondering coastal trail resumes.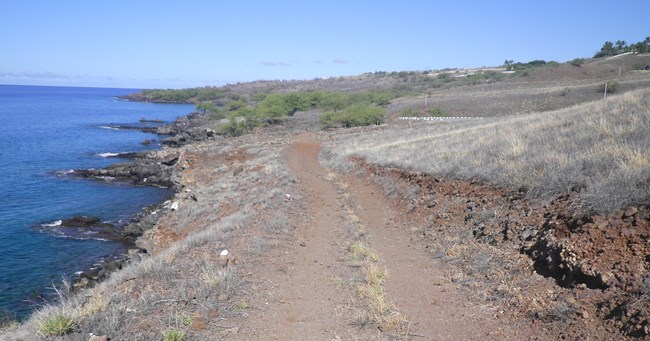 Jeep Trails and Modern Roads
Trails modernized along with technology and societal needs. Motorized vehicles began utilizing older pathways, modifying them to accommodate their needs. Sometimes, these modifications were done directly over the alignments of ancient trails, and in other instances these roads were completely new. Trails were also relocated due to natural events such as lava flows, tsunami, and other occurrences. The Hawaiian trail system was and will always remain dynamic.
Last updated: August 5, 2022