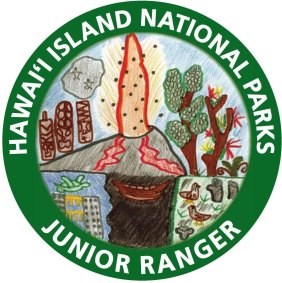 Aloha, E Na Kamalii (Hello, Kids)
Did you know that you can explore four national parks connected by one national historic trail?
Get out of the car, into the parks and on the trails with your families. Fun learning activities are available in Junior Ranger activity books. Your participation just depends on how much time you have.
One day or less: Each park has a Junior Ranger book. Families are encouraged to work together with their kids to complete the activities. Check with individual parks for hours of operations and amount of time needed to complete activities.
Two or more day: The Hawai`i Island National Parks Junior Ranger Adventure Book is geared for those who have more time to visit each side of the island. Driving to each park takes some time so plan that into your day. Ask for more details at the front desk of the park's visitor centers.
To download an Adventure Book, click here.