Places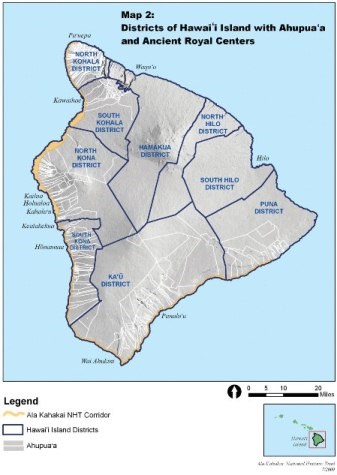 Hawai`i nui o Keawe or Moku o Keawe is a name used by Native Hawaiians for the largest island of Hawai`i. Keaweikekahiali`iokamoku, a chief of the 17th century, was known for peace and prosperity during his reign.
Each island was divided into large districts called moku. In modern times, moku are often separated into two divisions, North and South. A more significant subdivision of land management units were ahupua`a which were generally compared to pie-shaped wedges of land that extended from the ocean to the mountains. These smaller parcels allowed practical access to cultivated and natural resources.
The Ala Kahakai National Historic Trail corridor runs through four of the six districts and a number of ahupua`a. To learn more about a specific moku, click on the underlined items for more details.
Kohala Akau (North Kohala)
Kona Akau (North Kona)
Kona Hema (South Kohala)
Ka'ū
Puna
Last updated: February 27, 2015