Boating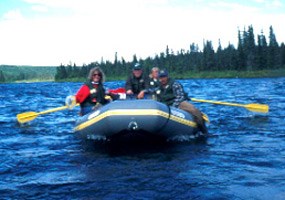 On the braided Alagnak, serenity and wildlife viewing opportunities abound for those lazily floating the river, while Class III rapids offer exciting trips for rafters.
Whatever their chosen speed, boaters should leave itinerary information with a friend or family member. Be sure to include float plan details, the name of the trip leader, the air taxi operator's name and contact information, type and color of equipment/clothing used, and anticipated date of return. The NPS will not initiate a search for an individual or group unless they are reported overdue. Alagnak visitors are also encouraged to submit the same information in a "Backcountry Planner," available free of charge at the King Salmon Visitor Center.
Rafting
Rafting trips generally begin at Nonvianuk Lake or Kukaklek Lake, both of which are easily accessible via float plane. Rafters should coordinate their pick-up location and date with their transporter and should plan a fly-over of the river to scout for potential hazards and river conditions. There are many river sections suitable for take-out along the lower 30 miles of river. Parties being picked up near the Cutbank (Estrada's camp) should be aware that this is private property; therefore, rafters should take out downstream or on the opposite side of the river. Please respect all private property along the Alagnak River.
River Conditions
River conditions will vary based on the season, amount of rainfall and temperatures. Generally water levels will be lowest in the spring and will increase as spring rains begin and snowmelt occurs in the high country. Water levels usually peak in July and will normally begin to recede in the fall. The surface of the Alagnak freezes in the winter, but water continues to flow. Frozen overflow creates thin layers of dangerous ice which pose a hazard for those who attempt winter river travel.
Water Levels
Heavy rainstorms and prolonged winds from the east can drive water out of Kukaklek and Nonvianuk Lakes and consequently increase water volume and velocity downstream. During periods of high water, it is possible to float the river in 1-2 days, but the conditions may make it difficult to find suitable camping sites. High water often results in increased turbidity and reduced fishing success, and may also increase the difficulty of the rapids on the upper Alagnak. Low water conditions can make travel difficult due to increased numbers of exposed rocks.
Safety Precautions
Wear Personal Flotation Devices (PFDs) and carry self rescue equipment, including a throw rope. Survival gear and signaling devices are recommended. Extra warm clothing and sleeping bags should be packed in waterproof bags. Know the signs of hypothermia and be familiar with proper treatment techniques.
Last updated: April 14, 2015