Places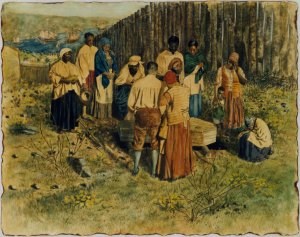 The African Burial Ground has been a part of New York City since its earliest days and in its hundreds of years of existence it has witnessed New York City change. When the African Burial Ground began use the area surrounding it was not even yet New York City. It was a wilderness on the outskirts of town that bordered a beautiful lake known as The Collect Pond. Since that time, the neighborhood surrounding the African Burial Ground National Monument has had many names: The Commons, The Five Points, Little Africa, TriBeCa, Civic Center, and The Lower West Side are just a few of the names that it has had over the years.
The history of African-American life in our neighborhood has also been extraordinarily rich. Examples of this rich history include the home of America's first Black newspaper, Freedom's Journal which was published near our site, the first A.M.E. Zion Church, Mother Zion which was founded near our site, numerous underground railroad sites, including Frederick Douglass' first address in freedom are located nearby. Additional historical sites include the site of the Wall Street Slave Market, the home of America's first Black Doctor, and the places where slave revolts occurred in early New York City.
Our walking tours can take you to and explain these sites and their history. Additionally, an interactive, mobile-optimized website called M.A.A.P from Columbia University can help you find these places and learn their stories.
Learn about 'The Middle Passage' - a Transatlantic African slave
trade route.
Last updated: October 9, 2015