Nevertheless, She Persisted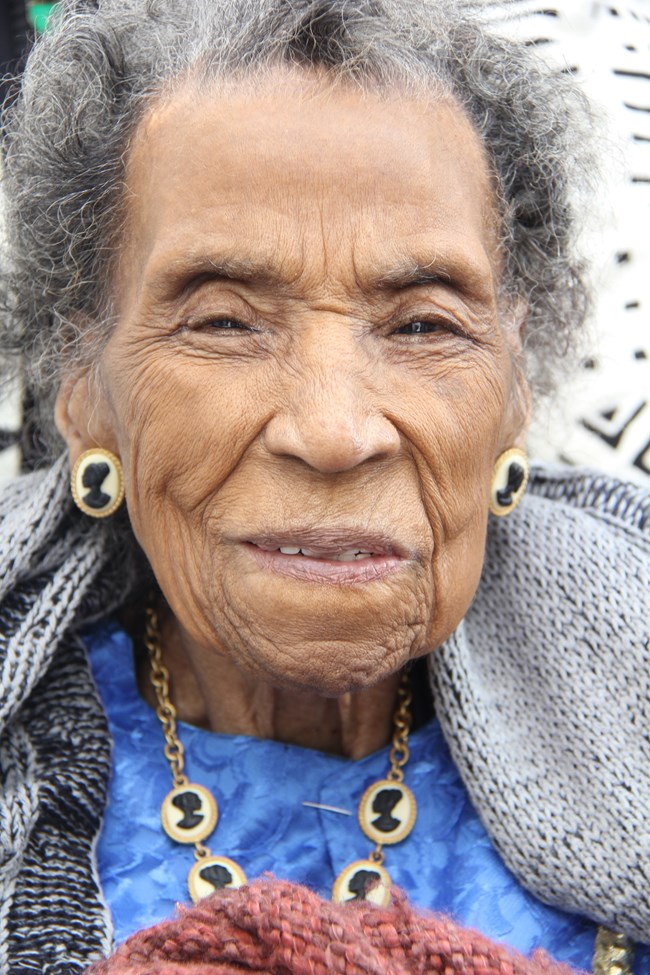 Amelia Boynton Robinson
1911-2015
Amelia Boynton Robinson was born in Savannah, Georgia. Boynton was passionate about improving the lives of African-American members of her community, particularly sharecroppers. Her early activism included co-founding the Dallas County Voters League in 1933, which held black voter registration drives in Selma, Alabama, from the 1930s through the 1950s. In 1964, she became both the first African-American woman and the first female Democratic candidate to run for a seat in Congress from Alabama. She won 10% of the vote. In a 1965 civil rights march ("Bloody Sunday") Boynton drew national attention to the Civil Rights Movement when she was beaten unconscious. In later years, Boynton would serve as vice chair of the Schiller Institute, continuing to promote civil and human rights.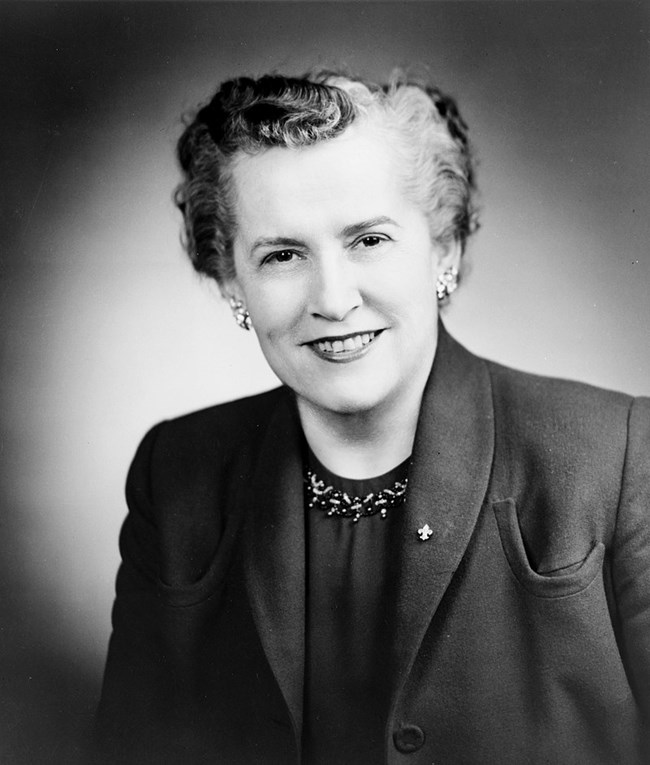 Edith Starrett Green
1910–1987 House of Representatives
Born in 1910, Green became the second female congressional representative for Oregon in 1954. Battling for legislation that supported equal opportunity for education, Green also was concerned for pay equity and gender equality in postsecondary education. Her work would vastly improve opportunities for American women. Green worked on the legislation for the Equal Pay act of 1963, which mandated that women and men receive equal pay for equal work.
One of Green's most enduring legislative triumphs was Title IX, a part of the 1972 Higher Education Act that prohibited federally funded colleges from discriminating against women. Green overcame opposition from many university administrators, as well as from conservative Congressmen who feared the proposed bill would force school officials to construct unisex locker rooms and admit an equal number of male and female students.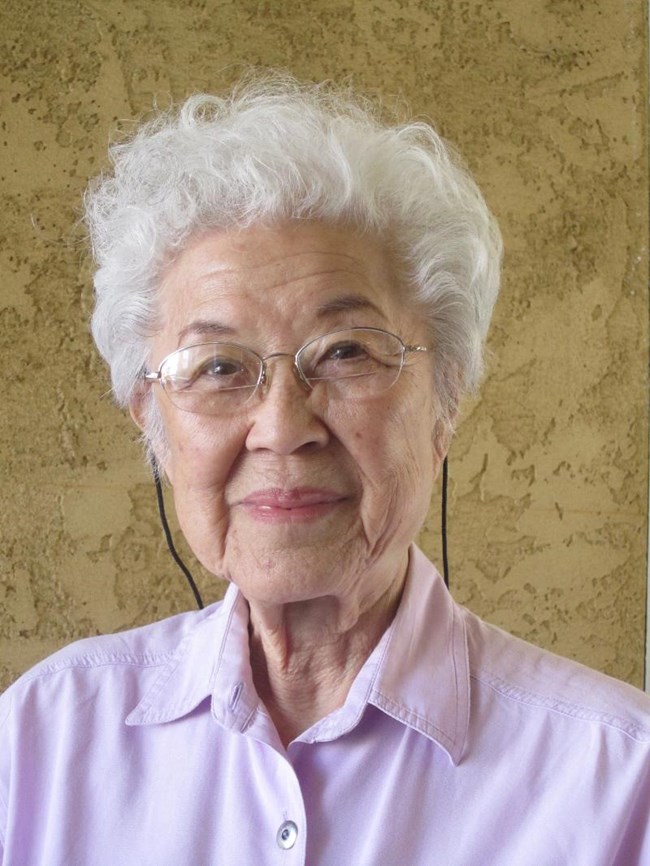 Aiko Herzig-Yoshinaga
Born 1925
Aiko Herzig-Yoshinaga played a crucial role in the Redress Movement, when she discovered evidence of premeditated governmental misconduct during WWII. She organized research on the Comission on Wartime Relocation and Internment of Civilians (CWRIC) and became an expert on the records available on the US internment camps. While in high school, she was imprisoned at Manzanar. In the 1960s, Herzig-Yoshinaga moved towards greater polical action with her participation with the Asian Americans for Action organization. In 1978, Herzig-Yoshinaga moved to Washington DC, when she started to look into information on the wartime exclusion and incarceration at the National Archives. She regularly spent 50-60 hours weekly for years collecting and cataloguing significant documents. In 1980, when the CWRIC was formed for the foundation for legislative redress, Herzig-Yoshinaga joined the National Council for Japanese American Redress (NCJAR), supporting their class action lawsuit with her archival research. Herzig-Yoshinaga spent years trying to find a report that, when finally discovered, provided proof that there was no "military necessity" to deprive 120,000 Americans of their work.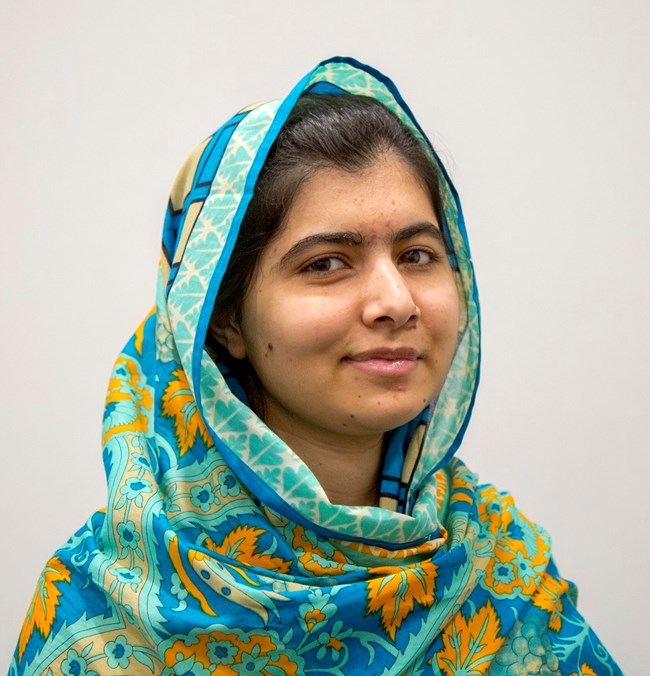 Malala Yousafzai
Born 1997
"The extremists are afraid of books and pens, the power of education frightens them. they are afraid of women." ― Malala Yousafzai
Malala was born in Mingora, a city in the Swat Valley, (Pakistan). In 2007, the Taliban began to control the Swat Valley quickly becoming the dominant socio-political force throughout much of northwestern Pakistan. By 2008, the Taliban had destroyed 400 schools. The Taliban banned girls from attending school. Malala held a firm belief in her right to an education and stood up to the Taliban, criticizing their tactics. Using an alias, she blogged for the BBC and publically campaigned for her right to go to school, thus attracting wide attention. However, the Taliban did not support her, and in 2012, shot Malala three times when she was riding the bus home from school. These injuries hospitalized Malala.
After weeks of intensive surgeries, treatment and therapy Malala would recover, and began school in Birmingham, England in 2013. In 2014, at the age of 17, she received the Nobel Peace Prize. Malala believes in education as a right and continues to advocate for the power of education and for girls to lead changes in their communities.
Ayaan Hirsi Ali
Born 1969
Ayaan Hirsi Ali was born in Mogadishu, Somalia. As a young girl, she was subjected to female genitalia mutilation (FGM). Upon her father forcing her to marry a distant cousin, Ali fled to Holland where she would eventually become a member of the Dutch parliament.
In parliament, Ali raised awareness of violence against women including honor killing and FGM. Despite death threats, Ali continues to speak up about the violence and injustice she sees toward women in film and writing. Ali established the AHA Foundation in 2007 to help protect women from "honor violence, forced marriage and genital mutilation… and advocate[s] for freedom of speech on campuses and in public debate, and amplify the voices of Muslim reformers." (AHA Foundation)
Last updated: August 3, 2018