What is Kwanzaa?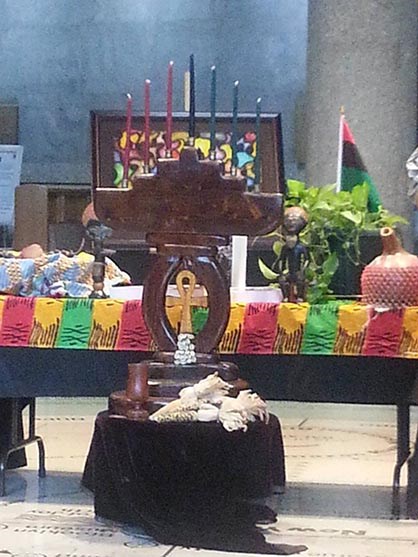 Why we celebrate Kwanzaa
Kwanzaa was first celebrated in 1966 as an African American holiday which has its roots in African cultural traditions. Created by scholar, educator, activist Dr. Maulana Karenga, to introduce and reinforce the Nguzo Saba, and through these seven principles, reaffirm the Pan African philosophy which honors nature, culture, communitarian values, ancestors, family, and history.
Kwanzaa means 'first fruits' or 'first fruits of the harvest' celebrated throughout Africa since ancient times and today when prayers are lifted up and celebrations of thanksgiving take place for the plentiful reaping of crops, children, and all that is needed to sustain life.
In America, Kwanzaa serves as a regular communal celebration of African and African American culture and the bonds between us and Africans throughout the Diaspora. Kwanzaa is a time to give thanks for survivors of the Middle Passage and continuing progress in the new world. The creativity of African Americans is expressed in poetry, dance, music, storytelling, spoken word, drumming and other creative genres throughout the seven days; especially during the Karamu Feast, held on the sixth day of Kwanzaa, Kuumba, which means Creativity.
Kwanzaa begins on December 26, with the principle of Umoja, which calls for unity; concluding January 1, with the principle of Imani, which encourages African Americans to 'keep the faith' as the New Year begins. The Nguzo Saba, expounds universal ideals which benefit us all, and is today celebrated throughout the African Diaspora. We are challenged with living these seven principles throughout the year.
Last updated: May 1, 2019