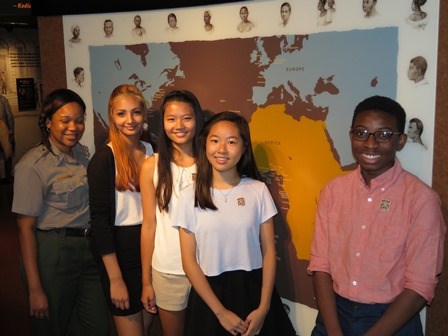 The Student History Intern Program of the Manhattan Borough President's Office partnered with the National Park Service, Manhattan Sites, to place four student interns to work at the African Burial Ground National Monument during the summer.
Sosonia Ma, Tara Green, Joanne Chui, and Stephan Anku came to the African Burial Ground National Monument very prepared to work hard, efficiently and effectively throughout the summer. Our interns attend the Stuyvesant High School located in TriBeCa in Lower Manhattan. Stuyvesant High School is a college preparatory high school offering tuition-free, liberal arts focused high school education specializing in accelerated academics to city residents in the subjects of Science, Technology, Engineering, and Mathematics.Admission to Stuyvesant involves successfully passing the Specialized High Schools
Admissions Test. Each November, over 28,000 eighth and ninth graders take this 2 ½ - hour exam, and roughly 800 students are annually accepted at Stuyvesant.