From the Bottom Up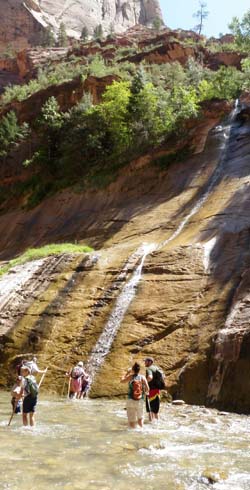 Day Hike from the Bottom and Back

This is the easiest way to experience The Narrows. Ride the shuttle to the Temple of Sinawava, walk 1 mile to the end of the paved Riverside Walk, and begin wading up the river. There is no formal destination, and you return the same way you came. Many hikers try to reach Orderville Canyon, a tributary creek approximately two hours upstream from the end of the paved trail (2.5 miles from the shuttle stop).

Travel upstream into Orderville Canyon or beyond Big Spring is prohibited. It is 2.5 miles upstream from Orderville to Big Spring, making the roundtrip hike up to Big Spring and back to the shuttle stop 10 miles. No permit is required for this day hike. Group size limits (12 people per group) do apply beyond the junction with Orderville Canyon. Please remember to use the restroom at the Temple of Sinawava before starting your hike; there are none in The Narrows.
Did You Know?

Zion National Park has a trail where pets are allowed. The Pa'rus Trail winds along the Virgin River for 2 miles at the entrance to Zion Canyon and is also a bicycle path More...