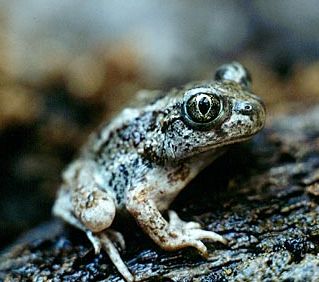 Great Basin Spadefoot (Spea intermontauen)
The Great Basin Spadefoot toad is a small rotund amphibian, with gray or olive-green coloration. The large golden-yellow eyes, with cat-like vertical pupils, are set on the sides of the head. The tympana (ears) are small and not easy to see. The toads have a bump between the eyes, which gives the head a distinctive shape. Spadefoots have bumpy skin but do not look as "warty" as Western Toads. A spadefoot sitting still on the ground looks like a large pebble, so they can go undetected by a predator. Adults range from 4 to 6.5 centimeters from nose to end.
Where does the name come from? A distinctive feature and the source of the name, comes from the small, black "spade" on the first toe of each hind foot. The hardened tissue helps them to find shelter.