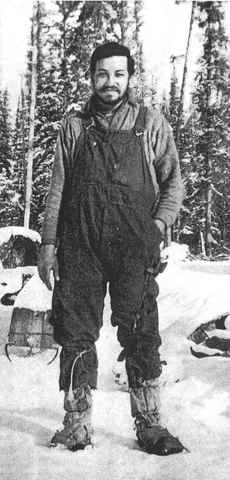 UAA Archives, Leon Crane Collection
Survival at 40 Below
When Crane landed hip-deep in snow, he was suddenly very alone. He repeatedly called "Ho!" at the top of his lungs but the only response was silence. Realizing that he had no idea where he was and no food or sleeping bag, he quickly decided that he must move or freeze to death—the temperature was 40 below zero and would only drop as night fell. So, after wrapping himself in his silk parachute, he began descending to the river below. The explosion and fire at the crash site had destroyed any supplies he might use, so Crane took stock of his only survival tools: two packs of matches, a Boy Scout knife, and his parachute that served as a sleeping bag. For nine days he huddled in an improvised campsite under a spruce tree where he dreamed of steak, mashed potatoes, and milkshakes and battled feelings of despair. The squirrels he tried to kill skipped away from his makeshift spear, bow and arrow and slingshot, and after nine days of living on nothing but water, he knew his strength would not last.
Once Crane decided a rescue party was unlikely, be began following the river north, and after a difficult day of struggling through deep snow, he discovered something wonderful, a small snow-covered cabin and an elevated cache which contained a larder of sugar, powdered milk and canned food, a rifle, a frying pan, canvas tents, and a pair of moose-hide mittens. Within minutes he had a fire in the cook-stove and was sipping a steaming cup of hot cocoa.
A tough old trapper and miner named Phil Berail had built the cabin. And, what Crane would later learn was that the Charley River was a popular trapping area for local residents who constructed a string of small cabins along their traplines, some of which were stocked with survival rations. However, Crane's ordeal was far from over. He was still lost and had to regain his strength and tend to his frostbitten hands and feet.