Yosemite is open, but some wilderness trails are closed due to the Meadow Fire

The Meadow Fire is burning southeast of Yosemite Valley. Some trails are closed and some areas of the park may be smoky at times. More »
Viewpoints
Below you'll find information about just a few of the numerous viewpoints around Yosemite National Park. Don't limit yourself to these viewpoints; whenever you see a turnout with an interesting view, pull into the turnout and take a look around--you never know what you might discover.
---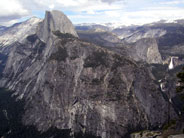 Glacier Point
, some would say, is the most spectacular viewpoint anywhere. Most people agree that its views of the high country and breathtaking views of Yosemite Valley, including Half Dome and three waterfalls, are the most spectacular in the park. Washburn Point, just south of Glacier Point, has similar views, though the views of Vernal and Nevada Falls are a bit better. The road to Glacier Point is usually open late May or early June to sometime in November, though some people prefer to ski there in the winter.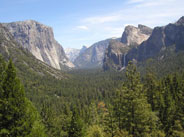 Tunnel View
provides one of the most famous views of Yosemite Valley. From here you can see El Capitan and Bridalveil Fall rising from Yosemite Valley, with Half Dome in the background. This viewpoint is at the east end of the Wawona Tunnel along the Wawona Road (Highway 41).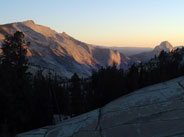 Olmsted Point
, along the Tioga Road, looks down on Yosemite Valley from the east--and from a very different angle. Though you might not immediately recognize Half Dome, it is one of the most prominent peaks you can see from Olmsted Point. The Tioga Road is open to cars from late May or early June to sometime in November.
El Portal View, two miles up the Glacier Point/Badger Pass Road from Chinquapin (intersection with the Wawona Road) provides a great view down the Merced River Canyon, below Yosemite Valley, and to the Coast Ranges (if visibility is good).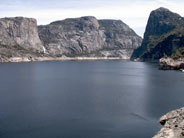 O'Shaugnessy Dam
, at the west end of Hetch Hetchy Valley, provides a viewpoint of the Valley's waterfalls, rock formations, and reservoir. The Hetch Hetchy Road is open all year, though it may close for periods after snowstorms, and is open only during daylight hours (approximately).
As it approaches Yosemite Valley, turnouts along the Big Oak Flat Road (continuation of Highway 120 to Yosemite Valley) near the tunnels provide a great view of El Capitan and Half Dome, along with a glimpse of the Merced River far below.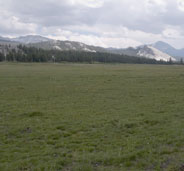 Pothole Dome
, at the west end of Tuolumne Meadows, along the Tioga Road, affords many visitors' first view of Tuolumne Meadows. You can also find a nice viewpoint from near
Lembert Dome
, at the east end of Tuolumne Meadows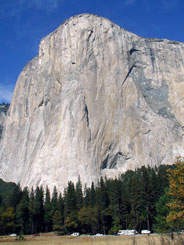 In Yosemite Valley,
El Capitan Meadow
provides a view straight up El Capitan and a great view of Cathedral Rocks, as well. Located along one-way Northside Drive, it is best to stop here on your way out of Yosemite Valley.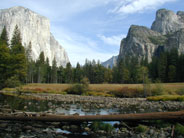 You can look up Yosemite Valley from alongside the Merced River at
Valley View
. Located along one-way Northside Drive, it is best to stop here on your way out of Yosemite Valley. This popular vista is located just after a view of Bridalveil Fall but immediately before Pohono Bridge, about the time you begin to see directional signs for highways leaving the park.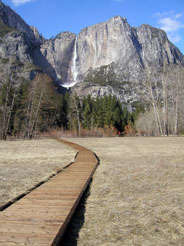 In Yosemite Valley, the area around
Sentinel Meadow
and the
Yosemite Chapel
is a favorite place to stop to look at Yosemite Falls.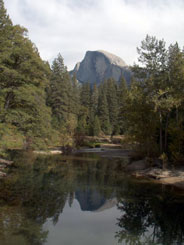 In Yosemite Valley,
Sentinel Bridge
is famous for its views of both Half Dome reflected in the Merced River. You can also see Yosemite Falls nearby.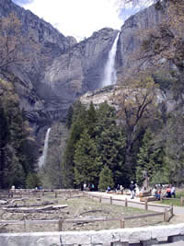 Yosemite Lodge and Lower Yosemite Fall provide a closer view of Yosemite Falls. A short walk takes you right to the bottom.
Did You Know?
At the east end of El Portal, just west of Yosemite National Park's boundary, changing river gradients, glacial history, and powerful floods have created a boulder bar with boulders much larger than typically found in such deposits. This is no ordinary boulder bar, however, for it contains massive boulders over a meter in diameter and weighing many tons.