Yosemite is open, but some wilderness trails are closed due to the Meadow Fire

The Meadow Fire is burning southeast of Yosemite Valley. Some trails are closed and some areas of the park may be smoky at times. More »
Vernal and Nevada Fall Winter Route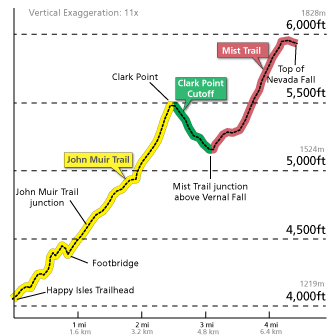 During the winter months, part of the Mist Trail and part of the John Muir Trail are closed. To reach the top of Vernal Fall, hike the John Muir Trail to Clark Point, where the trail forks. The right fork (John Muir Trail) will be gated shut, so follow the left fork downhill to reach the Mist Trail junction just a few minutes upstream of Vernal Fall. A left turn here brings you to the top of Vernal Fall, while a right turn follows the Mist Trail uphill to Nevada Fall.
Check the current conditions page for trail status and view the complete Vernal Fall and Nevada Fall hiking page.
Did You Know?

That 95% of Yosemite is designated Wilderness? In Wilderness, you can experience unparalleled opportunities for solitude while visiting some of the most beautiful places on Earth. More...