Vernal and Nevada Fall Winter Route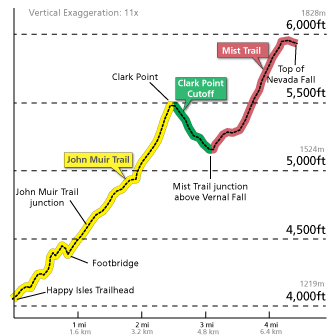 During the winter months, part of the Mist Trail and part of the John Muir Trail are closed. To reach the top of Vernal Fall, hike the John Muir Trail to Clark Point, where the trail forks. The right fork (John Muir Trail) will be gated shut, so follow the left fork downhill to reach the Mist Trail junction just a few minutes upstream of Vernal Fall. A left turn here brings you to the top of Vernal Fall, while a right turn follows the Mist Trail uphill to Nevada Fall.
Check the current conditions page for trail status and view the complete Vernal Fall and Nevada Fall hiking page.
Did You Know?
The indigenous people of Yosemite Valley have used fire as a tool for thousands of years. Fire was used to encourage the growth of plants used for basket making and to promote the growth of the black oak--a sun loving species--and a staple food source for American Indians from this region.