Tioga & Glacier Point Roads Closed for the Winter

The Tioga Road (Highway 120 through the park) and Glacier Point Road are closed due to snow; they usually reopen late May or June. You can check on current road conditions by calling 209/372-0200 (press 1 then 1). More »
Tioga and Glacier Point Roads Plowing Update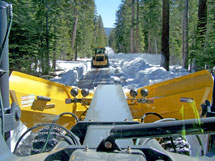 Last update: May 14, 2013

Glacier Point Road: Opened on May 3.

Tioga Road: Opened May 11.

Dates listed above are contingent upon safety of the park crews and on conditions. Any spring storms would result in road crews being diverted to keeping other roads open and may delay opening of the Tioga and/or Glacier Point Roads.
Once plowing of the Tioga Road is completed, additional work must be completed before the road can safely be opened.
Factors affecting plowing operations:
Avalanche zones (26 potential areas). The Olmsted Point avalanche zone requires a lot of work, including application of charcoal over the snow to help with melting and blasting the snow slab to make it safer for personnel.
Heavy snow pack slows the whole operation.
Trees that have fallen across the road and been buried in the snow. These can cause substantial damage to the equipment and result in a stop to all operations until they're cleared.
Rock slides buried by the snow. These can cause substantial damage to the equipment and result in a stop to all operations.
Snow storms during the opening require a stop to Tioga Road operations and in order to plow and sand the park roads.
Road repairs and ditching and brushing operations once snow has melted back enough.
---
The video below provides a quick overview of what the plowing operations are like on the Tioga Road.

Every spring, both visitors and locals look forward to the opening of the Tioga Road, a high-elevation pass that crosses Yosemite National Park. Get a glimpse of what it takes to clear snow and ice from a section of the highway known for dangerous avalanches.

Duration:

3 minutes, 35 seconds
Did You Know?
When it opened to the public on May 29, 1926, the Yosemite Museum became the first museum building in the national park system, and its educational objectives served as a model for parks nationwide. It still functions much as it was originally intended, and currently exhibits items which mainly reflect the Native occupation of Yosemite Valley and its surroundings. When in the park, you can visit with one of three cultural demonstrators who primarily staff the Museum.