Yosemite is open, but some wilderness trails are closed due to the Meadow Fire

The Meadow Fire is burning southeast of Yosemite Valley. Some trails are closed and some areas of the park may be smoky at times. More »
Tioga and Glacier Point Roads Plowing Update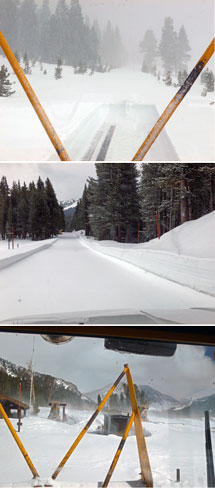 Tioga Road
The Tioga Road will open at noon on Friday, May 2.
Glacier Point Road

Opened to vehicles on April 14
Factors Affecting Plowing Operations

The following factors affect when the Tioga Road opens:

Avalanche zones (26 potential areas). The Olmsted Point avalanche zone requires careful work, including application of charcoal over the snow to help with melting and blasting the snow slab to make it safer for personnel.
Heavy snow pack slows the whole operation.
Trees that have fallen across the road and been buried in the snow can cause substantial damage to equipment and result in a stop to all operations until they're cleared.
Rockfalls buried by the snow can cause substantial damage to the equipment and result in a stop to all operations.
Snow storms during the opening require a stop to Tioga Road operations in order to plow and sand park roads that are open.
Road repairs, ditching, and brushing operations must occur once snow has melted back enough.
---
Every spring, both visitors and locals look forward to the opening of the Tioga Road, a high-elevation pass that crosses Yosemite National Park. Get a glimpse of what it takes to clear snow and ice from a section of the highway known for dangerous avalanches.

Duration:

3 minutes, 35 seconds
Did You Know?
Congress designated the Merced River as Wild and Scenic in 1987. The National Park Service manages 81 miles of the Merced River, encompassing both the main stem and the South Fork in Yosemite National Park and the El Portal Administrative Site. More...