Half Dome Permit Lottery Statistics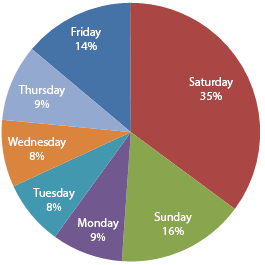 On this page, you can find various statistics relating to the 2013 and 2014 Half Dome permit lotteries to help you make an informed decision when you apply for the lotteries.

The chart to the right shows the distribution of the Half Dome permit lottery requests by day of the week (as of March 26, 2014).
The set of bar graphs below show how many permits have been requested for each date during the Half Dome season (as of March 26, 2014). This graph shows actual number of permits requested for each day (225 permits are available each day). This graph shows the worst-case scenario for each day because each application will have only one of its permit dates filled (applications can have up to seven different dates requested).
---
The graphs below show the actual number of permits issued in 2013 via both the preseason lottery (solid blue) and daily lotteries (striped blue). For each day, 225 permits were available via the preseason lottery and 50 permits (plus permits received via the preseason lottery but later canceled) via the daily lottery. The total number of permits available each day was at least 275 (the day hiker limit in 2013 was 225, but we made available 275 permits to adjust for under-use of permits).

---
The graphs below show the success rate for each day in 2013 for the daily lottery.
---
The graphs below show the total number of Half Dome permits issued in conjunction with wilderness permits in 2013. You can make assumptions for which days will be harder to get a Half Dome permit in conjunction with a wilderness permit in 2014 by adjusting the date by one day to match the day of the week in 2013.(Half Dome permits associated with wilderness permits are issued against the start date of the hike, but are valid during the entire wilderness trip.)

Other Statistics for 2013
Season:
May 24–October 1 [permits were not valid beginning October 2 due to government shutdown]

Preseason lottery:
Available permits reserved: 86% [in 2012: 90%]
Success rate: 35% (out of 18,303 applicants) [in 2012: 50% (out of 17,098 applicants)]

Daily lottery:
Available permits reserved: 94% [in 2012: 93%]
Success rate: 41% (out of 12,362 applicants) [in 2012: 38% (out of 14,064 applicants)]
Weekday success rate: 56% [in 2012: 49%]
Weekend success rate: 31% [in 2012: 38%]
Note: lower success rates are due to a total of 300 permits being available in 2013 (compared to 400 in 2012) as a result of the implementation of the Half Dome Plan.

Did You Know?

Unrestricted camping is no longer allowed in Yosemite Valley because of damage it causes. The placement of campgrounds and campsites has changed over the past 75 years in response to a growing understanding of river dynamics, geologic hazards, and the park's natural and cultural resources.