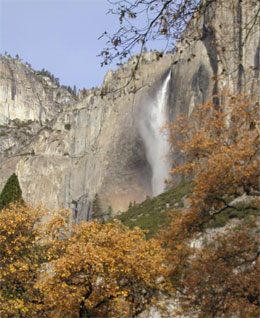 Fall
(October & November)
See lots of the park, but few people
Areas to visit: All areas of the park usually remain open through October, and sometimes into November; however, short-term closures may occur due to snow. Along the Tioga Road, services are not available after September and overnight parking is not permitted after October 14th. Yosemite Valley and Wawona remain accessible by car all year, however tire chains may be required, depending on conditions.
Weather: Quite variable, with weather ranging from hot to cold, dry to rainy or snowy.
Yosemite Valley & Wawona (4,000 ft / 1,200 m): 54°F (12°C) / 35°F (2°C)

Rivers & Waterfalls: Water levels tend to be very low, with waterfalls (including Yosemite Falls) containing little or no water. Some waterfalls, including Vernal, Nevada, and Bridalveil, run all year; however, their flow slows to a trickle by fall.
Fall colors: Yosemite is not known for having spectacular fall colors because most of the trees are evergreen. Still, big-leaf maples, black oaks, Pacific dogwoods, and other deciduous trees tend to be showy around mid-October.
A moving portrait of Yosemite in Fall, a time of year when the hustle and bustle of summer can be left behind.

Duration:

3 minutes, 25 seconds


Tioga Road Opening & Closing

Find out when the Tioga Road opened and closed each year since 1980 Read More

Detailed Climate Data

Find detailed climate data for Yosemite Valley from the Western Regional Climate Center Read More

Current Conditions

Find out current conditions and facilities information Read More