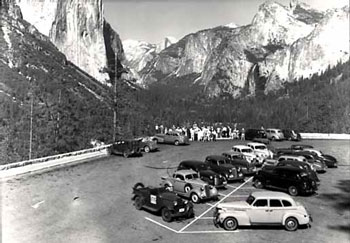 NPS Historic Photograph Collection
Why Undertake This Project?
The purpose of the Tunnel View Overlook Rehabilitation Project is to remedy long-standing vehicle-to-vehicle and vehicle-to-pedestrian safety issues, to correct drainage deficiencies and problems, to provide clear circulation patterns for pedestrians and vehicles, to enhance and maintain viewing opportunities for visitors, to provide accessibility to viewing areas, to correct safety problems associated with the Inspiration Point trailhead, and to address sanitation issues, while maintaining the naturalistic, rustic character and integrity of this historic site.
Several factors demonstrated the need for this project:
Since the Wawona Tunnel was completed in 1933, the NPS has responded to vehicle-to-vehicle accidents, single-vehicle accidents, and vehicle-to-pedestrian near-misses. Drivers traveling east through the tunnel often speed, are blinded by light as they exit the tunnel, encounter ice-patches at the east portal, and are faced with crowds of pedestrians and slow moving vehicles moving in
and out of the roadway from the Tunnel View parking areas. Combined, these conditions create a sustained and serious safety problem.
Visitors who have parked their vehicles in the south parking lot are directed to access viewing areas by crossing Wawona Road at locations that are on blind corners and not clearly visible by motorists.
Currently storm-water and melting snow drain from the tunnel directly onto the north parking lot. From here, the water flows in sheets over the parking area, and eventually drains down the Wawona Road. In the winter the surface water on the entire parking area often freezes, creating hazardous driving and walking conditions.
The northern parking area has an indistinct circulation pattern. Drivers of single-family vehicles and tour buses have ill-defined parking.
The existing viewing area in the north parking lot consists of a five-foot wide sidewalk, which is insufficient to accommodate the existing pattern of visitor use. Often crowds three to five people deep form to see the view of Yosemite Valley. The problem is further compounded because vegetation such as ponderosa pine and incense cedar has grown and obscured much of the historic view. The vegetation forces visitors to cluster into smaller viewing areas than what existed historically.
What Has This Project Entailed?
This completed project provides a safer, rehabilitated scenic overlook from which to experience one of Yosemite's most spectacular views. Elements of the project include:
Restore the historic view by selectively thinning conifers that currently obstruct it
Provide clear parking areas for cars, RVs, trams, and tour buses
Improve traffic flow to lessen congestion
Improve visitor safety at viewing platform
Improve accessibility at site
Install new wayside exhibits
Learn more about the science behind scenic vistas in Yosemite.
Learn more about Yosemite's Scenic Vista Management Plan.