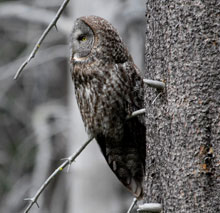 Joe Medley
National parks like Yosemite that provide nearly intact ecosystems are critically important to both identify new species of plants and animals and to provide a laboratory in which to conduct scientific study. Yosemite's research aims to develop a predictive GIS-based habitat model of great gray owl distribution and habitat associations; and design a long-term monitoring plan to assess population trends.
Future genetic research on the great gray owl in Yosemite would help develop a technique to identify individual owls from their molted feathers. This non-invasive research method would allow scientists to study survival rates, reproduction patterns, and other important information through the DNA found in the collected feathers. Additionally, this research method would mitigate negative impacts on the sensitive great gray owl population in the park.

Research on the gray gray owl conducted from 2004 to 2010 is summarized in Conservation and Management of the Great Gray Owl 2007-2009: Assessment of Multiple Stressors and Ecological Limiting Factors report [1.6 MB PDF].

Read work by Pacific Southwest Research Station's John J. Keane and University of California-Davis' Holly B. Ernest and Joshua M. Hull in the 2010 citation naming the
Strix nebulosa Yosemitensis:
Hull, J.M.; Keane, J.J.; Savage, W.K.; Godwin, S.A.; Shafer, J.A.; Jepsen, E.P.; Gerhardt, R.; Stermer, C.; Ernest, H.B. (2010, July). Range-wide genetic differentiation among North American great gray owls (Strix nebulosa) reveals a distinct lineage restricted to the Sierra Nevada, California. Molecular Phylogenetics and Evolution, 56(1), 212-221, DOI: 10.1016/j.ympev.2010.02.027. [585 kb PDF of author's pre-print] Link to online abstract.
Hull, J.M.; Keane, J.J.; Tell, L.; Ernest, H.B. (2010). West Nile Virus Antibody Surveillance in Three Sierra Nevada Raptors of Conservation Concern. The Condor, 112(1), 168-172. ISSN 0010-5422 / Electronic ISSN 1938-5422, DOI: 10.1525/cond.2010.090110
Hull, J.M.; Keane, J.J.; Tell, L.A.; Ernest, H.B., 2008. Development of 37 Microsatellite Loci for the Great Gray Owl (Strix nebulosa) and Other Strix spp. Owls. Conservat. Genet. 9, 1357-1361.