Annual Yosemite National Park Butterfly Count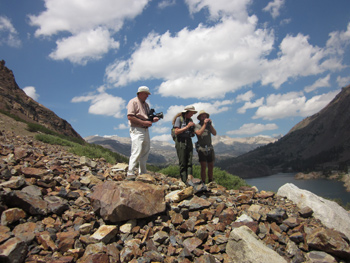 Yosemite National Park initiated its fifth annual butterfly count in the Tuolumne Meadows area in summer 2015. Yosemite coordinates this event in association with the
North American Butterfly Association
(NABA), an organization that conducts long-term monitoring of butterfly populations all over North America. The purpose of the NABA counts is to determine how many species and individual butterflies can be observed within a 15-mile diameter circle, during a 24 hour period, within the same date-span year after year. Participants spend the day gathering data toward long-term monitoring; raising public awareness toward butterfly conservation; and socializing and having fun with other butterfly devotees.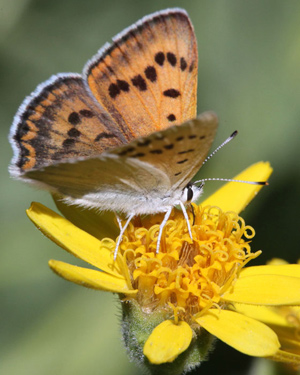 On July 27, 2015, butterfly experts and enthusiasts met in the morning glow of Lembert Dome in Tuolumne Meadows in anticipation of finding as many butterflies in a single day as possible. Expert lepidopterists came from around the state to lead their groups in butterfly quests and to share their knowledge and intense appreciation for butterflies and natural history.
Following introductions, instructions, and dissemination of count datasheets, the larger group divided up into six smaller groups, each led by one or two butterfly experts. Each group was responsible for counting and identifying butterflies in their respective area. The butterfly count area included such hotspots as Dana Meadows, Gaylor Lakes, Saddlebag Lake, Ellery Lake, Hall Natural Area, lower Lee Vining Canyon, Mono Lake County Park, and Lundy Lake.
Considering the summer had been unseasonably stormy, we were grateful for the clear and calm weather conditions that allowed for optimal butterfly viewing. Butterfly counters systematically searched all habitats for species that specialize on specific plants, varying degrees of moisture, and that exhibit different behaviors at different times of the day or under different conditions. Each person learned to conjure a particular search image, depending on the conditions, circumstances, and target species. The leaders enthusiastically taught the participants tips for identifying different species and all facets of butterfly identification and ecology. At the end of the day, the group reconvened back in Tuolumne Meadows to share highlights from the day, report count results, and enjoy pizza. As expected, lively discussions ensued concerning difficult species identifications.
The final tally for the day was decidedly good considering we started out expecting numbers to be low due to drought conditions and summer cold snaps. Thirty eight participants counted 46 butterfly species composed of 961 individuals. The three most frequently detected butterflies were Sandhill Skipper (226 individuals), Greenish Blue (78 individuals), and Sierra Sulphur (77 individuals). The overall number of Lycaena butterflies was down considerably compared to past years. Common buckeye and Juba skipper were new species observed during the Yosemite Butterfly Count.
All the participants were rewarded with the subtle beauty of both male and female Sierra sulphurs, California's only high elevation
Colias
. The Yosemite count is the only one in the country that regularly reports this species, due to the species' extremely small range. Mono Lake yielded several butterflies not observed by other groups, including a checkered white, western whites, Great Basin wood-nymphs, Acmon blues, Reakirt's blues, and western pygmy blues—the smallest butterfly in North America. Interestingly, two different groups observed long-tailed weasels, one that was being chased by a yellow-bellied marmot!
The combination of the butterflies themselves, people brimming over with natural history knowledge and passion, and beautiful scenery makes this one day very special. As Liam O'Brien put it, "the Yosemite Butterfly Count quickly has become Center Court/Wimbledom of the California Butterfly Count Season". See you at next year's count on July 25, 2016!
Related Information
View raw data results from 2011-2015 [85 kb XLSX]


Check out an entry (includes photos) from our High Country Notebook Blog related to the 2012 event.


Interested in other annual events to help you connect with your inner naturalist? Each year, tens of thousands of volunteers across the Americas join together annually during the Christmas Bird Count. The event provides a full day to celebrate birds. We take part here in Yosemite - learn more!