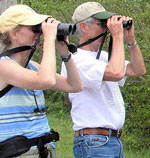 Start by keying in on a general group or family of birds, such as warblers, flycatchers, hawks, owls, and wrens because all members of a group share certain similarities. As a next step, notice the field marks, which are colored or patterned places on a bird's body, head, and wings. Remember that a bird's feathers, or plumage, change over time as a juvenile bird molts into its adult plumage or an adult molts into its breeding plumage. In most cases, the colors and behaviors of the male attract a female for mating purposes.
Carrying the right equipment is key for successful birding. All you need is a pair of binoculars, a field guide, a pocket notebook, and the patience and willingness to learn. No matter what pair of binoculars you own, practice looking through them so that you are not scanning wildly for a bird through the trees. First spot a bird with your eyes, and then lift your binoculars to your eyes without moving your head or losing sight of the bird. Becoming familiar with your field guide by interpreting the range maps, learning the terms for various field marks, and the species arrangement will help you more quickly identify birds. In your notebook, you can record your observation (species, date, location, and observers), and any other notes, such as behavior or weather).
And, listen, really, listen. Identifying birds by ear is essential for improving your birding techniques. Expert birders can identify thousands of songs. The late American ornithologist Ted Parker could identify about 4,000 species by ear. Bird songs, which can be quite elaborate, are used to attract a mate or defend territorial boundaries; calls are used to find family members, announce the approach of a predator, or share information about food sources. The more time spent observing birds calling and singing, the more quickly your memorization skills will improve over time.
E-mail bird sightings to a park ornithologist with location details. Or, fill out a Wildlife Observation Card. [37.83 kb PDF]