Winter Solstice
Winter Solstice
With just over nine and a half hours of daylight here at Yosemite National Park,today is the shortest day of the year. This day also marks the lowest point the sun will reach in our daytime sky. With so much night to go around, the winter is a great time to observe the dark night sky. Places like Yosemite protect a dark night sky experience that most of us don't get a chance to see in our daily lives. Light and air pollution obstruct the view of the night sky in urban and suburban areas, where most people can no longer see the Milky Way at night. Measurements of the quality of the night sky in Yosemite have indicated near pristine conditions in some areas of the park. Resource managers have established outdoor lighting guidelines for all new development in the park so we can protect our dark night sky. Some suggestions to reduce your light pollution at home include using motion sensors or timers to make lighting more efficient and using light fixtures to direct light only where it is needed and keep it from scattering into the atmosphere. Next time you visit Yosemite, remember that the winter day doesn't have to end so early. Bundle up and go see the sky!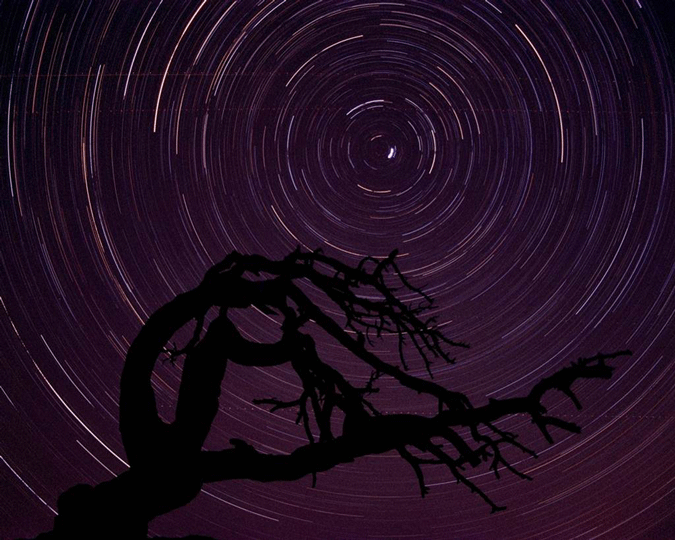 A night sky time lapse. (Photo credit: Christine Loberg)
Nature Scene, Yosemite Valley, BW
Post A Comment
Did You Know?
Natural fires in Yosemite are often no more than a single burning snag (standing dead tree) or a slow moving, low intensity fire that cleans underbrush from the forest floor. These fires prevent unwanted fires by removing accumulating forest debris that can fuel a larger fire in hot, dry conditions.