Tioga Road is Closed for the Winter

The Tioga Road (Highway 120 through the park) is closed due to snow; it usually reopens in late May or June. You can check on current road conditions by calling 209/372-0200 (press 1 then 1). More »
Wildlife and Other Sightings: Sulphur Shelf Fungus
Sulphur Shelf Fungus
Laetiporus gilbertsonii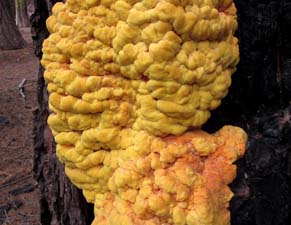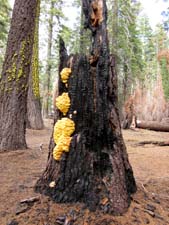 July 19, 2012
Trail from White Wolf to Harden Lake

This charred red fir stump in the recently burned area near Harden Lake was oozing with Sulfur Shelf Fungus. These bright yellow/orange polypore mushrooms are fairly common throughout certain parts of Yosemite since the fungus body, growing within the wood of a variety of tree species, requires little moisture in order to fruit. This particular clustering was saturated with water after some rain earlier in the day. This is one of the showier fungi participating in the backcountry recycling program that will help convert this charred stump back into forest nutrients and new forms of life.

Post A Comment
Did You Know?

In 1984, 83 miles of the Tuolumne River were added to the Wild and Scenic Rivers System by Congress with an amendment to the Wild and Scenic Rivers Act. This included 54 miles of the river within Yosemite National Park.