Wildlife and Other Sightings: Sierra Ensatina
Sierra Ensatina
Ensatina eschscholtzi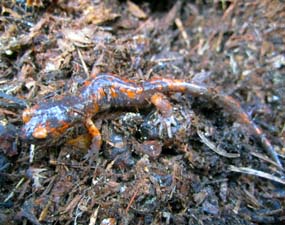 July 2012
Hodgdon Meadow Campground

While turning a log in Hodgdon Meadow campground (for a bear foraging demonstration on a ranger-led program), a Sierra Ensatina salamander was revealed. These salamanders stay hidden deep in or under moisture-holding, decaying logs. The log was quickly placed back in its previous position to maintain the special habitat that this salamander needs to survive. A lot of Yosemite animals depend on the unique micro-environment and shelter of fallen logs and branches for their survival.

Post A Comment
Did You Know?
In Yosemite Valley, dropping over 594-foot Nevada Fall and then 317-foot Vernal Fall, the Merced River creates what is known as the "Giant Staircase." Such exemplary stair-step river morphology is characterized by a large variability in river movement and flow, from quiet pools to the dramatic drops of the waterfalls themselves.