Wildlife and Other Sightings: Sierra Ensatina
Sierra Ensatina
Ensatina eschscholtzi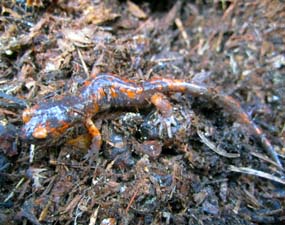 July 2012
Hodgdon Meadow Campground

While turning a log in Hodgdon Meadow campground (for a bear foraging demonstration on a ranger-led program), a Sierra Ensatina salamander was revealed. These salamanders stay hidden deep in or under moisture-holding, decaying logs. The log was quickly placed back in its previous position to maintain the special habitat that this salamander needs to survive. A lot of Yosemite animals depend on the unique micro-environment and shelter of fallen logs and branches for their survival.

Post A Comment
Did You Know?
Congress designated the Merced River as Wild and Scenic in 1987. The National Park Service manages 81 miles of the Merced River, encompassing both the main stem and the South Fork in Yosemite National Park and the El Portal Administrative Site. More...