Tioga & Glacier Point Roads Closed for the Winter

The Tioga Road (Highway 120 through the park) and Glacier Point Road are closed due to snow; they usually reopen late May or June. You can check on current road conditions by calling 209/372-0200 (press 1 then 1). More »
Wildlife and Other Sightings: Sierra Ensatina
Sierra Ensatina
Ensatina eschscholtzi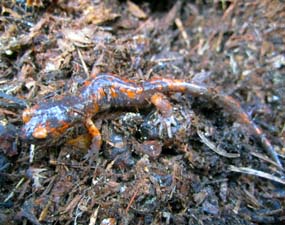 July 2012
Hodgdon Meadow Campground

While turning a log in Hodgdon Meadow campground (for a bear foraging demonstration on a ranger-led program), a Sierra Ensatina salamander was revealed. These salamanders stay hidden deep in or under moisture-holding, decaying logs. The log was quickly placed back in its previous position to maintain the special habitat that this salamander needs to survive. A lot of Yosemite animals depend on the unique micro-environment and shelter of fallen logs and branches for their survival.

Post A Comment
Did You Know?

In 90 years of serving Yosemite National Park, the Conservancy has seen many accomplishments. From restoring the habitat of the great gray owl to funding the first museum in the Valley, Yosemite Conservancy has played a vital role in the preservation and protection of Yosemite. More...