Road Closures Due to El Portal Fire

The Big Oak Flat Road between Crane Flat and the El Portal Road is temporarily closed. There is no access to Yosemite Valley via the Big Oak Flat Road or Highway 120. Tioga Road is open and accessible via Big Oak Flat and Tioga Pass Entrances. More »
Campground Closures Due to Fire

Crane Flat, Bridalveil Creek, and Yosemite Creek Campgrounds are temporarily closed. More »
Yosemite National Park is Open

Yosemite Valley, Glacier Point, and Wawona/Mariposa Grove areas are open and accessible via Highways 140 and 41. Tioga Road is not accessible via Highways 140 and 41 due to a fire.
Wildlife and Other Sightings: Sierra Ensatina
Sierra Ensatina
Ensatina eschscholtzi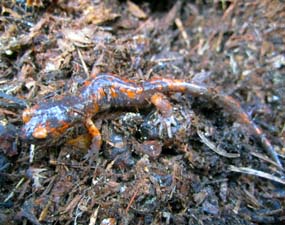 July 2012
Hodgdon Meadow Campground

While turning a log in Hodgdon Meadow campground (for a bear foraging demonstration on a ranger-led program), a Sierra Ensatina salamander was revealed. These salamanders stay hidden deep in or under moisture-holding, decaying logs. The log was quickly placed back in its previous position to maintain the special habitat that this salamander needs to survive. A lot of Yosemite animals depend on the unique micro-environment and shelter of fallen logs and branches for their survival.

Post A Comment
Did You Know?
The Yosemite Leadership Program partners with UC Merced, to bring students to the park each summer for hands-on professional development through internships. Students work alongside scientists, educators, interpreters, business managers, and many other professionals of the NPS and park partner organizations. Some go on to become National Park Service rangers.