Tioga Road is Closed for the Winter

The Tioga Road (Highway 120 through the park) is closed due to snow; it usually reopens in late May or June. You can check on current road conditions by calling 209/372-0200 (press 1 then 1). More »
Wildlife and Other Sightings: Sierra Ensatina
Sierra Ensatina
Ensatina eschscholtzi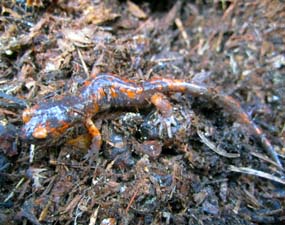 July 2012
Hodgdon Meadow Campground

While turning a log in Hodgdon Meadow campground (for a bear foraging demonstration on a ranger-led program), a Sierra Ensatina salamander was revealed. These salamanders stay hidden deep in or under moisture-holding, decaying logs. The log was quickly placed back in its previous position to maintain the special habitat that this salamander needs to survive. A lot of Yosemite animals depend on the unique micro-environment and shelter of fallen logs and branches for their survival.

Post A Comment
Did You Know?
That Yosemite National Park has a sister park in Chile? Parque Nacional Torres del Paine is located among the breath taking scenery of Patagonian Chile. Both parks feature remarkable geology, hydrology, flora and fauna--together the staff of both parks work together to share best practices and care for these landscapes so generations of visitors can revel in their stunning beauty.