Road Closures Due to El Portal Fire

The Big Oak Flat Road between Crane Flat and the El Portal Road is temporarily closed. There is no access to Yosemite Valley via the Big Oak Flat Road or Highway 120. Tioga Road is open and accessible via Big Oak Flat and Tioga Pass Entrances. More »
Campground Closures Due to Fire

Crane Flat, Bridalveil Creek, and Yosemite Creek Campgrounds are temporarily closed. More »
Yosemite National Park is Open

Yosemite Valley, Glacier Point, and Wawona/Mariposa Grove areas are open and accessible via Highways 140 and 41. Tioga Road is not accessible via Highways 140 and 41 due to a fire.
Wildlife and Other Sightings: Marmot is returned to Yosemite!
Marmot is Returned to Yosemite!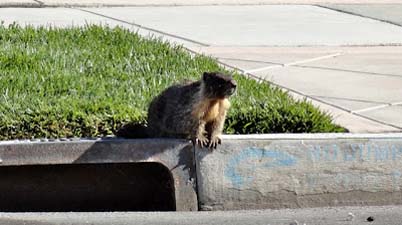 August 26, 2012

This yellow-bellied marmot (Marmota flaviventris) had apparently hitchhiked to San Jose where it took a liking to the storm drains and manicured lawns. Stowing away in a vehicle, she was inadvertently carried far away from her home territory in Yosemite National Park. WildRescue, a wildlife rescue organization based in Moss Landing, CA, responded to successfully capture the marmot. She was transported to the Wildlife Center of Silicon Valley (WCSV) in San Jose for rehabilitation. Five days later, after determining where the marmot likely came from and receiving approval to transport and release the marmot, she was released in Tuolumne Meadows on August 26. We appreciate the hard work that WildRescue and WCSV did to make this possible and are very happy to have our marmot back safe and sound. 
 
Post A Comment
Did You Know?

Yosemite Conservancy's signature project in 2013 is Youth In Yosemite. This project encompasses 12 individual youth programs that focus on education, mentoring, and wilderness exploration. One of the programs funded by Yosemite Conservancy is the Junior Ranger program, a program that benefits over 27,000 children annually. More...