Road Closures Due to El Portal Fire

The Big Oak Flat Road between Crane Flat and the El Portal Road is temporarily closed. There is no access to Yosemite Valley via the Big Oak Flat Road or Highway 120. Tioga Road is open and accessible via Big Oak Flat and Tioga Pass Entrances. More »
Campground Closures Due to Fire

Crane Flat, Bridalveil Creek, and Yosemite Creek Campgrounds are temporarily closed. More »
Yosemite National Park is Open

Yosemite Valley, Glacier Point, and Wawona/Mariposa Grove areas are open and accessible via Highways 140 and 41. Tioga Road is not accessible via Highways 140 and 41 due to a fire.
Wildlife and Other Sightings: Long-stalked Starwort
Long-stalked Starwort
Stellaria longipes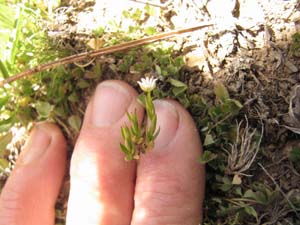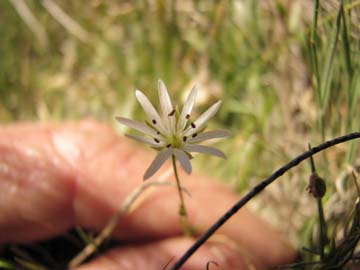 July 2012
Tuolumne Meadows

This amazing and tiny little flower is easy to miss if you're moving too fast through Tuolumne Meadows. Long-stalked starwort is common at a wide variety of elevations but extra-special to see in Tuolumne Meadows as it sits low upon the ground in stark contrast with the vast views of the enormous peaks surrounding the meadow. Unlike the seemingly eternal views in the distance, this ephemeral little beauty gets harder and harder to find as visitors step off trails and trample it without ever noticing.

Post A Comment
Did You Know?
For over 40 years, NatureBridge has served over 40,000 youth and adults annually through a unique variety of environmental education programs at their national park campuses in California and Washington, including their Yosemite National Park campus.