Wildlife and Other Sightings: Fringed Pine Sap
Fringed Pine Sap            
Pleuricospora fimbriolata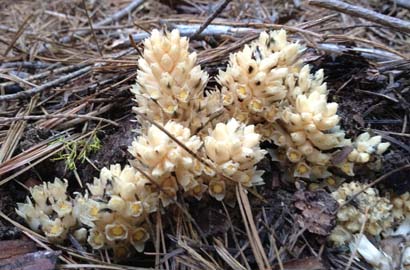 Flowers beginning to fruit....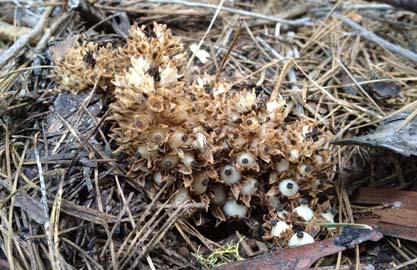 July 3, 2012              Update: July 17, 2012…flowers have been pollinated and it's now fruiting!
Hodgdon Meadow Campground

As I walked through the forest within the Hodgdon Meadows campground, something light in color caught my eye.  I turned and walked towards it, then crouched on my knees to get a closer look. What I saw surprised me. It was a  cream colored plant, totally lacking chlorophyll, pushing through the duff on the forest floor.  This was not an individual, but 6 or 7 little plants, each having a striking resemblance to snow plant in structure (not color, as the Snow Plant is a brilliant shade of red). As I took a closer look, I saw movement. There were 2 large bees crawling from flower to flower, and down into the ground underneath the chunks of forest duff that had been pushed up by the plant during it's emergence. What a delightful scene, that I might have passed right by with out a second glance on my way through the campground. According to Botti in the Illustrated Flora of Yosemite National Park, Fringed Pine Sap is a sparingly occurring saprophyte in Yosemite, which grows at elevations of 1200-2450 meters in the dry forest humus in the mixed conifer and montane zones.

Post A Comment
Did You Know?
When it opened to the public on May 29, 1926, the Yosemite Museum became the first museum building in the national park system, and its educational objectives served as a model for parks nationwide. It still functions much as it was originally intended, and currently exhibits items which mainly reflect the Native occupation of Yosemite Valley and its surroundings. When in the park, you can visit with one of three cultural demonstrators who primarily staff the Museum.