Road Closures Due to El Portal Fire

The Big Oak Flat Road between Crane Flat and the El Portal Road is temporarily closed. There is no access to Yosemite Valley via the Big Oak Flat Road or Highway 120. Tioga Road is open and accessible via Big Oak Flat and Tioga Pass Entrances. More »
Campground Closures Due to Fire

Crane Flat, Bridalveil Creek, and Yosemite Creek Campgrounds are temporarily closed. More »
Yosemite National Park is Open

Yosemite Valley, Glacier Point, and Wawona/Mariposa Grove areas are open and accessible via Highways 140 and 41. Tioga Road is not accessible via Highways 140 and 41 due to a fire.
Wildlife and Other Sightings: Dog Vomit Slime Mold
Dog Vomit Slime Mold
Fuligo septica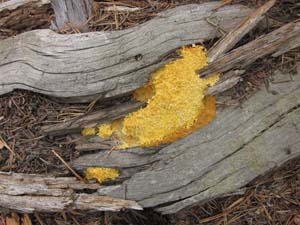 July 19, 2012
Trail from White Wolf to Harden Lake

Dog vomit slime mold is always an exciting find along the trail! Plasmodial slime molds like this one are actually sort of an enormous single cell with thousands of nuclei that formed when individual flagellated cells swarmed together and fused. They move along in an amoeboid fashion in search of nutrients. If you're moving faster than a slime mold down Yosemite trails, you might walk right by some of the park's most fascinating inhabitants!  

Post A Comment
Did You Know?

Yosemite has a full-time sign language interpreter in the park every summer? The Yosemite Deaf Services Program began in 1979 and provides a variety of services to make sure the park is accessible for all of Yosemite's D/deaf and hard of hearing visitors. More...