Wildlife and Other Sightings: Dog Vomit Slime Mold
Dog Vomit Slime Mold
Fuligo septica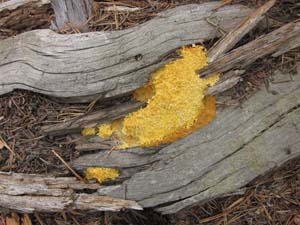 July 19, 2012
Trail from White Wolf to Harden Lake

Dog vomit slime mold is always an exciting find along the trail! Plasmodial slime molds like this one are actually sort of an enormous single cell with thousands of nuclei that formed when individual flagellated cells swarmed together and fused. They move along in an amoeboid fashion in search of nutrients. If you're moving faster than a slime mold down Yosemite trails, you might walk right by some of the park's most fascinating inhabitants!  

Post A Comment
Did You Know?

Yosemite Conservancy's signature project in 2014 is Youth In Yosemite. This project encompasses 12 youth programs that focus on education, mentoring, and wilderness exploration. Including in this is the junior ranger program, a program that benefits over 27,000 children annually. More...