Road Closures Due to El Portal Fire

The Big Oak Flat Road between Crane Flat and the El Portal Road is temporarily closed. There is no access to Yosemite Valley via the Big Oak Flat Road or Highway 120. Tioga Road is open and accessible via Big Oak Flat and Tioga Pass Entrances. More »
Campground Closures Due to Fire

Crane Flat, Bridalveil Creek, and Yosemite Creek Campgrounds are temporarily closed. More »
Yosemite National Park is Open

Yosemite Valley, Glacier Point, and Wawona/Mariposa Grove areas are open and accessible via Highways 140 and 41. Tioga Road is not accessible via Highways 140 and 41 due to a fire.
Wawona - Try It
The early morning sun in Wawona tells me there's something very special about this place. Hearing the flow of the South Fork of the Merced River is calming, smoothing, and refreshing. Sitting quietly in the Wawona Meadow and closing my eyes creates another dimension of Wawona.
Wawona, Yosemite's Sleepy Hollow, is like no other place in the Sierra. The Sierra has cliffs, domes, waterfalls, and more, but Wawona smells like peaceful wildness and adventure. Unlike other parts of the mountains, Wawona is accessible and peaceful; a walk in any direction reveals its secrets and beauty.
Try it. Walk along Forest Drive, but instead of going to Swinging Bridge, turn right at Koon Hollar Rd. Follow it until the pavement ends and take the dirt road up Bill's Hill, beyond the water tank; now you're alone in a wilderness and peace will find you. Or, as the sun sets, head to the South Fork of the Merced to find a flat rock and have dinner – it's quiet and peaceful. Then return in the morning and find that same flat rock to see the sunrays glistening through the trees and over the water. It's like a new life and a new meaning of life. 
I say this because I live in Wawona, if only in the summer, and it alone has warmed my heart and soul and is my antidote for the high-tech, high-energy machine of the city. It's accessible, available, and enjoyable. Stay away from the crowds at the store; instead walk across Wawona Road and follow the trail adjacent to the golf course. Again, you will find a kind of wilderness; peace will find you.
Wawona: try it. It won't take you long to find yourself a part of Wawona and within a quantitative peace. It's no secret that Wawona is Yosemite but Yosemite is not Wawona. It stands alone and by itself as a meadow, a river, and a peaceful adventure.
At night when the parking lot is empty and the Moon is out, look to the sky. The many trees create a negative space for the Wawona moonlight. The evenings are astonishing in Wawona and filled with love. There is a song sung by Tom Bopp, a famous pianist and vocalist who specializes in vintage music: Wawona Moon. Try it.
Wawona moon above
You're smiling down on me
You know that I am in love
Your light brings ecstasy
A gleaming through the pines
Your golden face I see
Oh, shine forever my Wawona moon
Upon my love and me
Wawona Moon (1925), rediscovered by Tom Bopp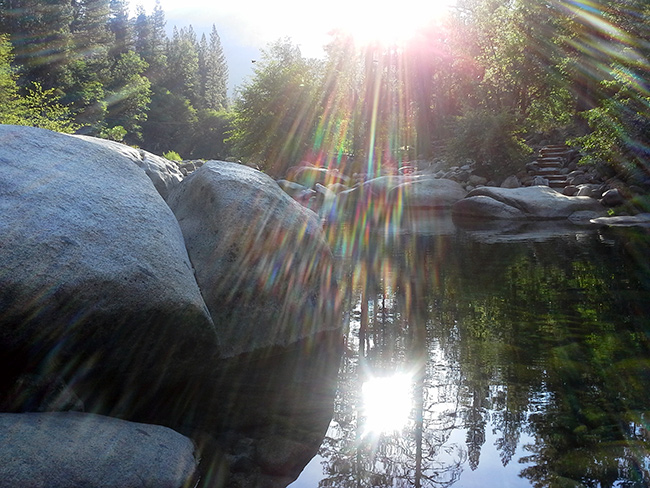 Post A Comment
Did You Know?
In Wawona and downstream, the South Fork Merced River provides habitat for a rare plant, the Sierra sweet bay (Myrica hartwegii). This special status shrub is found in only five Sierra Nevada counties. In Yosemite, it occurs exclusively on sand bars and river banks along the South Fork Merced River downstream from Wawona and on Big Creek.