The Return of Yosemite Falls
Each year in late summer and autumn, visitors to Yosemite are faced with a troubling question. Where is Yosemite Falls? Some find it hard to believe that the highest waterfall in North America, and one of the highest-profile features of Yosemite Valley, completely disappears every year. This is due in part to the fact that the majority of the water in Yosemite Falls comes directly from snowmelt. Typically, that snow is gone by the end of July and doesn't return until November, and the waterfall does the same. This year, the ephemeral behavior of Yosemite Falls was made worse by the very dry weather, one of the driest years on record. 
A series of storms this past weekend produced just under two inches of rain in Yosemite Valley bringing life back to the Falls. Yosemite Falls will likely flow all winter long as the snow builds in the high country of the park.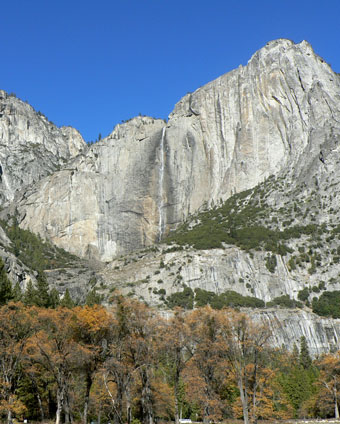 Upper Yosemite Fall, November 2012
Yosemite Valley, BW, Water-Rock-Wind
Post A Comment
Did You Know?
Rockfall events have helped shape many of the outstanding features along Yosemite Valley's walls, including Royal Arches, North Dome, and Half Dome. Giant talus slopes that slant away from the Valley walls accumulate debris with each rockfall event.